How Reverse Mentoring Can Help Promote Generational Diversity Awareness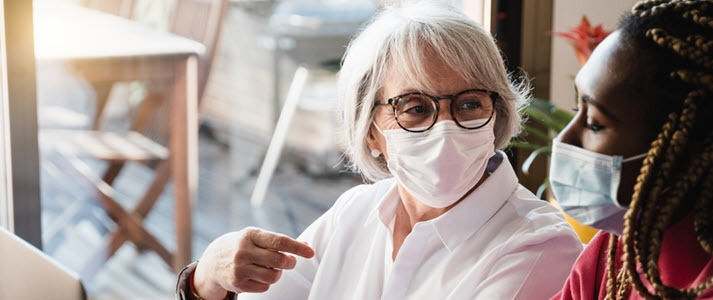 Reverse mentoring can be part of your larger DE&I platform to support generational diversity awareness. Here's how Nik Palmer, ADP's Central Chairperson for the Generations employee resource group, thinks reverse mentoring can help improve retention, address ageism and build stronger cultures. He also offers five factors to consider when rolling out a reverse mentoring initiative.
Today's workforce is composed of employees from several generations, with all ages and experience levels working side-by-side. While this type of inclusive environment can lead to growth, perceived generational differences can impede progress. Organizations aiming to build inclusive multi-generational workforces that collaborate effectively can lean on a powerful tool: reverse mentoring.
As Central Chairperson for the Generations employee resource group (ERG) at ADP, Nik Palmer has been part of the company's efforts to leverage networking, knowledge and engagement. The mission of the ERG (also known as a business resource group or BRG) is to help new and experienced professionals build connections and more deeply understand others' perspectives. Here's some insight into his perspective on reverse mentoring and how it can help improve retention, address ageism and build stronger cultures.
What is reverse mentoring?
As Harvard Business Review notes, "Reverse mentoring pairs younger employees with executive team members to mentor them on various topics of strategic and cultural relevance." Many professionals are familiar with the concept, as Jack Welch introduced it at GE focusing on technology. Palmer says that today's applications are much wider and reflect the realities of the evolving work landscape.
In a chapter from Strategies for Attracting, Maintaining, and Balancing a Mature Workforce, Marie-line Germain notes, "the true challenge is more complex: the workforce of the near future will be multigenerational and will include members from four generations." Increasingly, reverse mentoring and similar programs facilitate two-way opportunities for connection and growth.
Megan Gerhardt, Ph.D., notes in the 2021 book Gentelligence: The Revolutionary Approach to Leading an Intergenerational Workforce that HR leaders are wrestling with the legacy of generational wars that can affect perceptions. Gerhardt writes: "The damage they bring to organizational cultures by creating unhealthy competition and sowing mistrust is evident, and the seemingly endless generational tensions have a long-term effect. The road toward intergenerational cooperation has narrowed and is now full of steep terrain." Inclusive initiatives build stronger collaboration and can help to prevent or counteract misconceptions that may impede business.
What are the benefits of inclusive intergenerational workplace initiatives?
Palmer notes that there are numerous benefits to reverse mentoring. "Mentoring programs like ADP's Connect program, which offers traditional as well as reverse mentoring opportunities, allow participants to build connections and foster a better understanding of how people who are different from themselves think," he says. "And that's true from an age perspective, as well as any of the other factors that might be incorporated under the diversity umbrella."
Palmer goes on to note that "Mentoring exchanges also offer the chance to gain professional insight and experience. Established professionals inside the company can share their knowledge. Professionals who are newer and emerging inside the company may have seen different approaches or innovations done at other companies that could work well. It doesn't matter which side you're sitting on. There's something that can be shared to grow and develop professionally. Participants also benefit in terms of their visibility and recognition inside the company. People who participate in these types of programs tend to grow their networks faster and gain greater attention from engaged leadership. Greater visibility can open pathways to new opportunities."
From the organization's perspective, these programs can serve as part of a larger DEI initiative to combat ageism. They can also help foster a culture of belonging, which may translate to greater employee retention, a stronger sense of team identity and the ability to hire stronger candidates.
5 factors to consider when rolling out a reverse mentoring initiative
Based on his experience with ADP Connect, Palmer recommends several key best practices:
Build a culture of connection: Having strong connections is a critical benefit. "Within ADP, our Generations ERG sits within the larger DE&I initiative. It's important to highlight that what we're doing here is the building of empathy and understanding. When we're talking with folks who are not like ourselves, we gain a greater understanding of others and have a chance to grow our ability to empathize and understand more than just our own perspective," says Palmer. "It also encourages people — whether they've been at the company for 20 years or recently joined — to share their experience. That makes people feel valued, it makes people feel worthy, and it makes people feel included. As a result, they may be less likely to leave the organization. When you combine that with an opportunity to grow, develop and potentially increase your compensation, even less so. It underscores that you are an important part of a larger whole."
Push beyond common misconceptions: Your team may not have been exposed to reverse mentoring before, so be prepared to address misconceptions. "When speaking to prospective experienced participants, for example, it's important to clarify that the initiative is about more than technology. We're not trying to teach you about the latest hot app that everybody's using," advises Palmer. "From the emerging associate's perspective, there's a bias to address that this isn't about you getting a new job or a promotion. That comes later, and it might be a side effect of growing your knowledge, network and capabilities. But again, the priority here is building strong connections."
Do away with labels: Consider ways to move beyond generational labels. "At ADP, we just use the name Connect. Whether you are a connector or a connectee, the goal is to get people talking. This can be called co-mentoring, where it's a two-way street back and forth between both individuals, as opposed to a one-way situation, which is what most mentoring programs are focused on. We try to focus on that connection, and that automatically sets reverse mentoring into play. It's not about me just teaching you, it's about us teaching each other and building that connection inside of the company and as individuals," says Palmer.
Create a structure for the mentorship: ADP's reverse mentoring efforts are structured. They offer a set of questions to help guide conversations and set expectations. Participants can learn how to ask good questions and how to grow their interviewing skills. Not only are those skills helpful in the mentoring environment, but they're also key to professional development and networking. Partnering with internal technology and learning teams helps ensure a good structure.
Use the right technology: Technology plays a vital role in long-term success. "People, especially emerging professionals, are very used to immediate myriad options and configurable filters to get exactly what they're looking for through search engines. It's just the default. If you don't have technology that matches up to a quick search — like on Amazon for a product — to find a mentor who has this capability or that capability, then you're not necessarily going to be as effective as those programs that do. Investing in the right matching tools is an important part of the experience," according to Palmer.
Reverse mentoring is a key asset that organizations can use to foster inclusive intergenerational workplaces. If you're considering starting such a program, there are best practices and resources out there for you to turn to and explore how successful businesses have achieved this goal. By embracing best practices, focusing on building connections and highlighting the potential benefits for all employees, you can create a powerful experience that transforms team dynamics.
Learn more about how to foster DE&I efforts at your organization. Visit ADP.com/DEI.