5 Steps for Supporting Your Workforce When There Is High Turnover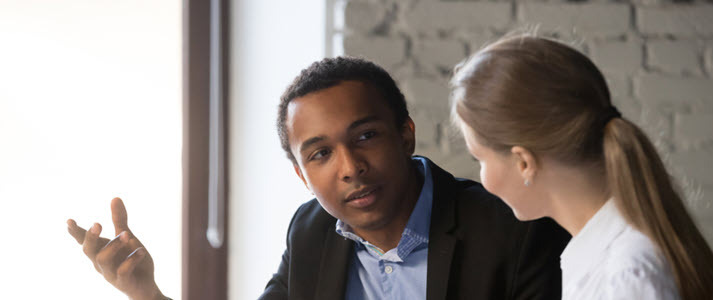 The Great Resignation is underway. What steps can you take to help managers support their team members during times of high turnover?
As businesses face historically high levels of employee turnover, alongside labor shortages in certain fields, headlines are filled with stories about "the Great Resignation." As HR leaders, it's time to consider if what we're really facing is a great retention conundrum.
Building strong employee retention takes time, and over the past year, businesses have been facing very real challenges around operating safely during a pandemic — or continuing to operate at all. While today's talent challenges underscore the need for investing in employee retention, the managers and employees who remain at their organizations are often under tremendous stress. Here are five steps HR managers can take to support managers who are struggling with issues of high employee turnover.
1. Help stressed managers develop skills to build certainty
For departments experiencing high employee turnover, we recommend frequent, light-touch check-ins, which are especially crucial in times of disruption.
No matter the type of disruption — whether it's a merger, staffing reduction or supplier issue — during these periods, people are skeptical. They don't know what's happening, and they're uncertain about the future. HR Leaders can provide managers with the tools and approaches they need to build greater certainty at their organizations. Building trust requires frequent points of connection between team leaders and team members, even when managers don't have all the answers.
2. Structure check-ins around 3 core questions
During their weekly check-ins, managers should make it their goal to align on priorities and ask how people are doing. They can start by asking three core questions:
What are your priorities?
How can I help?
How are you feeling?
These questions center the conversation on the employee and can help managers identify how the high turnover environment may be affecting them today. In an environment where teams may be down key contributors to ongoing projects, it can be helpful to focus on the priorities of that day or week. During check-ins, managers can help employees manage any issues and explore whether there are roadblocks that could be removed. When managers frame discussions with their team members this way, it demonstrates that they have their associates' backs.
Emotional check-ins, where managers ask team members how they're feeling, are also important. The goal of these recurring meetings is to show that managers care, understand employees may be working in difficult environments, and are there to help.
3. Offer tools to help managers navigate conversations
If managers are having frank conversations and find that employees are struggling, they may not know what to do. This is where HR can provide valuable coaching and resources, as managers won't always have experience with navigating certain conversations.
HR can help managers prepare a few different responses. For example, if a manager asks an employee how they're doing and learns that they're really struggling, a great answer might be, "I'm really sorry to hear that you're struggling with that. I'll identify some resources that may be helpful."
As an HR leader, you yourself may not know exactly how to respond to every situation, but people may call on you to ask for help. Point them toward resources on EAP-oriented solutions, mental health services and wellness-related support that your company offers. Struggling employees will appreciate having access to these resources, but they may not know that they exist without guidance from HR and their managers. By helping managers prepare for difficult conversations and ensuring that they understand what support is available to employees, you can give them tangible responses to offer to team members who may be struggling.
4. Find ways to create more space
It may be helpful for HR to ask if there's anything they could take off the manager's plate. For example, if you're dealing with compliance training, how light-touch or easy can you make it? It's important to frequently assess how we can streamline the tasks we're asking our associates to do and ensure they're as frictionless as possible.
Another area to look at may be exploring HR-related tasks where automation can help. For example, approval of hours or reviewing expense reports can be largely automated to help managers save time. Now may also be the time to put certain time-consuming processes on hold, especially if they're not creating tremendous value. Eliminating tasks that people don't see as valuable can create tremendous credibility and shape processes that work with the reality of what's happening in the manager's department.
5. Prepare to be realistic about workloads
As business leaders, we also need to be prepared to make difficult decisions about what work we're able to do. When your team is down, you can cover certain tasks or responsibilities for a short period of time, but in the longer term, it's important to have a realistic perspective on how much you can take on, especially if it's taking a while to attract new talent.
Something's got to give, because if your workloads go mismanaged you will lose more people. As managers, that means we're making hard decisions about what work we can and cannot do. This can be difficult as a manager, since you may feel the need to justify your reasoning to your colleagues and leaders. If there's a conundrum that's disrupting work, the solution might not be immediately apparent, but it's important for managers to examine the issue and determine what assistance they can and cannot provide.
Are you prepared for how work is changing?
Periods of high turnover are challenging to navigate, and they highlight the value of investing in long-term employee retention. However, HR practitioners and leaders can make a significant difference in the current environment by providing managers with the support, leadership and strategies they need to work effectively during difficult times. In doing so, HR can help mitigate the impact of turnover on their remaining staff and begin to break the cycle of high turnover.
Discover better employee engagement today with StandOut, a user-friendly platform that helps build engaged, high-performing teams and improve local team connectivity with strengths-based assessments, frequent team check-ins and personalized coaching for leaders.