10 Strategies for Retaining Employees in Today's Market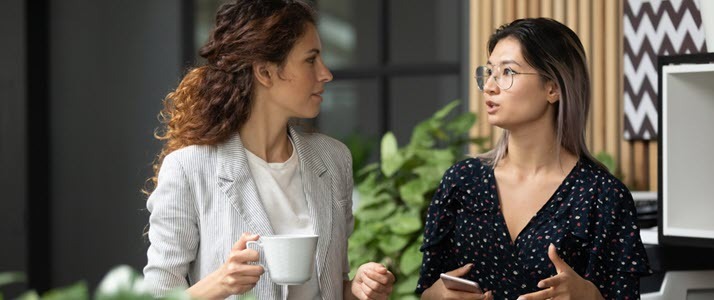 Make sure you maintain policies and practices that are effective in retaining employees and helping your company meet its goals.
Replacing an employee can be especially costly and time consuming in today's labor market and may even have an impact on how you run your business. For instance, some restaurants have reverted back to takeout-only because they're unable to find enough staff to maintain full operations. Here are 10 ways to help you keep your talented employees:
#1: Conduct "stay" and exit interviews.
"Stay interviews" can help you gain insight into how you can retain employees. Ask current employees questions that address both why they're loyal to the company (an indication of what you should keep doing) and why they may consider leaving (an indication of what changes may need to be made). These interviews typically include questions about what the employee likes most and least about their job, what the employer/supervisor can do to support them in the challenging aspects of their job, whether they believe their talents are being fully utilized, and what would make them consider leaving.
If you do receive notice from any employee that they're leaving, conduct an exit interview with them to find out why they resigned. Exit interviews can help you identify your company's weaknesses so that they can be addressed before the next employee leaves and to transfer knowledge to a successor or replacement.
#2: Recognize employees.
Recognition is a simple, low-cost way to motivate and retain employees by showing appreciation for a job well done. The positive feedback demonstrates that you value the employee's contributions and that you encourage their continued efforts. While recognizing top performance is important, think about other behaviors you want to reinforce. For instance, you can recognize employees who submit suggestions for improving workplace safety. Effective recognition can come from the employer, the manager, fellow employees, and customers and can be given publicly or privately. Regardless of whether recognition is given publicly or privately, be specific about why the employee is being recognized. For instance, instead of just saying something to the effect of "good job on that project," be specific about what you appreciated about their effort, such as "you took ownership of the project from the beginning, stayed late to make sure you finished it on time, and corrected a problem that saved the company time and money. Thank you for your dedication."
#3: Train and develop.
Provide employees with training and development opportunities to promote retention and commitment. Even if there aren't a lot of opportunities to move upward, you can still help employees develop skills and knowledge that will serve them in the future. Engage employees on a regular basis to determine their training needs and career development interests. Consider internal and external training opportunities, mentoring, job shadowing, cross-training, and professional development classes.
#4: Make sure you have effective leaders.
Employees often leave a job because of a poor working relationship with their supervisor. When jobs are plentiful, this poor relationship can make it even easier to leave. To be effective, supervisors need proper training and guidance on performance management, communication, applying workplace rules and policies, and employee development. Managers should also receive initial and ongoing training on:
Leadership skills
Holding effective meetings
Time management
Interviewing and hiring
Promoting a fair and inclusive work environment
Motivating and recognizing employees, goal setting, providing constructive feedback, and conducting performance reviews
Recognizing and responding to sexual harassment (required in several states and local jurisdictions) and other misconduct
Understanding and avoiding retaliation
Managing leave and other employee requests
Soliciting feedback from employees
Discipline and termination
#5: Ensure your compensation package is attractive.
An attractive compensation package can put your company ahead of its competitors. The right mix of direct compensation (wages, salaries, commissions, and bonuses) and indirect compensation (health insurance, paid time off, retirement plans, etc.) is key. Develop a total compensation plan that balances attracting and retaining top talent with keeping labor costs under control. For instance, even if you're unable to afford increasing employee wages, which will affect your bottom line for as long as the employee is with you, perhaps you could offer one-time retention and/or performance bonuses this year.
#6: Promote your company's culture.
Employees who feel a strong attachment to their company's culture and values tend to be more loyal and engaged. Ask yourself if your values are clearly communicated to your employees (both at the time of hire and throughout their employment) and whether your policies and practices reflect those values.
#7: Pay special attention to top performers.
Top performers are typically harder and more expensive to replace. Consider performance-based bonuses, more responsibility, or greater autonomy to recognize and encourage exceptional work.
#8: Provide interesting work.
Many employees seek challenging and varied work, two factors that can keep employees engaged. Where possible, design jobs with a range of tasks and allow top performers to work on new or high-profile projects. To help avoid monotony, allow employees to use different skills or cross-train employees on new responsibilities.
#9: Offer flexibility.
Workplace flexibility is attractive for many employees and it can help to reduce the number of unscheduled absences. In response to the pandemic, many employers adopted or expanded flexible work arrangements, such as telework, staggered shifts, compressed workweeks, and flextime (early arrival or departure). As the pandemic continues to impact the country and the labor market has tightened, you may want to consider adopting flexible work arrangements where possible.
#10: Communicate effectively.
Poor communication can lead to misunderstandings, distrust, reduced performance, and other negative consequences that can increase turnover. Communicate openly with employees about the company's goals and business results and give employees multiple ways to provide you with feedback, such as regular staff meetings, an employee suggestion program, and employee satisfaction surveys. As COVID-19 continues to impact businesses everywhere, continue to communicate with your team often and share any updates and changes related to the business in real time. You may also want to conduct more frequent check-ins with employees individually to see how they're doing and to offer support.
Additional information
Learn how to keep and grow your top performers.
This article was originally published as an "ADP HR Tip of the Week" which is a communication created for ADP's small business clients.