Ask Addi P.: Returning to the Workplace Means Rethinking Benefits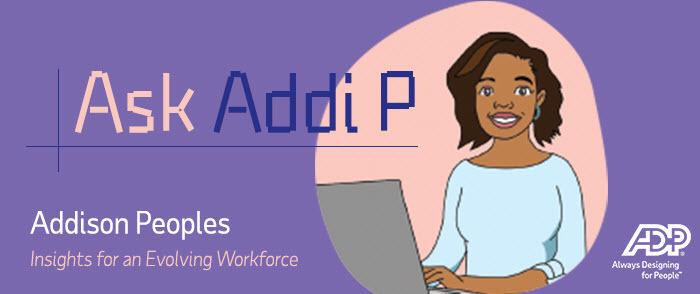 Dear Addi P,
We are going to have hybrid work, with some folks continuing to work from home and others returning to work after COVID-19. In looking at benefits, we are trying to figure out what employees need and want, and how we should approach benefits going forward. What should we consider?
Perks in Palo Alto
Dear Perks,
During the height of the COVID-19 pandemic, many employees reprioritized time, family and their relationship their with work and employer. Therefore, some of their expectations have changed now that organizations are returning to onsite work. Where people work also matters, and having great snacks or ping pong tables at the office may not be as much of a draw anymore. After living and working through COVID-19, for some people, the thought of going back to the office at all may be intimidating.
To help your employees adjust to an evolving work situation, review your benefits to ensure you're offering them what they need. Here are some benefits and policies I expect to see employers implement in response to employees' new needs, desire and priorities.
Time off: We're seeing the effects of burnout as people recover from a sense of living in a crisis, and returning to the office may be a transition that some people don't feel comfortable making right now. Your team may be recuperating from this period for a while, and they'll need the time off to do so.
We've also learned the importance of staying at home when you feel sick. Expanded paid sick leave will be a key benefit going forward, and employees will also need time to see their families and friends after many months of isolation. Offering extra paid time off will pay off for you in the long run when you're able to hire and retain more employees.
Mental health: We are just beginning to see the emotional and mental toll of the pandemic combined with the impact of the public, societal and personal stressors experienced in the United States and globally. We are still grieving, trying to make sense of what happened and figuring out how to manage what's next.
More robust mental health coverage, either through health insurers or as a direct fund that employees can use, will be needed and welcomed. Many mental health professionals don't accept insurance, so consider giving employees an allotment they can spend on therapy or other mental wellness approaches. Employees appreciate knowing that their organizations are genuinely interested in their wellbeing.
Caregiving: Numerous workers have caregiving obligations to children, aging parents or other family members. Providing flexibility and back-up care options can reduce the stress they're experiencing and help your team manage both their work and caregiving obligations. Consider offering onsite care as well, especially if you have extra space due to hybrid work arrangements.
Pet care and insurance: Many people got "pandemic puppies," kittens and other creatures to keep them company at home. If your organization is transitioning back to the office, you can help employees manage the transition for their pets by offering pet insurance, subsidies for pet care during the workday and backup pet care options.
Emergency savings: You could also help employees save for car repairs, dental treatments, necessary appliance updates and other deferred maintenance. Homes have seen wear and tear, cars have been driven less, and many people have had to delay dental or medical procedures until it was safer. Consider matching your employees' emergency savings to ensure they have the resources they need to get things working again. Consider offering financial wellness benefits to help employees better manage their financial challenges.
Inclusive holidays: In addition to traditional holidays, grant your employees a few extra paid holidays and let them decide which days to take. This will allow them to celebrate their religious and cultural holidays, or even just take their birthdays off.
Stipends for clothing and fitness: Returning to the office doesn't just mean a change of routine — it may also mean wearing work clothes that may not fit anymore. To help, you could offer a one-time wardrobe stipend or provide funds for workout gear, gym memberships or home fitness subscriptions.
The most important aspect of helping employees return to the office is having an attitude of understanding and caring. We all experienced the pandemic differently, and our recoveries will be different too. While investors and leaders will be watching the bottom line and hoping for quick rebounds, taking a thoughtful and compassionate approach to supporting the people who got your organization through a global pandemic will be essential to maintaining a healthy and profitable business.
As we begin returning to the workplace, be sure to listen to what your team needs and work to help them get it.
Best regards,
Addi P.
Addi P. is a digital character who represents the human expertise of ADP. The questions and challenges come from professionals who manage people at companies of all sizes. The advice comes from ADP experts who have a deep understanding of the issues and a passion for helping leaders create a better workplace. If you have a challenge you'd like to pose for Addi P, complete this simple form.
The information provided here is for general informational purposes only and not legal, accounting or tax advice. The information and services ADP provides should not be deemed a substitute for the advice of a professional who can better address your specific concern and situation. Any information provided here is by nature subject to revision and may not be the most current information available on the subject matter discussed.