Mental Wellness Support from a Surprising Source: Why and How to Prioritize Mental Health at Work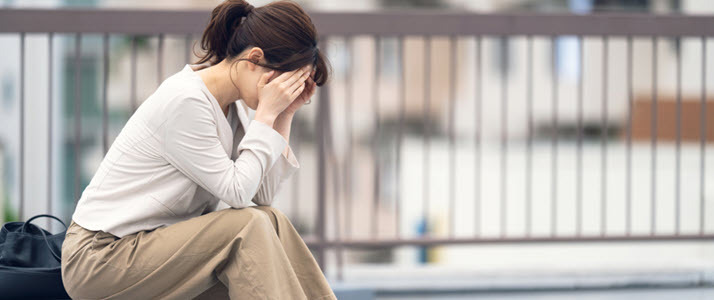 As more people have struggled with mental health during the pandemic, organizations are looking for ways to best support their employees. From resource toolkits to team building, read on for strategies to prioritize mental wellness and why it's a good idea to do so.
In a CDC weekly report from August 14, 2020, 40% of adults reported struggling with mental health or substance abuse issues. Depression and anxiety are occurring 3-4 times more often now than in 2019. Despite this, fewer than 50% of adults struggling with mental wellness challenges seek help. Those who do seek help are unlikely to communicate their struggles to their managers or anyone at work.
More than half of workers feel uncomfortable talking to their managers and supervisors; they fear that discussing their mental health could lead to being fired or furloughed (30%) or could cost them a promotion (29%).
At the same time, people need human connection and collegiality at work to feel and do their best. As an ADP Research Institute (ADPRI) study found, "workers on a team are 2.3 times more likely to be engaged."
How can you, as a business owner, HR leader, or manager, support for your people?
Acknowledge the elephant in the room
First, it's important to recognize that this level of mental health struggle is very common right now. "People are struggling with a very difficult situation," Alison Holman, professor at the University of California, Irvine, who studies trauma-related mental and physical health, told CNBC Make It. Experiencing mental health symptoms, such as stress, anxiety and depression, is "a normal response to an abnormal situation." Letting your employees know that you understand this is a common situation and not something to be ashamed of is the first step toward improving the situation for everyone.
The ADPRI study cautions against pushing employees to return to normal too soon, encouraging managers to acknowledge the unusual circumstances and provide consistent, reassuring communications around mental wellness support: "We humans fear the unknown more than we fear change. Company leaders shouldn't rush employees back to normalcy when so much of the danger inherent in this current 'normalcy' remains unknown and unknowable. Instead, leaders should tell their teams specifically what changes they are making and why in order to increase [employees'] overall level of resilience," says Marcus Buckingham, head of People + Performance research at ADPRI in an article by MIT Sloan Management Review covering insights from the study.
Support employees with empathy and resources
Compile a list of resources that your employees can access if they need help. These can include community-based and local resources, company-sponsored wellness tools and services provided by your health insurance plan. You can also start new initiatives to help mitigate stress and offer individual and group support, like communications from executives, e-newsletters about mental health, mediation sessions, and contests and activities that bring people together.
Sreeni Kutam, CHRO, ADP, has been regularly sending out company-wide emails, providing encouragement to employees ... highlighting the actions of company "heroes", and letting people know it's okay to feel like they're struggling. In a recent email, Kutam kicked off ADP's internal focus on mental wellness:
"While we're here to provide exceptional service to our clients, none of that happens without each of us taking care of ourselves and being there for each other. And I'm here to remind you that it's okay."
Employee response to this message from the CHRO has been extremely positive. The internal month of mental wellness included a mental health toolkit that the team has made available externally for clients and the community. The toolkit includes resources for leaders and employees.
Sustain support for employee mental wellness
When you see what's working, develop a plan to continue it. Employees appreciate knowing that their organizations are genuinely interested in their wellbeing and that any attention paid to mental health awareness isn't just a one-and-done effort. The effects of recent global events will be long-lasting, but you can turn it into a positive by continuing to build a workplace culture of openness, authenticity and support.
In fact, you can use this as an opportunity to strengthen teams and resilience in your organization. The ADPRI study shows that teams are one of the most important factors in employee engagement, a term that describes "the emotional state of mind that causes people to do their best work sustainably."
"It is almost impossible to be either engaged or resilient if you do not feel like part of a team," says Buckingham. "Those who said they are on a team were 2.6 times more likely to be fully engaged and 2.7 times more likely to be highly resilient than those who didn't identify as team members. For millennia, humans have experienced psychological well-being only when they feel connected to and supported by a small group of people around them. Human flourishing happens through team flourishing — and if there's no team to be had, engagement, resilience, and excellence are nowhere to be found."
With the right communications during this challenging time, it's possible that your organization can come out of this period stronger and more connected. On May 5, the Women@Work 2022: Redefining the Workforce of Tomorrow virtual summit will feature a panel discussion addressing the issues affecting employees' mental health and burnout prevention strategies in the workplace. Join the event.
What if you are struggling?
How can you, as a business owner or manager of people, who is struggling with your own mental health challenges and stress, help your employees while also taking care of yourself? The same basic principles apply. First, acknowledge that you are struggling, that it is common and not something to be ashamed of. Second, seek help from resources in your company or through your health insurance plan or community. Mental health challenges don't often go away on their own and getting the right assistance can help you feel better faster. Lastly, set up an ongoing plan for sustaining your own mental wellness.
Sugi Venkatesh, Division Vice President of Human Resources for GPT and GSS at ADP shared his own story of personal struggle during the pandemic in a company-wide communication, and the lesson he took from the experience: "I also realized, given my own feelings, that in order to love, lead, heal and create, we must 'nourish' ourselves first, knowing that we must do that before we can take care of anyone else."
The difficulties we have faced, personally, professionally, and in our communities ... will continue to linger and affect us going forward. If we are to proceed with health and strength, for ourselves and our businesses, it will be vital to adjust our expectations and habits to incorporate the tools and new patterns of open communication that have come from our common struggle.
Download and share these helpful resources for leaders and employees: