Best Practices for Using Pronouns in the Workplace and Everyplace!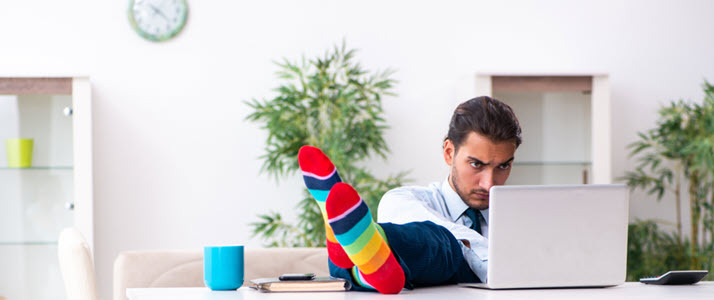 Learn why personal pronoun identity is an issue of growing importance in diversity and inclusion efforts, and consider these six best practices as you help direct your organization in this area.

Personal gender pronouns are the pronouns that a person identifies with and would like to be called when their proper name is not being used. Examples include "she/her/hers," "he/him/his," and "they/them/theirs." For some queer, non-binary, transgender and gender non-conforming people the most commonly used pronouns of he/him and she/her may not fit and if used incorrectly can cause anxiety, stress and may even place them in physical danger.
As a team leader, I want to use correct pronouns with my team members. I feel that this is how I can show them that they matter, and that I respect who they are and how they want to be addressed.
- Michelle Blanchfield, CAET Chat Application
Pronouns are an important part of a person's identity. Using someone's correct pronouns demonstrates respect and inclusion. As businesses seek ways to promote and expand diversity, equity and inclusion in their hiring practices and workplaces, more questions about personal pronouns are arising.
Best practices around pronouns
The following tips are from ADP's video on YouTube entitled Best Practices for Using Pronouns in the Workplace.
Consider including your pronouns in your email signature or name at work to foster a culture of inclusivity. Remember that for some LGBTQ+ people, disclosing their pronouns may be a source of anxiety so don't force this practice on others.
Incorporate neutral language in greetings. Instead of "Hey, guys!" or "Welcome, ladies!", use "Welcome, everyone!" to make sure all participants feel acknowledged, safe and included.
If you make a mistake and someone corrects you, say "Thank you" instead of "I'm sorry" to own the responsibility for your mistake. Practice using someone's pronouns so that you can get this right as soon as possible. Having to correct others who misgender them is exhausting for many transgender and non-binary people.
Use "they or their" wherever possible, as opposed to "his or her" to include people who may not identify with the pronouns his or her.
Respect a person's privacy and journey. Although it is good to ask what pronouns or name a person uses, never ask anyone about gender affirming surgeries or medical transitioning status. Not asking someone about their medical history or plans for surgery is common sense at work regardless of someone's gender identity.
Remember that you can't tell someone's gender just by looking at their appearance. So, share your pronouns first and invite others to share theirs with you.
What organizations can do
In addition to the above best practices, organizations should issue clear leadership and guidelines about the use of gender pronouns. Employers should use gender-neutral language in formal and informal communications. This approach shifts the burden away from non-binary and LGBTQ+ employees and instead creates an expectation of inclusion that applies to the entire workforce. Businesses should include language in their employee policies stipulating that employees can expect their colleagues to use the pronouns they use. Preferred name policies and self-identification tools can promote awareness and facilitate inclusivity.
Why it's important
DJ Martin, Senior Director of Leadership Solutions, says, "Disclosing one's pronouns communicates that our gender is not assumed, and that a binary status is not the only way either." This is such an important point. Just as we are respectful in conversation with colleagues about personal things like parenthood, marital status, and medical history, we want to respect our colleagues' gender identities.
"As a team leader, I want to use correct pronouns with my team members. I feel that this is how I can show them that they matter, and that I respect who they are and how they want to be addressed. Just like our name is something that is ours and ours alone, our pronouns are an extension of that. It's not always easy to get used to and I don't always get it right, but I will continue to do better every day, because it really matters!" says Michelle Blanchfield, Technical Product Owner, CAET Chat Applications.
For tips and tools to help foster diversity, equity and inclusion in your workplace, visit our DE&I content hub.