What's Driving the Future of Work? Digital Transformations in the Workforce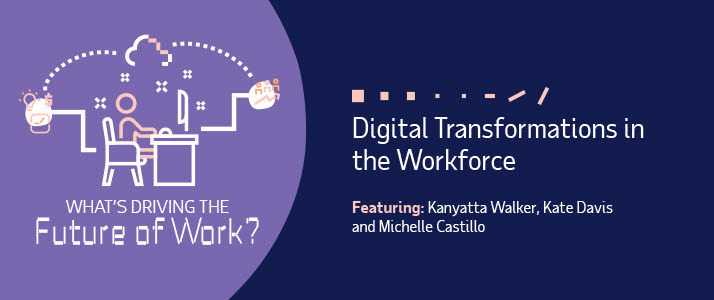 An expert panel explores the digital transformation that's enabling the future of work, from tools and apps, to flexible workplace and pay equity.
This segment from Cheddar (TV network) features Kanyatta Walker, VP of Digital Transformation Portfolio Management at ADP; Kate Davis, Deputy Editor at Fast Company; and Michelle Castillo, reporter at Cheddar, who share their insights about trends shaping the future of work following COVID-19's impact on the workforce.
Watch to learn more about what technologies are playing a role in the future of the workforce.
The above video segment covers the following topics beginning at these minute marks:
2:55
Kanyatta discusses:
Digital transformation and tools such as artificial intelligence, internet of things (IoT), and video and instant messaging team collaboration
Safe return to the workplace
Trends in flexible workforce models
How companies are looking at data to provide insight into social issues such as pay equity and workforce diversity
Women in STEM personal story
8:59
Kate discusses how companies both small and large are exploring equitable workplaces for remote and in-office employees in order to adapt to new hybrid workplace models.
13:04
Michelle talks about the job market, what sectors experienced the most loss and where experts predict significant GDP growth if vaccination success continues in 2021.
To learn about the other episodes in this series, visit this page.