Taking a Data-Based Approach to Diversity and Inclusion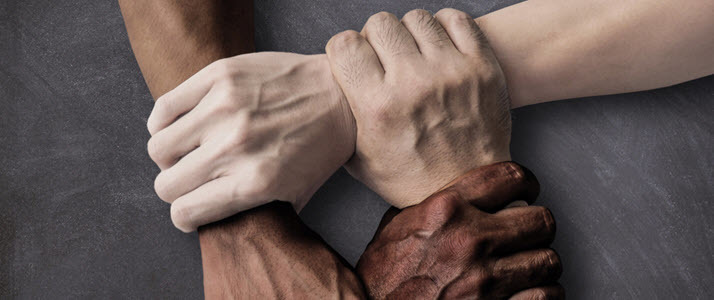 Data can be an important tool for organizations looking to meet their diversity and inclusion initiatives.
The concepts of diversity and inclusion can become an afterthought in business settings. This is often due to a belief that such issues are beyond the reach of management, rather than a lack of respect for the ethics of employment. The perception is that an inclusive organization comes exclusively out of the intuition of HR teams — but the reality is that it comes from a systematic, data-driven understanding of the workforce.
"Everyone has an opinion, and while those opinions are normally based on at least some evidence, it'll usually be circumstantial evidence," says Jack Berkowitz, Senior VP of Product Development at ADP. "By looking at data, on the other hand, you can factually understand your situation and shape the change that every organization needs to go through."
But what exactly does a data-based approach to diversity and inclusion look like? And what have organizations seen as a result of these efforts?
Diversity Manifests in Many Aspects of Your Workforce

Diversity is about more than a mere headcount, though taking stock of the simple proportion of your workers who fall into minority categories is a crucial starting point. But it's also critical to understand how these people came to work at your organization. Do you have equity in hiring? Do you have equity in compensation and advancement for your employees? Most of the data that informs these questions and more comes directly from HR systems, payroll systems, benefits information and similar primary sources.
"It's not classically thought of as a diversity issue, but veterans are often being treated in a disadvantaged way, and that's something that ADP's research has shown is a bit of a hidden diversity issue."
- Jack Berkowitz, Senior VP of Product Development at ADP
Next-generation cloud business platforms will allow more insight into these considerations than ever before. Berkowitz says that ADP is starting to bring information like business data, budget data and sales performance data into the service, helping customers cross-reference these metrics to determine the effect their organization's diversity (or lack thereof) has on them.
"We can see the impacts of diversity on, for example, turnover rate," Berkowitz said. "Not only are clients making statements about diversity being good, but they're starting to be able to really see and quantify its operational impact via their sales data."
How to Examine and Address Diversity in Your Business

The process of improving diversity begins with identifying problems in need of resolutions, and it ends with adjustments that eliminate or offset those problems. Gaining access to the HR data and other resources needed to assess these matters takes time and effort, and the task is often best handled by an expert service provider for the sake of ease.
Organizations may have to start by thinking more broadly about what diversity means. As an example, Berkowitz often thinks about veteran workers.
"It's not classically thought of as a diversity issue, but veterans are often being treated in a disadvantaged way, and workforce data can be used to help identify what may be a hidden diversity issue before it becomes a compliance challenge," he says.
Once you have identified a worker sub-group in need of support, how can you best provide that support? In many cases, working on HR's efforts around targeting and acquiring new workers can be the answer. But what if the problem is more subtle than a lack of applicants? In these situations, it can be difficult to know how to respond. Fortunately, data can provide the insights needed to take meaningful action.
One potential point of opportunity identified is skills development. To apply for and attain the most lucrative positions in the modern economy, all applicants need the relevant skills. To that end, one particularly effective way of applying data on behalf of inclusion is to help workers from traditionally disadvantaged groups find the specific ongoing development opportunities that would provide the greatest benefits for them. This may come in the form of skills development or training for certifications that helps them advance their careers.
Inclusive Businesses Are Productive, Adaptable Businesses

Organizations should prioritize an inclusive workforce — which, as this World Economic Forum report notes, goes beyond gender, race and ethnicity, and covers factors like education, socioeconomic backgrounds and sexual orientation. Those that do tend to enjoy lower turnover and a more satisfying work culture; the potential benefits of having an inclusive business aren't limited to a healthy ethic concerning equal employment.
Research also suggests that there is a link between an organization's diversity and an increase in innovation — and, consequently, improvement in the bottom line. The World Economic Forum cites a Boston Consulting Group study finding "companies with more diverse management teams have 19% higher revenues due to innovation."
Addressing diversity and inclusion should incorporate a data-based approach — one that Berkowitz says is in a nascent stage.
"It's early days, still," says Berkowitz. "We're just getting to the point where we can use all this anonymous data to build real benchmarks from across the workforce. That's where you'll see the biggest new insights; but the industry is just getting there, so you'll definitely see that develop over the coming years."
Remember that data is just one tool in the ongoing fight for a more inclusive workforce. Useful data is now at the disposal of HR professionals, but it's not a solution in and of itself. Raw information needs the abstract wisdom of HR to be applied correctly. Technology to help support those teams with strategy and decision making processes is the other side of the equation to properly address the needs and opportunities for a diverse group of employees.
To learn more, read 3 Diversity and Inclusion Best Practices Supported by HCM Technology.