Mentorship and Allyship: Navigating Toward Diversity and Inclusion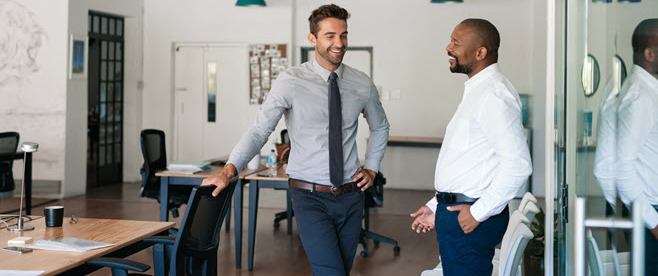 Mentorship and allyship are critical considerations for any business aiming to be viewed as an inclusive, best-in-class workplace.

If there were ever a time to address allyship and mentorship it's now. Social unrest in response to blatant injustice, specifically toward the Black community, has moved many organizations to new levels of action toward improving diversity and inclusion within the workforce and in communities where those organizations are operating. Companies are asking - What can be done to foster increase diverse demographic representation, nurture the careers of employees from underrepresent groups and create a greater sense of inclusion and belonging?
For organizational leaders, the importance of mentorship and allyship to employee development cannot be understated in addressing these and similar questions.
How Diversity and Inclusion Can Factor Into Mentorship
The importance of mentorship — that is, a formal or informal program that pairs a seasoned professional (a mentor) with another (a mentee) for the purpose of sharing their professional knowledge, skills and experiences — can be demonstrated in a number of ways. In a successful mentorship, a mentor can help their mentee learn the ins-and-outs of a role, department or organization faster and more effectively. A mentorship program can also serve as a way to develop historically underrepresented talent for leadership roles.
From a diversity and inclusion (D&I) standpoint, mentorship can give underrepresented employees exposure to opportunities and create a springboard for future sponsorship. For example, if data demonstrates that women or people of color are not well represented in the ranks of leadership, a mentorship program can be designed with specific development goals, coaching and/or advice on stretch assignments with career progression to more senior leadership roles in mind.
Mentorship, with a diverse lens, can also help foster a culture of inclusion. A mentor and mentee have an opportunity to cultivate a deeper relationship with someone who might be very different from them. So it's not just about the representation statistics. It's about literally making space for people to show up in an organization in the fullness of who they are.
At ADP, we are deeply committed to diversity and inclusion. For example, we have specific goals for representation of women and people of color in the executive ranks. We're also deeply committed to driving associate inclusion and belonging, which allyship and mentorship are integral to.
Mentors are expected to be inclusive leaders by doing the following:
Evaluate their own respective professional networks. Who are the people that help you round yourself out, help you get your job done and help you with your career progression? Assess this group, and if the people in your network are mostly similar to you, you're likely doing yourself and those you mentor a disservice. As leaders, we are charged with examining our networks in this way and encouraging others to do the same.
Disrupt unconscious bias. While there is no singular definition for this term, unconscious bias is generally thought of as the assumptions a person might unknowingly make about a person or group of people. These biases show up with us every day and we must do the work to ensure our unconscious biases do not impact how we view talent. Mentors should educate themselves on the subject matter and take steps to "disrupt" those unconscious biases.
It's important that mentors remain vigilant around not letting their biases — unconscious or not — interfere with how they provide guidance to their mentees. Organizationally, ADP has made a commitment to broaden education on unconscious bias. ADP's CEO, Carlos Rodriguez, signed the CEO Action Pledge in October, 2017. As of this writing, we've trained roughly 800 leaders within the organization, and have a goal of reaching all leaders over the course of our next fiscal year. This is being done to create awareness, as well as to provide the tools and resources needed to disrupt unconscious biases.
What Allyship Can Mean for an Organization
In the context of the workplace, allyship refers to support and advocacy for colleagues from underrepresented groups, including LGBTQ+, women, the differently-abled and people of color. Mentorship often focuses on strengthening workplace relationships centered on career progression, and allyship can function similarly. At its core, allyship is about consciously taking steps to eliminate individual and systemic barriers that underrepresented groups face in the workplace.
For example, ADP recently formed a "Men as Allies" network. This initiative will help support mentoring and targeted leadership development programs through greater advocacy and sponsorship for women and people of color. Allyship is critical to business success, as it promotes a culture of inclusion that extends beyond the D&I function where leaders drive performance and innovation through higher engagement and employee belonging.
Business leaders can also create and execute on allyship strategies that make sense for their particular areas of responsibility. These are a must-have, as executive buy-in is necessary for any program — D&I-centered or otherwise — to be successful. A commitment to allyship is a commitment to use your voice and create greater equity in the workplace.
Mentorship and allyship are critical considerations for any business aiming to be viewed as an inclusive, best-in-class workplace. Well-crafted programs driven by executive support and accountability can help organizations achieve this.
Learn More

"Better to Best" — ADP's Diversity and Inclusion Road Map
To read more about our diversity and inclusion efforts, check out the ADP Corporate Social Responsibility report available from this page.