Engaging and Supporting LGBTQ+ Employees in a Remote Work Environment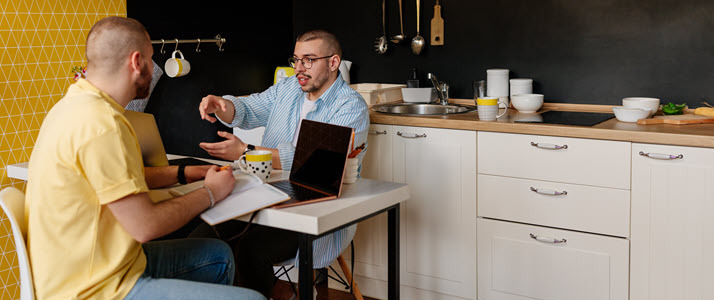 While work-from-home is still in place for many organizations, businesses can still get creative to support their LGBTQ+ employees remotely all year long.
With many organizations still enforcing work-from-home policies or many employees continuing to choose to work remotely, many businesses are striving to find creative ways to support their workforce and promote diversity. Organizations looking to support their LGBTQ+ workforce are no different.
It's an important goal to keep in mind throughout the year, not just during June when it's officially Pride month.
Support Your LGBTQ+ Employees
There are many opportunities to support LGBTQ+ employees and LGBTQ+ related initiatives. For example, if your organization has an employee resource group (ERG) or business resource group (BRG) that focuses on LGBTQ+ topics, you may consider ERG/BRG members for subject matter experts and invite them to speak. Individual employees can share their stories and the group can highlight the broader work that they're doing as well as making resources available. It's important that these groups and their engagement opportunities be easily accessible in a remote working environment.
Ted Kopta, Vice President of Marketing at ADP and Co-Chair of ADP Pride, the organization's LGBTQ+ BRG, says engagement within the group can make a big difference for its members. "The group is providing networking opportunities, and it's providing the opportunity to have mentors within the organization," says Kopta. "If, for example, I'm an entry-level, new person and I really want to understand what it's like to be at ADP and to have gone through a career and be super-successful while being my authentic self, it's making those connections."
HR and executive leadership can speak more broadly about the positive impact of LGBTQ+ staff and what steps the organization is taking now and over the long term to create a diverse, inclusive and equitable workplace. Creating a culture that recognizes, celebrates and highlights the important contributions of its LGBTQ+ members is an important step. Consider internal-facing communications and education about these topics and determine how they can be part of your larger social media presence, virtual events, livestreaming and thought leadership agendas.
Organize Company-wide Educational Activities

Organizations should honor the diversity of employees and strive to recruit and educate internal allies. Activities could include trivia contests about LGBTQ+ history, watch parties and discussion sessions featuring iconic films and documentaries, and presentations by LGBTQ+ employees about the importance of pronouns, etc. LGBTQ+ BRG members and allied employees should take the lead in determining what activities set the right tone and how best to utilize the time. Encouraging and inviting company-wide education is important in community-building, while also helping to add a supportive atmosphere throughout the year.
Whether you're focusing on specific events that will support your LGBTQ+ colleagues (like Pride month), spotlighting employees or developing programs to roll out throughout the year, it's important to take the time to make plans that can pay dividends in moving your organization closer to its D&I goals.
Recognize Your LGBTQ+ Workforce Throughout the Year
Having a virtual workforce means there needs to be a pivot to digital programming that supports your LGBTQ+ community throughout the year.
An example of ADP's commitment to diversity in the workplace is a 100% rating in the 2020 Human Rights Campaign (HRC) Foundation's Corporate Equality Index (CEI). This award earned ADP the designation as a Best Place to Work for LGBTQ Equality, and one point of the company's mission is to recognize the incredible diversity and contributions of the LGBTQ+ community throughout the year.
"Creating a better world of work where everyone feels engaged and empowered to achieve their full potential is core to our purpose at ADP," says Bob Lockett, Chief Diversity and Talent Officer at ADP. "We believe an engaged, inclusive and diverse workforce attracts top talent, galvanizes our creativity, drives innovation and leads to better products and services. It is also important for all of our associates to be seen and valued for their ideas and contributions."
With so much happening in the world, it can feel like your team's focus is split in many directions. However, you shouldn't let this get in the way of acknowledging and honoring an important community. Your LGBTQ+ colleagues and community deserve to be celebrated.
To read more about our diversity and inclusion efforts, check out the ADP Corporate Social Responsibility report. Learn about diversity, equity and inclusion resources to help your organization do and be its best.