All-Female 48-Hour Hackathon Attracted 200 Virtual Participants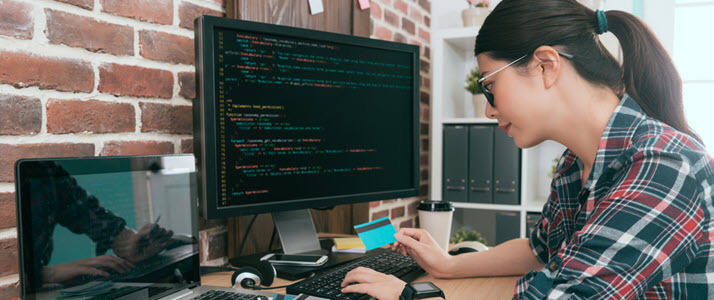 ADP supports events such as this in an effort to encourage more young women to pursue STEM careers.

During a global health event with social distancing in full swing, is there any group better prepared to embrace a 48-hour virtual gathering than tech-savvy female students? Probably not. For the second time, ADP sponsored the Major League Hacking (MLH) Hack Girl Summer Hackathon to encourage female software engineers to pursue their dreams. But this was the first time the event was not held in person.
The June 19-21 virtual hackathon attracted more than 200 participants and at least 50 ADP associates volunteered as organizers, mentors, judges and participants for this event.
Daina Bowler, ADP Vice President of Sales and iWIN board chairperson, kicked off the event, delivering her remarks via streaming platform. Daina told viewers that the ADP iWIN business resource group is comprised of 5,000 ADP women from around the world who are dedicated to encouraging and preparing women and young girls to achieve successful careers in STEM.
After the welcome, participants quickly organized into 70+ teams and then started the creative process and coding effort to develop the best application. The popular gaming chat application Discord was used to find team members to work with and to find mentors to chat with while hacking.
ADP volunteer mentors had their own active Discord channel where coders could ask for guidance on project ideas or pose technical questions to troubleshoot issues. As the corporate sponsor, ADP also presented two well-received workshops.

Workshops
Aini Ali, ADP Vice-President, SBS Operations and iWin Empower Board Chairperson; and Laura Colon, Senior Program Manager - SBS Operations; conducted the first workshop, "Up and Coming Technology" which described all the amazing ways technology has changed the world. She described the incredible advancements in robotics, artificial intelligence, machine learning and automation that will drive future innovation. It is a very exciting time to be a techie!
Ellen Hongo, ADP Senior Director of Strategy GSS, conducted the second workshop "Crafting a Chatbot People Want to Use." Ellen described what goes into designing and creating chatbots using IBM Watson technology, and how they are used at ADP to improve client experience and support. Ellen's workshop opened a new area in automations for the young women to consider as they prepare to enter the workforce of the future.
The ADP challenge "Happy at Home Presented by ADP" was to create a hack that helps folks stay happy at home. The participants' project could be designed to tackle at-home productivity and entertainment, make working remotely easier, or help users connect with friends and family remotely.
After 48 hours of intense coding and a long sleepless weekend, it was time for the judges to see all the application demos and presentations by the students. There were 27 terrific submissions on DevPost for the ADP challenge. DevPost is a global community where software developers share their projects to inspire and learn from one another. The ADP volunteers on the judging panel evaluated and rated the projects on originality, technology, design, completion, learning and adherence to theme. There were so many fantastic projects made by women, for women. It was no easy task to choose the winner of the ADP challenge.

Challenge Winner
During the closing ceremony, Aini Ali announced the ADP challenge winner which was the application called "Inspiration." This creative iOS application was developed by a high school student who wanted to empower other young women to pursue their interests in STEM because diversity is important in the STEM field. The Inspiration app allows young girls to explore different STEM careers through simple objects.
Users point their phone's camera at an object and take a picture of it. Using machine learning and object detection/image labeling, the app detects what object is in the photo. It then displays relevant careers in STEM involving the object and prompts the user to view an influential woman in the same career. Every day, the app's home page displays a new influential female for girls to learn about.
The iOS app was built using Xcode and SwiftUI. For the front end, the student designed all the UI using Sketch. For the backend, she used machine learning API and Firebase. The machine learning API uses the ML Kit Image Labeling's base TensorFlow model in order to predict the objects in the photos. The Inspiration app was truly a very creative and innovative application!
The Major League Hacking Organization (MLH) organizers truly appreciate ADP's sponsorship and partnership. We look forward to doing many more hackathons together in the future. Thank you to all the ADP volunteers for the outstanding energy they brought to this event. We all learned so much about new technologies used to conduct a virtual event of this magnitude and it was an amazing experience.
ADP is proud to support women's hackathons to encourage more young women to relentlessly pursue their dreams of changing the world using innovative technology. Through this hackathon sponsorship and our significant partnership with Girls Who Code – focused on closing the gender gap in tech -- ADP demonstrates our commitment to Diversity and Inclusion by promoting and supporting women in technology careers.
Learn about STEM career opportunities at ADP by visiting tech.adp.com.