"Better for It" Episode 6: Building Relationships in Business with Charles Thomas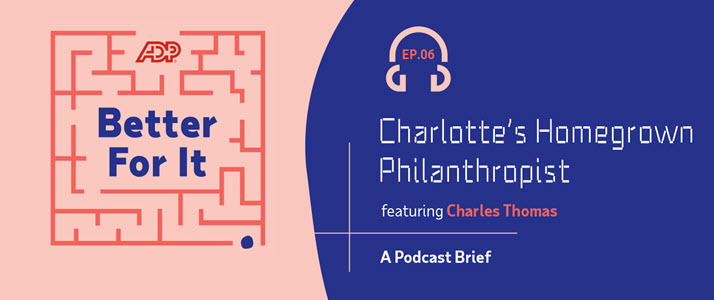 Charles Thomas, a director at the Knight Foundation in Charlotte, shares his business relationship building lessons and tips on the Better For It podcast.

Have you ever thought about a time when your work mistakes may have taught you a lesson that fuels the way you work today? ADP's "Better For It" podcast talks with leaders about exactly this. We're talking about critical moments — times when you almost lose a business or question your character.
Building relationships in business is a central theme in this episode of the "Better for It" podcast, which features Charles Thomas, a director at the Knight Foundation in Charlotte.
Build Relationships Based on Purpose
Thomas grew up in Charlotte, where his role at the Knight Foundation had him guiding where money will be invested in poor neighborhoods within the city. One of his most important functions is building relationships with local communities so they can voice their ideas about how their neighborhoods should develop and maintain their cultural history.
I thought I was running a sprint, and I realized this is a marathon. And actually, you know what? It's not a marathon. It's a relay race. A relay marathon.
- Charles Thomas
Early in his career, Thomas learned that building relationships in business is critical while he was serving in another role as the executive director of a local nonprofit. As he observes, raising money tends to require more than just a strong vision: "The No. 1 rule in fundraising and asking people for money is to have a relationship," says Thomas.
When Thomas joined the Knight Foundation and began working with larger organizations, he had to adjust to the more corporate approval processes. At first he was taken back by the questions from his higher-ups. "They were great questions and very data driven" but felt it was a test that he wasn't passing, and as a result he wasn't listening to the feedback. These negative thoughts were getting in the way of his work until he figured out how to reframe the feedback. He developed a strategy and typed up all conversations and questions he had with his managers and when he read them over, he realized that he was not giving them good answer and now knew how to fix it.
He is able to share his relationship-building skills with others, particularly in fielding pitches for grants. "It's important to understand when you walk in that it's not just about solving this problem that you're coming in with — it's also a partnership," says Thomas. "And so if the foundation says they're really focused on affordable housing and you come in there with a pitch for education or for a mentoring program, then they're going to tell you, 'No.' But I also recognize, because I sat on the other side of the table, when people just don't know — and they don't know that they don't know." It's not as simple as groups looking to give money away, they want to be aligned on both sides.
Navigating the Way Forward
ADP's industry leading HR-solutions and expertise is designed to help you manage your way forward today — and create an even better workplace for the future. Much more than payroll, ADP provides best-in-class HR, talent, time and attendance, and benefits. All designed to clear the way for you and your people to achieve what you're working for.
Learn more by listening to the "Better For It" podcast today.
To learn about the other episodes in this series, visit this page.