From Veteran-Friendly to Veteran-Ready: Designing a Successful Workplace for Military Veterans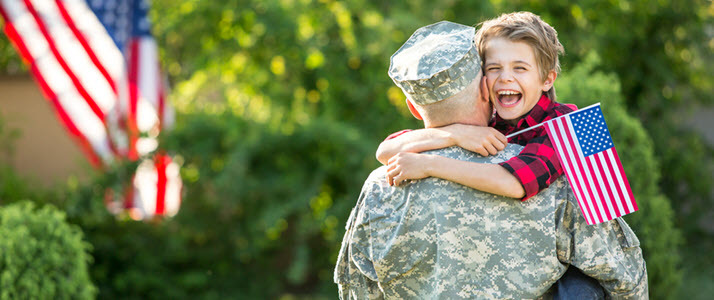 HR leaders with a goal of shifting to a veteran-ready environment have a variety of opportunities to get there.
It's common for organizations to brand themselves as "veteran-friendly." They attend military job fairs, build a military hiring team, and set targets for military hires annually. But, with veteran unemployment at an all-time low and a clear gap in the skill trade, being "veteran-friendly" is no longer enough.
Today, companies are challenged to hire this underrepresented workforce into jobs where they'll feel valued, be encouraged to grow, and see a future. Currently, 80% of military veterans leave their first civilian career in their first year. So while companies may be "friendly" enough to hire them into their organization, they aren't "veteran-ready" to keep them for the long term.
The Value of Securing Top Military Veteran Talent
Military veterans leave the service with valuable transferable skills. They master new skills in a short amount of time without prior experience – like a recent high school graduate charged with fixing helicopters. They do their work well under an extreme amount of pressure. And, at all levels, veterans possess strong leadership skills.
Companies must also recognize that veterans, especially those in military leadership positions, often take a step backwards in title and compensation when moving to civilian life. These veterans take time to learn the civilian side of what they want to do, and oftentimes, their leadership and military soft skills shine through to move them up in rank to a place that makes sense. Understanding newly hired veterans' career aspirations – and preparing a path to help them succeed – are critical to retaining this population.
HR leaders and executives should message the value of military veteran hires to expand the types of roles positioned for veterans. For instance, a global medical equipment manufacturer and ADP RPO client increased military hiring by 60 percent by partnering with local veteran organizations to focus on filling production roles. This hiring expanded to include sales, scientific, and other key roles in their business as they understood the value veterans brought.
After leaving the service, military veterans look for companies that are prepared to embrace them and help them succeed in civilian life.
Making the Shift to Veteran-Ready
It's no longer a question of who's leading the way in hiring military veterans. The question evolved: "Who's valuing veterans? Who's engaging, training, and retaining them?"
HR leaders with a goal of shifting to a veteran-ready environment have a variety of opportunities to get there.
Hiring practices are a smart place for companies to start designing a better workplace for military veterans. Consider how you write job descriptions and highlight transferable skills. One Fortune 250 IT company, and ADP RPO client, initiated a formal change-management program to educate hiring managers regarding what to look for on resumes, better understand how military skills apply to business needs, and change the mindset and behaviors of a successful military hiring program. These changes helped increase veteran hiring by 62 percent.
With increased demand also comes the opportunity for veterans to consider roles that position them for long term success. They look for companies that demonstrate commitment to valuing their experience and helping them grow in the future. Companies that provide clear career pathing for military veterans could be more successful in retaining them over time. One ADP RPO client, a human therapies company, offers resume workshops to highlight veteran skills and hosts hiring events that allow veterans to sell their skills face-to-face with hiring managers.
Once in the door, veterans immediately benefit from engaging with Business Resource Groups (BRGs) and established mentorship programs that connect veteran employees. In these instances, military veterans have access to employees who successfully transitioned to civilian work-life. These employees can support new hires through their transition to your company.
This is especially important for employees that are still active in the military Reserve or National Guard. Consider implementing policies that support active duty military, like ADP RPO client Advanced Disposal Services, who pays National Guard and Reserve soldiers for weekend and deployments along with accepting military training in lieu of civilian job requirements.
Additionally, military veterans might consider employer benefits when selecting roles. Companies that provide support for disabled veterans or additional benefits for servicemen and women may hire and retain top military talent better than their competitors.
Use Your Resources To Make A Difference
Where to start? Talk with industry peers who have set up successful veteran programs. Using best practices from top rated companies on Military.com list of Top 100 Companies can also provide a starting point. But more than anything, be sure not to over-promise a program you're not sure how to deliver.
Additionally, ADP RPO offers Military Recruiting, which can support your military hiring and engagement efforts. More than 1,500 veterans have been hired on behalf of our clients through the military recruiting program which was established in 2014.
With thoughtful effort, your organization can move from veteran-friendly to veteran-ready – ready to hire, grow, and keep military veterans.
Learn more
Join this webcast for insights on how HR professionals can help newly transitioned military veterans into valuable, long-term employees and leaders in your organization.
Learn more about diversity, equity and inclusion resources to help your organization do and be its best.