Too Many Baby Boomers Are Financially Unprepared for Retirement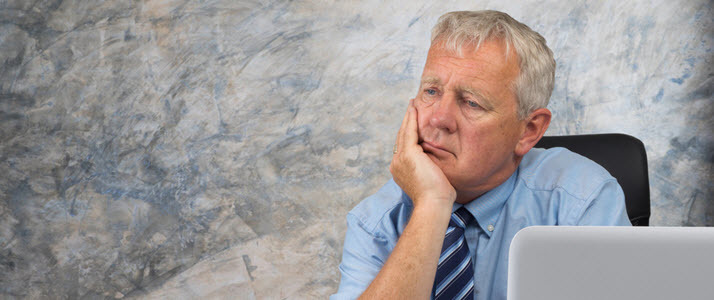 With the pre-retirement working years being a critical time for finalizing plans, these workers need help fast.
Baby boomers are in the home stretch to retirement – with hundreds of thousands retiring each year. However, PwC's Employee Financial Wellness Survey (published in May 20181) indicates that nearly half of all "boomers" (47 percent) intend to remain in the workforce longer than planned due to insufficient savings. They worry about retirement preparedness – 46 percent cite this as their biggest financial concern – and with good reason. Although PwC's survey indicates that 59 percent plan to retire within five years, more than half don't know how much they'll need in retirement, 43percent have less than $100,000 saved, and just 52 percent are confident they have enough to cover future medical expenses. The survey also uncovered that 38 percent think they may need to spend their retirement assets on current expenses rather than retirement, with 19 percent having already made withdrawals. With the pre-retirement working years being a critical time for finalizing plans, these workers need help fast.
The survey also uncovered that employed "boomers" are equally concerned with potential health issues in retirement (37 percent), the future cost of health care (36 percent) and running out of money (33 percent). In addition, the health-conscious boomers could expect extended life expectancies, which would require additional savings. This important consideration, along with the substantial cost of health care, puts this group at risk for running out of savings in retirement. More than half of this generation (57 percent) believe health-related expenses will have an impact on their retirement, and nearly a third has already experienced that impact. For the first time, these pre-retiree-age workers are delaying retirement to maintain employer healthcare coverage. In the past, boomers chose to continue working because they were not ready to retire – not because of economic necessity.
What Employers Can Do
Financial difficulties aren't good for your employees or your business. When employees nearing retirement are unprepared for the next phase of their life, it can limit advancement opportunities for other workers and possibly increase healthcare costs for your business. Educational opportunities through financial wellness programs can help pre-retirees learn how to take steps to eliminate any potential retirement income gap, reduce debt, understand Medicare and healthcare costs, and develop Social Security and asset withdrawal strategies to help make savings last.
ADP offers employers financial wellness solutions and innovative, smart technology that engage employees in a meaningful way. Our solutions go beyond retirement to provide participants access to services that can help them better manage their money and reduce stress related to personal financial matters.
Go Deeper
Read our whitepaper about the challenges that impact the retirement readiness of the baby boomer generation.
Unless otherwise disclosed or agreed to in writing with a client, ADP, LLC and its affiliates (ADP) do not endorse or recommend specific investment companies or products, financial advisors or service providers; engage or compensate any financial advisor or firm for the provision of advice; offer financial, investment, tax or legal advice or management services; or serve in a fiduciary capacity with respect to retirement plans. Investment options are available for all "ADP Direct Products" through either ADP Broker-Dealer, Inc. (Member FINRA), an affiliate of ADP, LLC, (ADP BD) or (in the case of certain investments) ADP, LLC. Only licensed representatives of ADP BD or, in the case of certain products, of an external broker-dealer that has executed a marketing agreement with ADP, LLC, may offer and sell ADP retirement products and services or speak to retirement plan features and/or investment options available in any ADP retirement product. Nothing in these materials is intended to be, nor should be construed as, a recommendation for a particular situation or plan. Registered representatives of ADP BD do not offer investment, tax or legal advice to individuals. Please consult with your own advisors for such advice. ADPBD2019-0307-0682
---
1Employee Financial Wellness Survey, PwC, May 2018