Tips on Managing Employees From Successful Small-Business Owners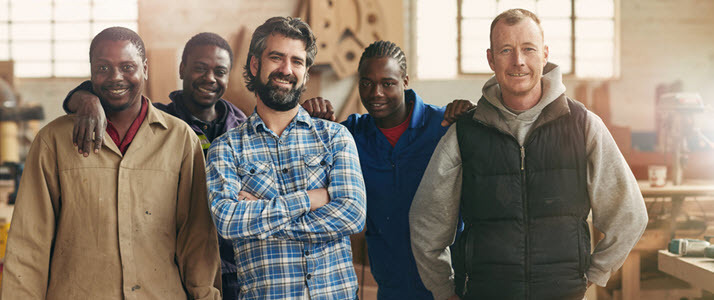 In a growing business, managing employees can feel like just another task. Successful small-business owners offer advice on how to do it right.
Managing employees can feel like just another task on top of all the other demands of a growing small business. But when done right, employee management can actually unlock an enormous amount of human potential. Below, we'll look at some tips from small-business owners on how to set your employees up for success.
Create Resilient Systems
The temptation to micromanage employees can be strong, especially for entrepreneurs who are used to being in control of every aspect of their business. But many business owners recommend creating a clear set of standards and expectations so that constant supervision becomes unnecessary.
As you onboard and train new employees, your priority should be to wean them off of your input as soon as possible. Tracy Solomon of Tevet LLC notes that "a strong leader hires good people and then gets out of their way in order for the team to be successful." That means having clear expectations and channels of communication that don't necessarily need you in order to function.
Chris Abrams, owner of MJ Life Insurance, challenges entrepreneurs to think about what kinds of systems they would need to feel comfortable leaving the business in their employees' hands for an extended vacation or leave of absence.
He advises creating a book of standard operating procedures for the whole business, adding that the simple act of writing down these best practices can have other benefits: "Documenting my procedures has made me examine everything necessary to run my business in detail and make processes more efficient."
Creating such a document may sound too rigid, but it doesn't have to be. Vanessa Nornberg of Metal Mafia argues that the best procedures empower employees by explaining the company's broader goals and showing them how their work helps make those goals a reality: "A sales rep doesn't need a script, she must understand what makes a product valuable to a customer and the many ways to point out those benefits."
Lead with Your Behavior
Employees look to their leaders for cues on how to think and act in their jobs. Strive to project the behaviors you want to see in your staff and try to be consistent. Modeling consistency and integrity will gain the respect of your team and give them a clear picture of how they can win your respect.
Elizabeth Saunders, founder of Real Life E, stresses how important your responses are in shaping your employees' behavior, especially when things don't go according to plan. Reacting with anger or without consistency can make your employees doubt whether telling you the truth is a good idea. "You can encourage openness and honesty by responding calmly when they tell you something has not gone as you expected, talking through a plan for moving forward and agreeing on follow-up and accountability."
"Before your management approach can be effective, it must be consistent," writes Jayson DeMers, founder and CEO of AudienceBloom. "You must reward the same behaviors every time they appear, discourage the same behaviors when they appear and treat every member of your team with an equal, level-headed view."
Employees are quick to notice when management doesn't act consistently, or when they fail to hold themselves to the same standards as their subordinates, adds Victor Lipman, founder of Howling Wolf Management Training. "Nothing demoralizes employees more quickly than seeing senior leaders act in a way they don't respect, and few things energize employees more than a senior team they admire."
Build People Up
The skills with which your employees come to you are a starting point, not an endpoint. You can get more out of your team by involving them in the big-picture goals of the company. When you speak to the height of your employees' abilities and reward them for reaching, you encourage them to develop themselves in line with the company's needs and access untapped, perhaps unseen human potential.
Chris Licata, owner of Blake's All Natural Foods, recommends taking an arm's-length approach, where management is ready to support employees if they falter, but also gives them room to take risks and make their own decisions. He advises entrepreneurs to "retrain micromanagers, to promote autonomy, creativity and calculated risk-taking."
"Don't underestimate what your employees already know about your business and what they can contribute. Hiding performance measures or being opaque about your financials is a disservice to their intelligence and a huge missed opportunity for you as a business owner," advises Rosemary Plorin, president and CEO of Lovell Communications, adding that employees who better understand the company's needs and prospects are more motivated and can be an unexpected source of new and useful thinking.
Create a Strong Workplace Culture
When it comes to managing employees, your best bet for attracting top-quality applicants, retaining great employees and for improving productivity is to continually develop a strong workplace culture. This requires a combination of the previous three suggestions but should also be backed up by other efforts, both in terms of tangible perks and interpersonal and community recognition.
This is easier said than done, though. Maintaining a strong community often requires leaders to face uncomfortable situations, manage different personalities and defuse tensions in the workplace.
Stephen Sheinbaum, founder of Bizfi, suggests that building a strong culture of recognition takes more than a pat on the back or a few words of encouragement. "Don't just name somebody employee of the week or month: When you give the award, tell all of the employees specifically what the employee did and how it relates to milestones you want your business to reach. Make it a habit, and other employees will begin to see how they also can make contributions that matter."

You could also consider a mentoring program at your company, to build and strengthen teams and allow more seasoned employees to share knowledge and goals with newer members of your organization. "From a total rewards standpoint, there are a lot of things you can do," says Susan Hanold, Vice President, HCM Strategic Advisory Services for ADP. "Mentoring can be part of a talent retention strategy — especially when leaders or key employees are challenged with new responsibilities. A mentor can be a key, low-cost part of that support."
The intangible benefits of a supportive community, though, should be backed up by more tangible ones. Jordan Wan, founder and CEO of CloserIQ, has found success offering employees gym membership reimbursements, sponsoring community events and throwing office happy hours. "These particular perks are popular because you're providing more than just the usual health benefits. You're going above and beyond to show employees that you don't just care about the work they do — you value them as an individual and care about their well-being." These perks don't have to demolish your bottom line, though. In many cases, it's the effort that counts.
The Takeaway
Of course, not all of this can be done overnight, and initiatives can vary based on certain factors, like the company culture or industry. Building strong leadership and talent practices takes time and sustained effort. These tips can guide you as you decide who to hire and how to shape your growing company. To hear more about leadership and talent strategies from ADP industry experts, you can replay our interactive virtual discussion on-demand anytime: Deconstructing Talent Best Practices to Find What Really Works.