From Baby Boomers to Millennials: How to Talk Benefits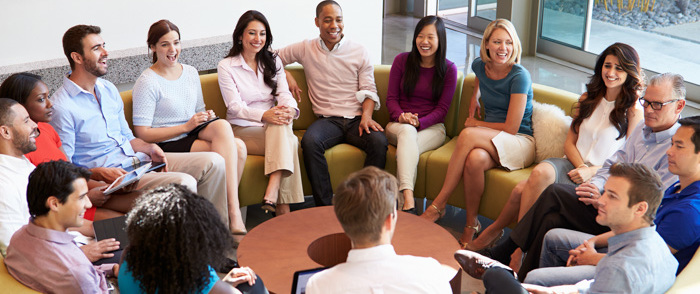 This article was updated on July 20, 2018.
Communicating employee benefits to multiple generations of workers is a challenge for today's HR leaders. We are operating in a business environment where people are living longer, delaying retirement and working alongside peers of four distinct generations. Each generation has unique communications preferences: Some employees like face-to-face meetings, for instance, while others would rather learn about benefits on a self-service website.
There is no one-size-fits-all approach to communicating employee benefit information. Instead, a customized approach that honors the communication and learning styles of all generations is in order. Effectively communicating employee benefits starts with understanding the general ways in which multigenerational workers interact with the world.
Multiple Generations Under One Roof: Adapt Your Communication
The common characteristics of the generations active in today's workforce provide a blueprint for effective employee benefits communication. Generally speaking, those generations are those:
Born 1925 to 1945, the eldest group of employees lived through World War II, and their families survived the Great Depression. They are among the most gifted and seasoned workers, but they are somewhat slower to adapt to change and cultural shifts. They prefer written employee benefits communication from an authority figure, in the form of letters and benefit marketing packages.
Born 1946 to 1964, the baby boomers as they are called, were raised during the feminist and civil rights movements. They tend to have strong opinions and personalities. They are loyal team players and prefer a personalized communication style, such as phone calls and small group meetings.
Born 1965 to 1979, Generation X is the first generation of workers to grow up with emerging technology and the first to focus on work-life balance. They tend to enjoy efficient benefits communication and strong visuals, such as webinars and emails.
Born 1980 to 2000, Generation Y, or the millennials, are now the largest group of employees in the workplace. They have grown up with technology as a part of their personal and professional lives. The use of cloud and mobile technology, as well as text messaging, can be very effective for communicating benefits information.
Multiple Layers of Benefits Communication
Communicating employee benefits for a multigenerational workforce should include multiple channels that allow employees to self-select the method they prefer. While the above guidelines can help, it's important to understand that each employee has his or her own learning and communication style that dictates how they like to learn about benefits. There are some ways to deliver benefits information to employees that accomplishes this goal, including:
Staff Meetings. Held "town hall" style, all employees can be brought together for a brief visual and audio benefits presentation, with a live question and answer session. Alternatively, a webinar or teleconference can provide the same results, with small groups of employees meeting with the benefit administration team for more personalized discussions.
Direct Support. At any time of year, and especially during the open enrollment period, the benefits administrator can be available by phone and email to help employees with any benefit related concern. Create an online enrollment center with downloadable benefits information and answers to FAQs for employees who prefer to read and learn on their own.
Traditional and Modern. In addition to having paper copies of employee benefit communication materials, send out a series of instructional emails that walk employees through enrollment and employee-directed wellness tools, such as the corporate wellness program or a physician directory. Make this accessible by desktop or mobile devices.
Taking into account how multigenerational workers communicate can help to get information out to employees in a less confusing and more efficient way.