Corporate Social Responsibility: To Thine Own Self Be True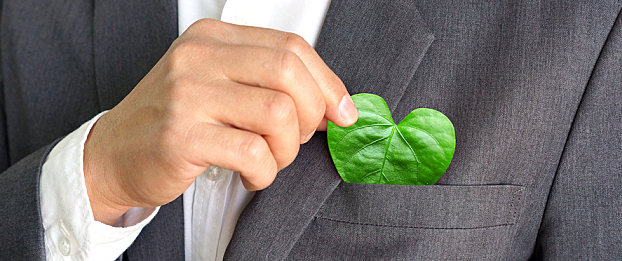 In considering corporate social responsibility (CSR) actions and decisions, it's good to remember the words of poet John Lydgate: "You can please some of the people all of the time, you can please all of the people some of the time, but you can't please all of the people all of the time."
As the nation remains almost evenly split on a number of issues along party and ideological lines, organizations are starting to take positions that represent their values and approaches.
Taking a Stand
Chobani CEO, Hamdi Ulukaya, certainly knows this. Ulukaya has been the target of both praise and criticism for his commitment to hiring refugees to work in his yogurt plants. An immigrant himself, Ulukaya came to the U.S. from Turkey, as Forbes notes.
CEOs, while figureheads for the organizations they lead, are people too — with perspectives, passions and personal missions that inevitably guide the decisions they make. It can be risky to take a stance that some significant percentage of a customer or market segment vehemently disagrees with. But there's another well-known quote that applies here. As the character Polonius exhorts in Hamlet: "To thine own self be true."
Ulukaya is decidedly true to his values. In 2016 he famously gave up 10 percent of his organization to his employees in the form of stock, as reported by Forbes. He also signed Warren Buffett and Bill Gates' Giving Pledge, promising to give up half of his wealth, as Business Insider notes. His philanthropic efforts have also focused on helping refugees around the world, and he's given $2 million to help refugees fleeing his home country, according to Business Insider.
Two Sides (at Least) to Every Issue
Daniel K. Lobring, managing director of communications at rEvolution, an integrated sports marketing firm based in Chicago, says these types of actions, regardless of if they are seen as taking a political stance, are important to take. "There's always risk in actions being characterized as political, but there's less risk in actions that are inarguably compassionate, empathetic and ultimately 'human,'" he says.
Consumers, who are increasingly socially conscientious, may feel better about themselves when they support brands that share their values, says Lobring. In considering Ulukaya's stance, Lobring says he "not only generates positive PR, but also helps Chobani stand out from the crowd in a grocery aisle filled with a myriad of yogurt options."
On the other hand, Jan Bednar, CEO of ShipMonk, an order fulfillment firm based in Deerfield Beach, Florida, believes otherwise. "I firmly believe that a CEO's care and sense of responsibility should ultimately, in this day in age, be tempered," he says. Because of the potential for polarization, Bednar says he makes his personal stances on social issues private — the way he feels they should be. "Remember, a company is bigger than the CEO," Bednar says.
Where Consumers Stand
What do consumers think? Weber Shandwick has identified CEO activism as a new dynamic that drives corporate reputation. According to Weber Shandwick, almost 40 percent of American adults feel CEOs have a duty to speak out about issues that concern them. In fact, Americans were more favorably disposed toward CEOs who do.
There's an important caveat, though. Respondents felt that the issues CEOs choose to take a stand on should be somehow tied to their organization's core business. In addition, not surprisingly, the stance that corporate CEOs take have an impact on consumer purchase decisions, with those who disagree with that stance more likely not to buy (45 percent) than those who agree with the stance are to buy (40 percent).
Risky, yes. But, when brand supportive, taking a stand on important issues can become an expectation of key stakeholders. Chobani is not the only large organization whose CEO has taken a stance on a controversial issue. Earlier in 2017, in response to President Trump's immigration order, some high-profile CEOs came forward to pledge their support for hiring refugees, including Starbucks' Howard Schultz, as reported by Business Insider. Others remained stoically silent.
Silence Can Be Risky Too
There are a myriad of other issues that cut across party lines and public sentiment: such as businesses refusing to serve gay customers, companies making statements on guns, and corporations supporting climate change.
Harvard Business Review (HBR) reports how staying quiet about issues may no longer be an option for organizations. Pressure on CEOs to take some kind of stand can come from a variety of factions including shareholders, customers and advocacy groups. Regardless of industry, geography or customer base, CEOs and their internal advisers need to be prepared for suddenly being thrust into the spotlight based on what may be perceived as a controversial position. HBR recommends the following proactive steps to be prepared in the event that an organizational stance becomes a consumer issue:
Be prepared — Organizations can not only proactively identify the types of issues that might impact their public perception but can, and should, conduct drills and "crisis simulation training" to prepare for the impact of sudden publicity.
Personalize the issue — Alignment with organizational culture, mission, vision and values is important and can resonate with various audiences.
Leverage strength in numbers — How might you work with peers from other organizations, or trade groups, to help bolster your message?
Be consistent — Whatever your organization stands for, your organization should stand for.
In a country where most citizens cling strongly to their first amendment rights to freedom of speech and expression, the words often attributed to both Evelyn Beatrice Hall and Voltaire resonate: "I disapprove of what you say, but I will defend to the death your right to say it." Be true to yourself. Be true to your organization. Be true to your employees, customers and other stakeholders. That's all any of us can reasonably expect of the organizations that serve us.
Stay up-to-date on the latest workforce trends and insights for HR leaders: subscribe to our monthly e-newsletter.