Making Sense of Jobs Amid Disruption: APAC and Beyond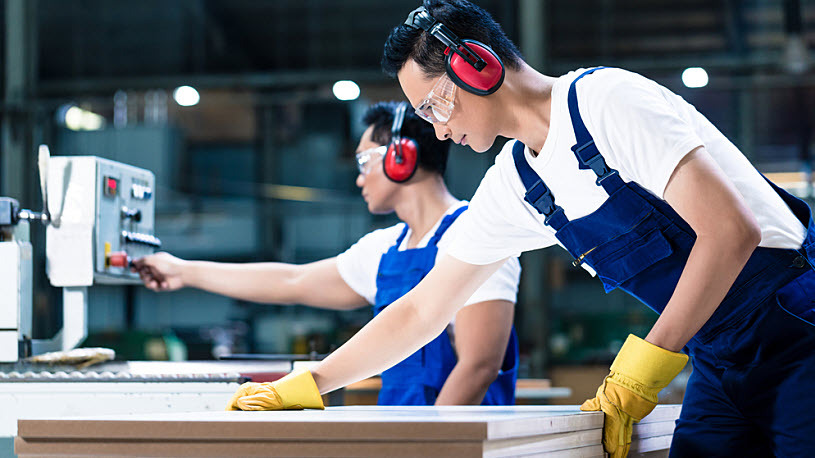 Insights from 14th Annual Meeting of the New Champions (AMNC)
The global economy is at a pivotal moment of transformation. Established business and industry models have not only been challenged by the COVID-19 pandemic but are now being tested by a more competitive geopolitical and geoeconomic environment.
As a result, how to navigate these developments and simultaneously accelerate progress on critical common goals is top of mind for decision-makers worldwide. To respond to this evolving landscape, the World Economic Forum returned to the tradition of its "Summer Davos" and recently convened the 14th Annual Meeting of the New Champions in Tianjin, People's Republic of China.
As the leader in the HR and payroll industry, ADP was invited to share its unique perspective on workforce evolution and expectations, which are based on the experience of serving over one million clients around the world.
Jessica Zhang, Senior Vice President, APAC, offered her insights during the panel session, "Making Sense of Jobs Amid Disruption." Lily Ma, General Manager of North Asia, and Leanne Chin, Chief Financial Officer APAC, also joined the forum.
Making sense of jobs amid disruption in the Asia-Pacific region
Labor markets are in a period of unprecedented transformation, disrupted by automation, industry transformation and the green transition. How will these shifts impact work, wages and employment trends, and what efforts are needed to adapt to the future of work?
According to the Future of Jobs 2023 report issued by the World Economic Forum, the top three key drivers of job change are green transition, economic outlook, and technology. The combination poses a mixed bag of opportunities. While the green transition is predicted to create more jobs, and the dismal economic outlook at this point will contribute to job decline, the effects of technological innovation are undecided. Focusing on APAC, Jessica holds a positive view, and the following is a quick summary of her thoughts on two topics.
On how jobs in Asia are being affected by technology
The fear of technological unemployment is not new. The idea that technology destroys more jobs than it produces was already discussed at the beginning of the Industrial Revolution. However, Jessica noted that 60% of workers today hold jobs that did not exist in 1940, implying that more than 85% of job growth over the past 80 years was driven by new job creations, thanks to technological progress.
Automation might be perceived as a concern when discussing job displacement, but it also brings new job opportunities. Some routine and repetitive tasks may be automated, but it opens opportunities for employees to focus on more creative and complex tasks, with higher potential for growth and new job openings.

Yet, Jessica emphasizes that technology should not be left to its own devices. At ADP we believe that technology is the key to success if and only if it is combined with strong human expertise. As technology continues to evolve at a rapid pace, there is a strong need for individual upskilling and reskilling so that employees can eventually transition into new roles and industries. This naturally brings us to the next discussion.
On the tactics to help employees benefit from the increased use of technology in the labor market
Jessica recommends five pillars to focus on.
Skills development and training: When employees can acquire new skills and enhance the existing ones, they will be able to maximize the benefits of the new technologies. According to ADP's People at Work 2023: A Global Workforce View, 69% of workers discuss skills and training requirements with their employers. As workers look to the future, management skills are considered most important in their roles, followed by people skills and data analysis skills. However, according to 67% of respondents, the skillsets of the future will be comprised of technology skills not yet considered imperative to the job today, requiring both employers and employees to reframe skills development and training to prepare for the years to come.
Identify technological challenges. Some internal processes are bound to become obsolete due to technology, so Jessica recommends looking for areas where technology can augment human capabilities rather than replace them. In these areas, employers should provide opportunities to reskill or upskill. And of course, make sure that the strategy is supported by a robust human capital management (HCM) solution to have the right people in the right roles. Humans always come first.
Outsourcing. If an external trusted provider with strong expertise is proposing solutions helping you to save time, money and avoid for your team complex or repetitive tasks, outsource! In the HR space, it will give your HR people more time to focus on your team's development.
Supportive work environments. An inclusive and supportive environment encourages people to adapt to technological changes. A culture of innovation empowers employees to experiment with new technologies and regularly assess the impact of technology on workers and their well-being. At the end of the day, even in an era of dazzling technological innovations, a company is only as robust as its people are passionate.
Fair compensation. Employees need to feel that they have been fairly compensated for their contribution, including the new skills development and the value they bring through technology use. According to Jessica, it is not a good idea to trust one's feelings or perceptions. Instead, use your strongest possible compensation data-you'll find it in your payroll system.
Consider how your organization can blend the use of and need for increasingly advanced technology while helping your workforce adapt and develop expertise to best use that technology. It's a journey organizations and leaders across the world will be taking this year and for years to come.
Learn more by downloading this report
People at Work 2023: A Global Workforce View

Shown left to right above, outside the World Economic Forum's 14th Annual Meeting of the New Champions in Tianjin, People's Republic of China, are: Lily Ma, General Manager, North Asia; Jessica Zhang, Senior Vice President, APAC; and Leanne Chin, Chief Financial Officer, APAC.