[Video] Creating Inclusive Communities at Work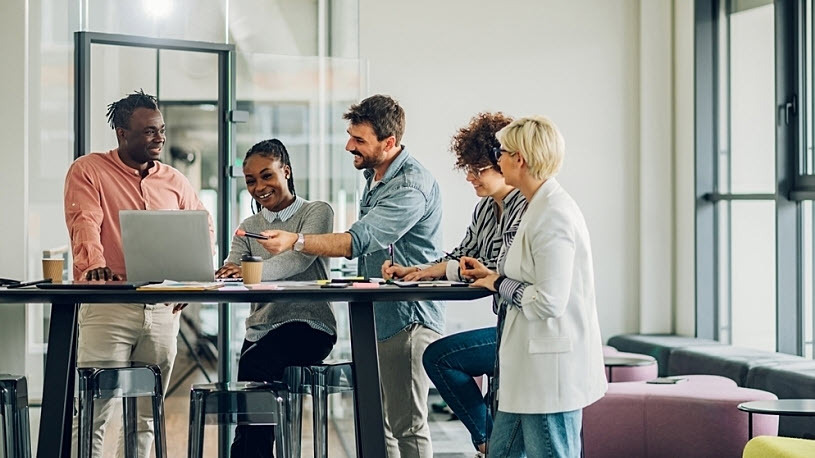 As businesses prioritize diversity, equity and inclusion (DE&I), many are looking to facilitate and support employee resource groups (ERGs). Here's how to begin.
In this Workforce News Minute, Drew Lewis, ADP VP, DE&I, shares insights on creating internal communities to strengthen businesses and empower their people.
Above: Lewis encourages organizations to be sure they have leadership aligned with the overall diversity, equity and inclusion strategy before creating affinity groups.
Learn more
Get resources to help your organization do and be its best. Visit ADP.com/DEI today.
Transcript
So, when an organization is thinking about creating affinity groups under their DE&I banner, the diversity, equity and inclusion banner, it really does depend on where they are in this continuum. We like to refer to it as the diversity, equity inclusion or DE&I maturity model. If they're early on in the journey, in order to be successful and sustain these groups, it will be important to ensure that you have leadership and the overall infrastructure to support your DE&I efforts.
So, in this case, making sure that you have leadership on board in the organization really understands the overall strategy of the organization as it relates to DE&I. If you're later on in that continuum, in order to be successful, it will be important to make sure that you've identified the right leaders for those groups. For example, if you want to have a women's affinity, a women's ERG (employee resource group) in this case, you want to make sure that you have the proper board in place leadership in place to support and also to execute activities and other types of mentorship programs in the resource group or affinity group in order for it to be successful.