How to Show Up With Professional Advocacy for Women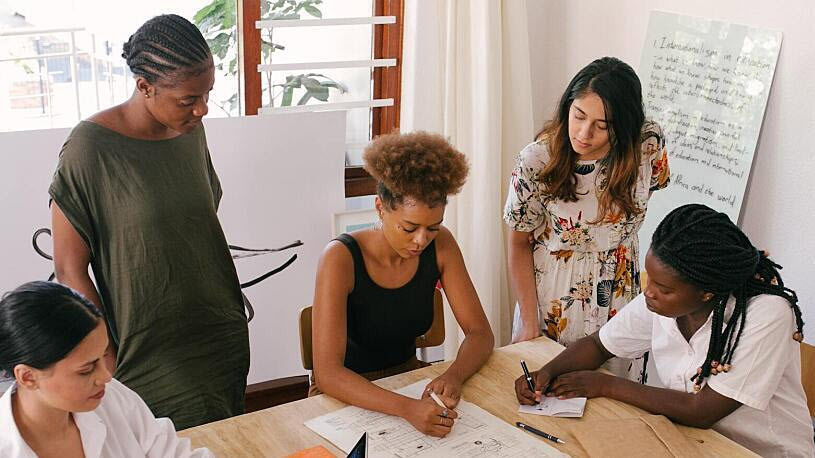 As women work toward economic empowerment and advancement in leadership, it's crucial for advocates and allies to help creatively forge the pathways to access. At ADP's annual virtual conference, a panel of women shared their wisdom and observations about what professional advocacy looks like today, including clearing barriers to access, the various meanings of allyship and the importance of self-advocacy.
As part of Women@Work 2023, ADP's annual complimentary virtual summit, a panel of successful women leaders and entrepreneurs weighed in on the ways professional advocacy is evolving and taking new shapes.
"More than ever today, employees are expecting their leaders to promote inclusion to support their career development and support their overall well-being," says Laura Brown, President of Major Account Services and ADP Canada, who moderated the session titled "Access, Advocacy and Self-Actualization."
In this wide-ranging discussion, the panelists discussed how leaders can best support professional development and how women can empower themselves—and each other—in the workplace. Here's an overview of this session's prominent themes, including actionable advice for leaders and women at all career stages.
Proactively create access for women
When organizational leaders have a sincere passion for supporting women in all their different roles, access for women truly advances. When thinking about access, it's essential to consider what gets in the way.
One common obstacle for women in the workplace is the nebulous issue of "readiness." Leaders sometimes bypass women for advancement by generically citing a lack of experience, and women may hold back from pursuing opportunities because they don't feel confident in their potential. Overcoming this hurdle requires a mindset shift for all parties.
"There's this idea of being promoted via performance versus potential," says Cate Luzio, Founder and CEO of Luminary. "We have to get comfortable with investing in the pipeline earlier and taking risks on people even if they don't have all the skills."
Brown adds that when a manager says a woman isn't ready for advancement yet, leaders should ask what she could learn or be coached on over the upcoming year that would make her ready.
"And if there's no answer to that," Brown explains, "then it's not really a readiness question. If there's nothing that the person is going to accumulate over the next year that will help us be more confident about taking a chance with them, then it really is a different discussion."

Recognize the different types of allyship
Being an ally for women at work can take many different forms. While it's important to have champions in leadership who are actively creating spaces for women, change doesn't only happen from the top down. Many times, it's actions taken by peers, managers, mentors and sponsors that have the longest-lasting impact on a person's career and personal experience.
Valdese Jones, Senior Lead Business Growth Development Consultant of CSBB Diverse Customer Segments, Wells Fargo & Company, offers a perfect example of a coworker who stepped up with professional advocacy in her life.
"At one point, he told me about a role that he thought I should post for," Jones says. "I didn't think I was qualified, but he encouraged me to talk to some people that were doing the role. I did, and I still felt unsure, but I put my name in the hat anyway, and I got the job. It really opened up a whole new path in my career."
Jones says what she's held onto about this seemingly minor interaction is that taking risks and believing in her potential could — and did — help her achieve her career goals.
Allyship is also something women can pay forward to one another, whether it's a senior VP exemplifying how work-life balance is a priority or a team leader creating a project for a mentee to acquire a new skill. It can even be as simple as bringing each other along and making sure fellow women are a part of the meetings, groups and events that will connect them to advancement pathways. The common thread is that allies are always looking out for you.
Embrace self-advocacy to achieve self-actualization
Self-actualization is the result of effective, authentic self-advocacy. With it comes the ability and power to lift up others by acting as an example and a mentor to women in earlier stages of their career journey. The key is to have a clear idea of what you want to be known for and then strategically work to make sure the right people know who you are and what you have to offer. How women do this varies widely, and the best strategy for each person depends on their personality, comfort level and goals.
The panelists note that some women are averse to self-advocacy because it can feel like bragging. But Luzio points out that self-advocacy is merely stating the value that you bring. When a woman does this, Luzio says, "She's talking factually. And in that same conversation, she's talking about her team and her business. She's raising other names, like her mentees. It's not bragging if it's based on facts."
These are some of the best practices for self-advocacy offered by the panelists:
Take purposeful action
Expand your network by seeking mentors, build relationships outside your immediate work team and invest time in growing your personal brand. The panelists all agree that women shouldn't wait for opportunities to drift their way and instead must climb into the driver's seat and steer toward their goals.
Leverage social media
Social media can be an effective way to network. Focus on just one or two platforms for reaching your intended audience, advises Jamie Trull, Owner of Balance CFO, and then post thoughtful, valuable messaging and content. "Don't worry about the algorithm, at least not in the beginning," says Trull. "It's really about adding value—not just throwing things at the wall, not posting a million times about nothing. If you can really add value to people, that's how you're going to grow an audience."
Know your worth — and negotiate
When it comes to your salary, get what you deserve, not just what you need. "Knowing your number is really important," Luzio says, explaining that "you have to have your ceiling and your floor and be comfortable with it either way," Jones notes that early in her career, she feared negotiating her pay would signal a lack of gratitude. Now she mentors younger women to do their homework and ask for what they are worth.
Make professional advocacy a daily mission
Equity initiatives and structured mentorship programs can't clear barriers for women in the workplace without ongoing, proactive professional advocacy. Meaningful advancement for women comes when leaders and peers encourage and facilitate access. Allyship from peers, mentors and sponsors is crucial to changing cultures that constrain women. And when women learn the best forms of self-advocacy for their personalities and comfort levels, they can attain their goals.
Watch the full recorded session to get more insights into professional advocacy for women in the workplace and check out more panels from ADP's Women@Work 2023 summit.