The Strategies Businesses Need to Advance Women in Leadership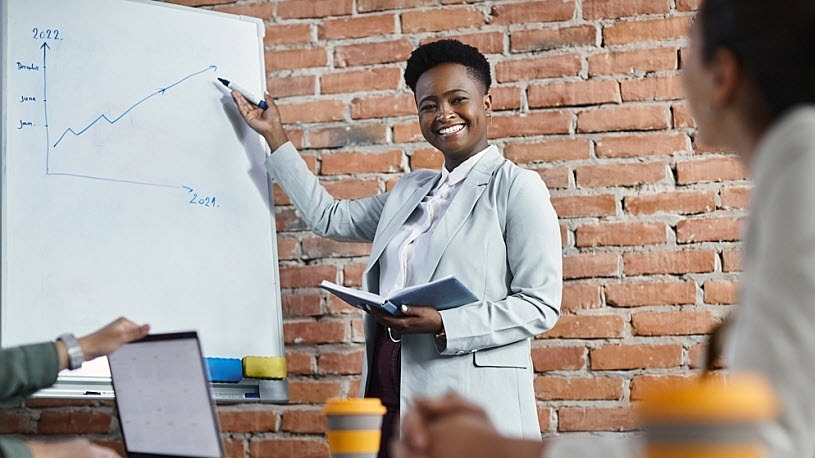 Today's workforce looks very different than five or even three years ago, and that change is likely to continue. Leaders — especially women leaders — are key to ensuring businesses are ready for the workforce of the future. Join keynote speaker Kendra Scott and other experts and leaders from organizations such as Amazon Web Services, Wells Fargo and the Sheryl Sandberg and Dave Goldberg Family Foundation as they discuss strategies businesses need to advance women in leadership during ADP's third annual Women@Work 2023 virtual summit now available on demand.
Businesses today must be more agile and flexible than ever before. This shift is a challenge, but it's also an opportunity to look ahead and redefine what the workforce of tomorrow looks like. As the workforce changes, leaders must also grow and adapt in new ways to steer their organizations forward. Businesses will need to facilitate this process and intentionally put strategies in place to help women advance in leadership roles.
The need for more women leaders is well established. Numerous studies outline the creative, social and financial benefits that gender diversity can bring to organizations. However, despite years of efforts to increase leadership among women, progress remains slow. Issues such as pay inequity, unconscious bias and the lack of mentorships and career pathing can derail even the best intentions for advancing change.
As businesses work to overcome these barriers, they must also look deeply at their internal and external pressure points to determine how exactly to help women advance — and embrace and encourage skills like empathy, authenticity, communication, emotional quotient and self-awareness that current and incoming workforces are demanding.
The third annual ADP Women@Work 2023 virtual conference examines ways women professionals, leaders and allies can generate meaningful and sustainable change in their workplaces and communities. During the conference discussions, a panel of women leaders will share their insights to help businesses develop strategies and avoid stumbling blocks on the way to success. Topics include confidence in communication, the global advancement of women, recognizing leadership barriers, self-advocacy/self-actualization and making space for women in business.
The event's keynote speaker is Kendra Scott, the designer, founder and executive chairwoman of a $1 billion jewelry brand. To foster the growth of future generations of women leaders, Scott founded the Women's Entrepreneurial Leadership Institute at the University of Texas at Austin. The program aims to actively redefine leadership and entrepreneurship to create a community of women who are empowered and equipped to leap hurdles in their own visionary way.

In her session, "Doing Good, Prioritizing Joy and Making Space for Women at Work," Scott talks with ADP Senior Vice President Kristen Appleman about personal drive, overcoming failure and the challenges and opportunities that accompany being women in business.
Women@Work 2023: Redefining the Workforce of Tomorrow is now available on-demand.
The summit offers these additional sessions:
Authenticity in Leadership. Gina London, the CEO of Language of Leadership and a former CNN correspondent and anchor, digs into misconceptions surrounding authenticity and addresses balancing being true to one's values with conflicts that might arise during professional or personal growth.
Professional Advancement on a Global Scale. Kylie Baullo, ADP's General Manager, Australia and New Zealand; Céline Boutier, a French professional golfer; and Tunay Firat, UN Women Action Coalition's Head of Strategic Partnerships, discuss the challenges and strategies for moving up the ladder regardless of profession or country.
Understanding Leadership Barriers. In a frank fireside chat, Giselle Mota, ADP's Chief of Product Inclusion; Sree Ratnasinghe, Amazon Web Services' Director of Customer Solutions Management (North America); Archana Gilravi, Senior Vice President of Strategy, Programs and Partnerships for the Sheryl Sandberg and Dave Goldberg Family Foundation; and Patricia A. Lee, President and Founder of PAL Coaching and Consulting, share the barriers to leadership they have faced and how they addressed them.
Access, Advocacy and Self-Actualization. Performance, economic empowerment, self-promotion and brand-building are essential in forging a leadership path. In this panel, Laura Brown, President of Major Account Services and ADP Canada; Cate Luzio, the Founder and CEO of Luminary; Valdese Jones, Wells Fargo's SVP and Senior Lead Strategy Consultant for Diverse Customer Segments; and Jamie Trull, the Owner of Balance CFO, talk about how these strategies can help women take control of and advance their careers.
The world of work — and the workforce — will keep evolving. Businesses must make sure their people evolve as well. The third annual Women@Work conference offers a unique and valuable opportunity to understand the challenges women in leadership face and discuss the strategies needed to overcome them.

Register and replay the complimentary Women@Work 2023 virtual event on demand now.