The ABCs of SSCs: Shared Services Centers Explained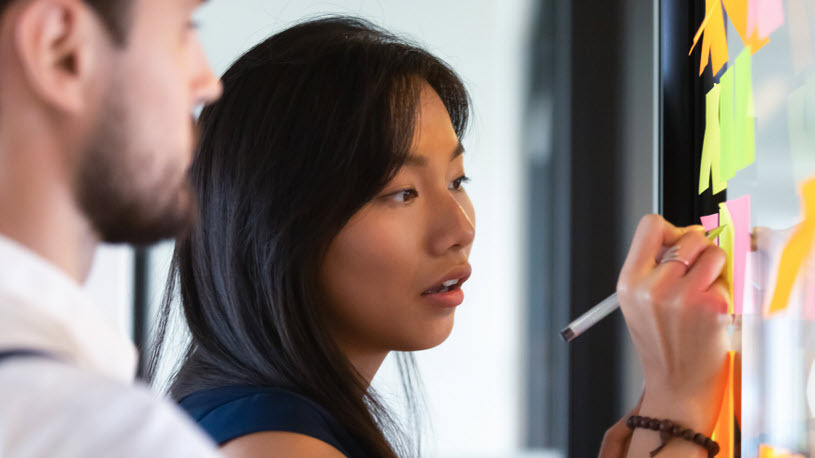 Shared services centers (SSC) are a service delivery model that has been used for several decades. I have been talking about them in an advisory capacity since the late 1990s. And still, within ADP's strategic advisory services team, we see continued interest from our clients. This article aims to shed light on what shared services centers are, why companies engage in shared services, shared services benchmarks, and overall considerations to help organizations evaluate whether this service delivery model is something they should explore.
Key terms
It is helpful to first set the stage for what we mean when discussing "shared services." Shared services centers typically centralize and deliver a menu of transactional services (which is evolving today in many organizations to include more decision-support type services) to internal clients in a "business within a business" model. They typically leverage service level agreements (SLAs; formal agreements on the level of service between the provider and its customers) with defined and agreed-upon key performance indicators (KPIs; metrics of process performance). They are also often characterized by internal charge-back mechanisms whereby the SSC "charges" the business for its services.
Shared services are generally leveraged by at least mid-sized to large, decentralized, or distributed organizations. Global business services (GBS) take shared services one step further and are used by multinational organizations. GBS features multi-function SSCs (e.g., finance, HR, IT, etc.) that serve the enterprise.
Shared services are different from centralization (pulling together services typically at headquarters or in some other central location) in that they are genuinely a separate service delivery model and incorporate a higher level of formal governance.
Shared Services Centers are also distinct from outsourcing (which is paying a third party to handle services for the company). Shared services may or may not feature outsourcing, but often they do.
They are also different from centers of excellence, which are virtual or in-person teams of expertise that may exist in an organization regardless of whether it has shared services.
Other terms often heard in conjunction with shared services (but can also exist with or without that functionality) are global process owners/process ownership, a form of governance featuring clear accountability for the ownership of a process enterprise-wide. Typically, this process owner is responsible for process design and definition, review, automation, continuous improvement, and measurement of the global process.
Also, more advanced Shared Services often incorporate the latest technology tools, such as robotic process automation (sometimes called "bots," these are software programs that automate routine, transactional tasks) and artificial intelligence (AI, software programming that starts to mirror human intelligence and learning, such as chatbots).
Benefits of shared services
Some of the most common benefits of shared services include the following:
consolidates transactional tasks and frees up time for more value-added activities
increases efficiencies
eliminates the need for redundant staff performing the same functions in different business units
reduces costs
drives economies of scale
facilitates process standardization
increases process governance
builds expertise
focuses on customer service and improves service quality
increase consistency and standardization of service
tracks and trends KPIs and service levels for continuous improvement
facilitates compliance
increases controls
Industrial manufacturing company Kennametal Inc. is one example of any organization that has undertaken the journey to transform disparate, country-specific HR, payroll and time systems into a regional shared services model resulting in global standardization, centralization and automation. When they began their journey, many of their HR managers around the globe were performing administrative tasks. The goal was to transition these HR transactional activities into centralized centers. Today the organization supports 31 countries from four regional shared services centers (Americas, AsiaPac, EMEA, and India).
Some of the tradeoffs of shared services include the following:
may result in the elimination or outplacement of the same roles in the field or the business
may not have the same level of personalization and/or local responsiveness as having in-house resources out in the field, or the business
requires significant resources and time to implement
While there are many benefits of shared services, organizations should ultimately consider that they need executive sponsorship, senior leadership and business buy-in, and a common vision. Establishing a shared services center does not happen overnight.
Some of the pitfalls to avoid in establishing a shared services center include not standardizing processes and streamlining technology vendors. It is harder to achieve the full benefits of shared services without engaging in these practices. In addition, think early and often about change management and communications planning. Remember that people tend to buy into what they help create, so early input and involvement from various business stakeholders are essential.
Benchmarks for the scope of shared services
According to Deloitte's 2021 Global Shared Services and Outsourcing Survey Report, the top functions performed by SSC include:
finance (90%),
HR (57%),
IT (57%),
procurement (53%),
payroll (51%), and
customer service/contact center (45%).
Are shared services right for your organization?
Deloitte advises thinking through a five-step roadmap for establishing a shared services center. The first step is assessing feasibility, which involves evaluating whether shared services is the suitable internal service delivery model for your organization compared to decentralized service delivery, centralized service delivery, or some other service delivery model.
Assessing feasibility also involves building the business case for change. In a previous role many years ago, I worked with organizations to benchmark their finance processes. Often, the stark realization of how much higher they were on finance full-time equivalents (FTEs) compared to their respective peer group would catalyze organizations investigating a potential shared services model. Business cases should outline the initiative's proposed costs and benefits (both hard and soft dollar), as well as target resourcing and timeline. According to Deloitte, there are many realized benefits from shared services in terms of objectives achieved:
88% cost reduction
78% standardization and process efficiency
67% developing capabilities
63% business value
54% digital agenda acceleration
Other critical considerations for shared services involve a well-thought-out location strategy for where to situate the organization's shared services centers, balancing the cost of labor and facilities and the need to recruit the desired talent and skills. In addition, building in the capability for both employee and manager self-service/providing easy-to-use tools is critical, as the "tier 0" level of service is often self-service, freeing up time for other resources in the service delivery model.
Conclusion
Once organizations decide that a shared services model is right for them, they need to decide whether (and what tasks) to insource or outsource. Will they build their own, or will they look for a partner (like ADP) to create a shared services function as an extension of their enterprise (or some hybrid model)? For example, ADP Comprehensive Services allows your HR team to outsource its HR tasks in a managed service model for one, some, or all areas across HR, talent, benefits administration, and payroll – and free up the time of your in-house HR staff to be more strategic.
Similarly, ADP's Comprehensive Outsourcing Services for large businesses can serve as your strategic outsourcing partner, providing your organization with a hands-on service approach through a designated team of specialists.
Shared services is a service delivery model with many benefits for mid-to-large-sized organizations but are not always suitable for every organization. Process documentation, standardization, and strong governance are reasonable foundational steps.
Additional reading: 7 Ways to Build a World-Class Shared Services Center