Modernizing Your Organization: 5 Pivotal Traits for Accounting Firms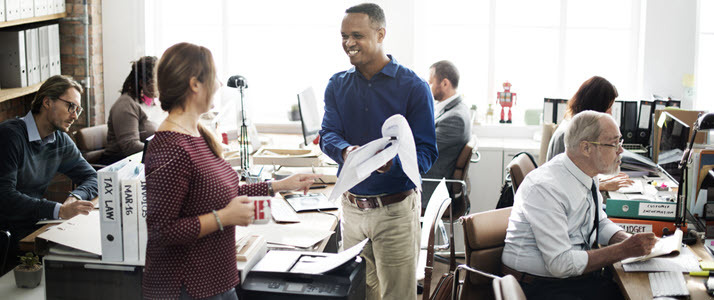 During ADP's virtual Accountant Connect Summit, Rootworks CEO Darren Root and Creative Director John Mitchell discussed how firm leaders can bring their organizations into the 21st century. Here are five key traits that can help support meaningful change.
No matter the size of your accounting firm, one truth remains: Now is the time for modernizing your organization. Clients and team members expect you to stay up-to-date with technology, create morale-boosting experiences and prioritize people. But where should you start?
This was a central theme at ADP's virtual Accountant Connect Summit, which brought together accounting professionals and thought leaders to discuss the industry's future. Darren Root, Rootworks' CEO, and John Mitchell, Rootworks' Creative Director, hosted a session on the key traits that can help guide a firm's transformation.
1. An intentional business model
Accounting firms need an intentional business model that covers who they want to serve, what services they wish to provide and how they will deliver those services. It sounds simple, but it can be a tough switch for accountants who are used to taking on any client willing to pay their fees. The challenge of trying to be all things to all people is that it's not sustainable. It creates chaos in your business processes, and employees are increasingly unwilling to work in a chaotic environment.
"All the changes we're talking about in modernizing your firm have to start with being super clear with who you want to serve, what you want to sell them and how you want to deliver that," Root says. "You have to be clear about that to begin moving your firm."
2. A controlled tax season
Accounting firms are under immense pressure to balance their client workloads during tax season, and this workload compression can lead to losing prime talent. The pressure on staff grows until people eventually burn out and leave.
Becoming a modern firm — one that talented people want to work for — involves:
Determining how many tax returns your team can complete while working a reasonable number of hours (and doing whatever it takes to keep your workload within that limit)
Investing in technology and processes that help your team members work efficiently
Picking up clients that provide revenue throughout the year
"When we talk about a controlled tax season ... we're not just talking about a bottom line," Mitchell says. "We're talking about human life and the way it's affected. A modern firm puts life first and recognizes that people matter most."
3. A holistic customer experience
Many firms claim to offer advisory services, but they wait for the client to ask a question, then give advice. Providing a comprehensive customer experience requires proactivity.
Root described a conference experience where attendees came up with a list of every service a firm could offer to more fully serve a business and its owner. They crowdsourced around 30 services, including budgeting, technology selection, personal financial planning and more.
"That is what it means to holistically serve clients," Root says. "So let's say we bring on a new client who's doing five of those 30 [services]. Just imagine if you had somebody in your firm responsible for closing that gap. That's what we call business advisory services ... and there's a ton of revenue there."
4. A people-driven culture
Modernizing your organization means committing resources, time and energy to creating a workplace where employees feel valued.
"I just spoke to a firm ... that had nine people on their staff, and three of them quit right before Christmas because they weren't going to spend another holiday dreading tax season," Mitchell says. "So firms that once rolled their eyes at the concept of creating a firm culture that's healthy and sustainable now realize this is quantifiable."
Creating a people-driven culture means giving people time and space for their mental health. For a long time, employers expected people to compartmentalize their days and leave their personal lives at home. That perspective doesn't fly anymore. In fact, having people share their struggles at work is actually a good sign.
"Some of the healthiest cultures I know have problems that are surfacing all the time," Mitchell says. "When problems aren't surfacing, you've got a bad culture. You get people who aren't candid; you have a place where it's not safe. But when those problems surface, they get taken care of."
5. A firm that supports the life you want to live
For a modern accounting firm to succeed, it must support how people want to live.
"Many practitioners have worked their entire life to get to the end of work," Root says. "Today, that's no longer the goal. The goal is to build a business to support the life you want ... whether that means working fewer hours, working in different places ... being at all of your kid's games, or something else."
For this concept to work, firms should provide the necessary technology and processes to help employees succeed in their jobs while enjoying a healthy work-life balance. Change can be scary for firm owners because it might initially mean giving up some revenue to change their business model.
"You have to step away, get a change of perspective and change your pace," Mitchell says. "Take a moment to realize that there's something bigger at stake here than just getting through the day."
Interested in hearing more takeaways from ADP's Accountant Connect Summit? You can access the entire summit on demand.