How to Build Human Connections in a Hybrid World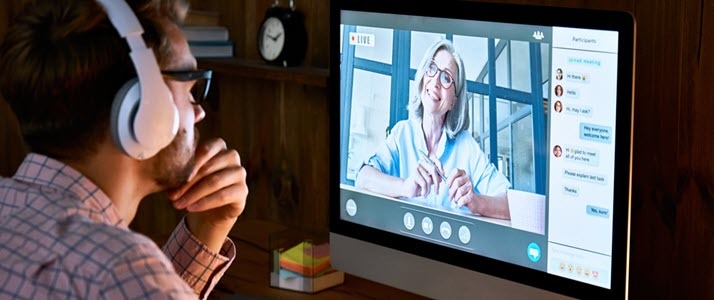 Special thanks to Amy Freshman, Senior Director of Global HR at ADP, for this article.
Whether you're a small company or large global organization, creating opportunities for your teams to connect has far-reaching impacts.
Stop for a moment and visualize the word connection. What do you see? Perhaps train cars connected to one another, systems within an integrated framework, or maybe a chain-link fence? These are all physical connections —things you can see. It is very clear where the connection starts, where it goes next, and so on. Now let's shift our focus to a connection that may not be as easy to see—that among people, whether family, members of your community and yes, your co-workers.
When you visualize this type of connection, what do you see? You might now picture a group sitting around a table enjoying a meal, taking part in a charity walk with your community or gathering around a conference room table (or virtual room) engaging in dialogue. These examples of human connections are less about what you can see and more about how they make you feel—the impacts of those connections and the ripple effect they have on all aspects of our lives.
The need for connection
A connection is typically defined as a relationship in which a person, thing or idea is linked or associated with something else. That association, that linkage, is a critical component of us as humans. Smack dab in the middle of renowned American psychologist Abraham Maslow's Hierarchy of Needs is "social needs" or a sense of belonging. This is all about the human emotional need for relationships, affiliation, and being part of a group.
Whether you are an introvert or extrovert, the life of the party or don't really enjoy big gatherings, part of a large family or an only child, we are as a species are social animals. This simply means we all need some level of human connection to thrive. The need is real, and according to a recent article by the World Council for Health, the need is actually biological.
The need for new modes of connection
The last couple of years our ability to connect and be connected has dramatically shifted. From social in-person gatherings happening every day with family celebrations, holidays and events, to an immediate halt in March of 2020. Pre-pandemic, those social and human connections happened all day, every day, whether we were conscious of them or not. As we settled into a new dynamic, two things became clear: one, we had to rethink connection in a world where physical social gatherings were not possible; and two, the need for those connections became clearer than ever before.
Whether you are a company with a small staff or a large global organization, creating opportunities for your teams to connect has far-reaching impacts. This connected feeling ties to engagement, which has an impact on performance and leads to retention. From the biological sense, it impacts our mood. For most humans working a full-time job, the time we spend working far exceeds the time we spend with anyone else. We can be bold here and say companies today have an obligation to help provide new opportunities for connection in a hybrid environment.
Affinity Groups / Employee Resource Groups are a great way to provide space for individuals within an organization who share a common identity characteristic to come together. The intent is typically focused on promoting diversity and inclusion while offering mentorship and professional development. When established, they often create connection opportunities across business and reporting lines where employees can interact and meet co-workers they wouldn't otherwise have met in their day-to-day. Rallying around a common interest or identity provides that connection from the start, where they can together make an impact on one other, their organization and the communities they work and live in.
A focus on wellness in the workplace shows your employees that you see them as more than just employees but as humans. Beyond today's typical health benefit offerings, consider ways to bring positive wellbeing-focused practices into the workplace and into the work day. While some large organizations have the capacity to offer on-site wellness facilities, on-site fitness classes or offer full EAP (Employee Assistance Programs), even small organizations can provide and encourage wellness. Simple ideas like scheduling group walks around the office, an all-company 5-minute stretch break or maybe you bring a virtual guest speaker to provide education on wellness.
While the focus on wellness begins with impacting the individual, these types of offerings across the organization are yet another way to bring people together, physically or virtually, to make a connection. I recently led a discussion during ADP's Women@Work Summit around the gap in burnout between women and men, which has almost doubled in the past year. Speakers from McKinsey & Company and AWS, as well as experts in wellbeing offered strategies for adjusting policies and practices to better support working women and help sustain the workforce.
Checking in is a critical component of human connection. This check-in could be one on one with a leader or a colleague, or in a group setting. The check-in is more than just 'how are you?' and immediately moving into the business at hand. This could be a 15-minute catch-up by grabbing a cup of coffee together or a video meeting with a colleague around the world. We have learned through the pandemic that these types of interactions, these conversations learning about one another, sharing thoughts and experiences and opening a real human dialogue have far-reaching impacts.
In order to be engaged and feel connected to your team, you don't have to be physically together all day every day. Thanks to technology, these types of connection opportunities can be achieved virtually or in an office. When we think about visualizing what connection looks like to us as humans, the past two years have taught us to look for more subtle signs. We can look to things like body language, eye contact, smiles and comfort levels in the humans we are interacting with every day. Those moments where we all take a pause to engage, interact and lean in to connect with one another can have an incredible impact.
This article originally published on BenefitsPro.com. Republished with permission.