How Data Has Changed the World of HR: Machine Learning, Artificial Intelligence and More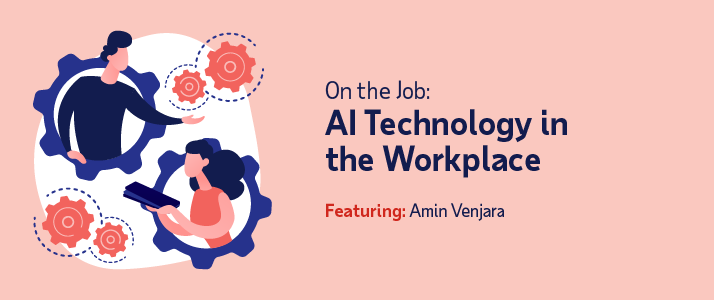 In this "On the Job" segment from Cheddar News, Amin Venjara, General Manager of Data Solutions at ADP, describes the importance of data and how human resources leaders are relying on real-time access to data now more than ever. Venjara offers real-world examples of data's impact on the top challenges faced by organizations today.
Businesses big and small have been utilizing the latest tech and innovation to make the new remote and hybrid working environments possible.
Speaking with Cheddar News, above, Amin Venjara (AV), says relying on quality and accessible data to take action is how today's HR teams are impacting the modern workforce.
Q: How does data influence the role of human resources (HR)?
AV: The last few years have thrust HR teams into the spotlight. Think about all the changes we've seen – managing the onset of the pandemic, the return to the workplace, the great resignation and all the challenges that's brought and even the increased focus on diversity, equity and inclusion. HR has been at the focal point of responding to these challenges. And in response, we've seen an uptick in the use of workforce analytics and benchmarking. HR teams need the data to be able to help make decisions in real time as things are changing. And they're using it with the executives and managers they support to make data-driven decisions.
Q: Clearly data-driven solutions are critical in today's workforce as you've been discussing, where has data made the most significant impact?
AV: When we talk to employers, we continuously hear about four key areas related to their workforce: attracting top talent, retaining and engaging talent, optimizing labor costs, and fostering a diverse, equitable and inclusive workforce.
To give an example of the kind of impact that data can have. We have a product that helps organizations calculate and take action on pay equity. They can see gaps by gender and race ethnicity and based on internal and market data. Over 70% of active clients using this tool are seeing a decrease in pay equity gaps. If you look at the size of this - they're spending over a billion dollars to close those gaps. That's not just analytics and data - that's taking action. So, think about the impact that has on the message about equal pay for equal work. And also, the impact it has on productivity, and the lives of those individual workers and their families.
Q: In today's tight talent market, employers increasingly need help recruiting and even retaining workers. How can data and machine learning alleviate some of those very pressing challenges?
AV: Here's an interesting thing about what's happening in the current labor market. U.S. employment numbers are back to pre-pandemic levels with 150 million workers on the payroll. However, we're at the lowest unemployed workers to jobs openings rate we've seen in over 15 years. To put it simply, it's a candidate's market out there; and jobs are chasing workers.
Two things to keep in mind: employers have to employ data-driven strategies to be competitive. So we're seeing with labor markets changing, remote work, hybrid work, expectations on pay and even the physical locations of workers – people have moved a lot. Employers need access to real-time data, accurate data on supply and demand of labor and on compensation to hire the right workers and keep the ones they have.
The second thing is really about the adoption of machine learning in recruiting workflows. We're seeing machine learning being adopted in chatbots for personalizing the experience and even helping with scheduling, but also AI-based algorithms to help score candidate profiles against jobs. Overall, the best organizations are combing technology and data with their recruiting and hiring managers to decrease the overall time to fill open jobs.
Q: Becoming data confident might be a concern or even perhaps intimidating for some, but what's an example of how an organization can use data well?
AV: A lot of organizations are trying to make this happen. We recently worked with a quick service restaurant with about 2,000 locations across the U.S. In light of the supply chain challenges and demographic shifts of the last couple of years, they wanted to know how to combine and optimize the supply at each location based on expected demand.
Their research enabled them to correlate demographics, things like age, income and even family status to items on the menu like salads, sandwiches and kids' meals. But what they needed was a stronger signal on what's happening in the local context of each location. They had used internal data for so long, but things had shifted. By using our monthly anonymized and aggregated data from nearly 20% of the workforce, they were able to optimize their demand forecasting models and increase their supply chain efficiency. There are two lessons to think about. They had a key strategic problem, and they worked backwards from that. That's a key piece of becoming data confident - focusing on something that matters and making a data-driven decisions about it. The second is about going beyond the four walls of your organization. There are so many different and new sources of data available due to the digitization of our economy. In order to lock the insight and the strength of signal you need – you really need to look for the best sources to get there.
Q: How do you see the role of data evolving as we look toward the future of work?
AV: Data has really come the language of business right now. I see a couple of trends as we look out. The first is the acceleration of data in the flow of work. When you look at a lot of organizations today, when people need data, they have to go to a reporting group or a business intelligence group to request the data. Then it takes a couple cycles to get it right and then make a decision. The cycle time can be high.
What I expect to see now is data more and more in the flow of work where business decision makers are working immediately; they have the right data at their fingertips. You see that across domains. Second is just the separation between haves and have nots. With the increasing speed of change, data haves are going to be able to outstrip data have nots. Those who have invested in building the right organizational, technical, and cultural muscle will see the spoils of this in the years to come.
Learn more
In the post-pandemic world of work, the organizations that prioritize people first will rise to the top. Find out how to make HR more personalized to adapt to today's changing talent landscape. Get our guide: Work is personal