When Asking Candidates About Salary History Is and Isn't OK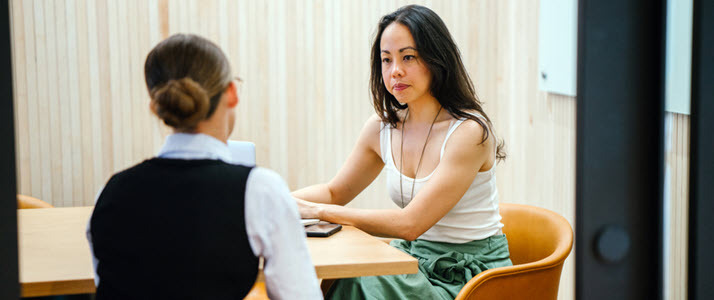 Many states and cities prohibit employers from asking candidates about salary history. Here's a look at how attitudes around salary history are changing, why salary history bans support pay equity and how your organization might approach asking applicants about their salary history.
Asking job applicants for their salary history has long been a common part of the hiring process, and employers have historically used that information to decide what a candidate is "worth" on the market.
Now we're seeing a shift in perspective that's causing employers to focus more on evaluating the demands of a given position to determine the value of the skills and abilities that the role requires. This, along with the need to compete more effectively for top talent, means many employers need to revamp their pay scales and compensation structures in response to the changing attitudes of the talent market.
To help leaders navigate these challenges, ADP recently hosted the webinar Pay Equity & Equal Pay: Strategic and Compliance Considerations, which offered strategic insights on policies, practices, and technology that can help organizations ensure compliance. Here's a look at how attitudes about salary history are changing, why salary history bans support pay equity and how employers can determine where (if at all) this practice fits into their talent acquisition processes.
How salary history information impacts pay equity
Many state and local governments have enacted legislation that bars employers from asking job applicants about past salaries or using salary history information to determine a salary or rate of pay for a new job offer. These laws reflect some of the changing attitudes around pay equity, and many organizations are revamping their practices in response to candidate attitudes — even where doing so isn't required by law.
"Experts, including labor economists, calculate the gender wage gap in many ways but according to most data, there's a consensus that women consistently earn less than men and the gap is wider for most women of color," notes Ellen Feeney, VP Assistant General Counsel at ADP. "In the United States, the most recent Census Bureau data shows that women of all races on average earned just 83 cents for every dollar earned by men of all races."
Implementing a salary history ban is one of the strategies lawmakers are using to combat pay inequity. This trend specifically seeks to help address gender and racial pay gaps, and it seems to be working. When employers base salary offers on the value of skills and abilities required, rather than the earnings candidates have accepted in the past, organizations can avoid perpetuating the cycle of pay inequity and begin to close earnings gaps for people who have historically been undervalued in the workplace.
When not to ask candidates about salary history
For some employers, the question of whether to ask job applicants for their salary history has an easy answer. If the practice is prohibited by law in your area, don't do it. The penalties for violating this legislation range from one jurisdiction to the next but could exceed $250,000, giving employers a good reason to comply. In addition to the financial ramifications, violating salary history ban laws could also have a negative impact on an organization's employer brand if word gets out that it's not adhering to the rules.
If you're not restricted by law from asking about salary history, you may still want to avoid the practice in many cases, if not across the board. For example, employers may want to skip salary history questions for candidates who are changing careers or industries, as their past pay likely won't be relevant to compensation in their new position. Avoiding these apples-to-oranges comparisons can help employers follow through with pay equity commitments and goals.
Similarly, salary history information may not be relevant for entry-level applicants or candidates who are recent graduates. Many of these individuals have only held lower-wage service industry jobs or internships, and their previous rates of pay likely won't reflect the value of their skills and education at your organization.
As you can see, it would be easy to create a long list of reasons why you may not want to collect salary history information from certain applicants. And in the interest of a fair and equitable hiring process, it might be preferable to avoid the practice altogether instead of trying to identify which candidates should be asked and which should not.
When it might be okay to ask about salary history
Assuming there are no laws barring the practice, employers may still decide to ask about salary history if a candidate has held a series of progressive roles in the same field or industry. Still, past salaries shouldn't be used to determine the amount you'll offer because that figure should always be determined by the value of the skills and abilities that the position requires. Instead, this data might be useful for creating models of earnings increases among your staff population over time, including their experiences prior to joining your organization.
Make salary decisions based on value, not history
Depending on where your organization operates, you may not need to decide whether to ask job applicants about their past salaries. In any case, employers need to set compensation based on the value of the position to the organization and competition from other employers.
It's also crucial for employers to analyze internal pay data and look for signs of problems. "Employers need to consider existing laws, trends, and ultimately focus on your organization's own pay data to determine if wage gaps are a sign of discrimination," Feeney says.
Making salary offers based on the minimum that candidates will accept can perpetuate pay inequity. Given that many employees already believe they are underpaid (even if they aren't), you don't need to give them any more reasons to feel undervalued. Instead, offer and pay what their skills are actually worth to give them the incentive to be more productive, stay longer and contribute to a more equitable culture.
To learn more about the strategic and compliance considerations associated with pay equity, click here to watch a recording of the recent webinar.