Ensuring Women Play Pivotal Roles in the Workforce of Tomorrow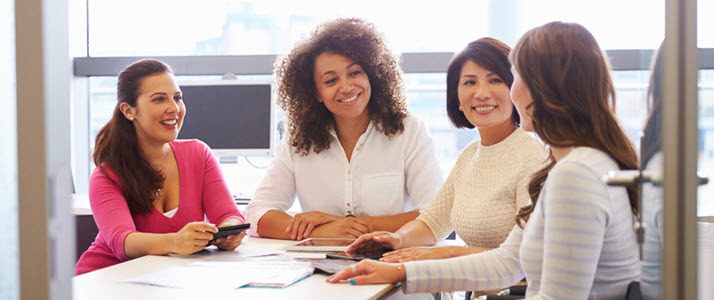 The workforce of the future doesn't work without women – and that certainly includes your workforce. Join award-winning TV producer, Shonda Rhimes, along with experts and leaders from such organizations as Amazon Web Services, McKinsey & Company and Workhuman as they discuss what's helping women thrive at work during ADP's second annual Women@Work complimentary virtual summit on May 5.

After more than two turbulent years filled with uncertainty and unprecedented developments, people leaders are now trying to keep pace with the positive momentum, all while predicting and preparing for what comes next.
The shifts that have already occurred are sure to have a lasting impact in the business environment and will alter the way we think about women at work for years to come. There are a lot of reasons to be excited.
Tomorrow's workforce is likely to look different from that of today. While organizations have begun to enact promising shifts, those changes will continue, and the effects will be long-term. The second annual Women@Work conference looks to examine the pivotal factors employers must recognize to ensure their businesses thrive.
How the past affects women in tomorrow's workforce

As we look to the future, it's critical to recognize that many of the societal changes that have taken place recently have adversely affected women at work. For instance, at the peak of the global health crisis in 2020, a tremendous amount of both men and women lost their jobs, but women lost one million more jobs than men did*.
As the crisis continued, and schools and daycare centers remained closed, many working mothers were still the primary caretakers for their children, even with two parents working from home. Juggling all of these responsibilities at once became impossible for many, and in September 2020, more than 865,000 women quit the workforce in what was referred to as a "shecession."
Even though job growth has rebounded since the global health crisis, men regained three times the jobs that women lost. And while many women have regained jobs, some are in lower-paying, less stable roles, such as retail and restaurant positions.
However, the events of the last two years also served to shed light on the inequalities women face, and thrust the social imbalance to the forefront of conversation. With work environments shifting between remote, in-office and hybrid setups, leaders must create opportunities for women to return to, stay in and fully contribute to the workforce.
There's no returning to the "Old Days"
It's not just the makeup of the workforce that's now different — employee expectations have irreversibly changed as well. With tightened labor and skills markets, employees have gained the advantage. Organizations are largely responding with an emphasis on creating a positive employee experience.
Mental health and wellness have moved to the forefront of the conversation. Even before the pandemic, stress and burnout took an unequal toll on women and employees of color. Now, with employees looking to their organizations for help, businesses must provide a supportive environment that encourages holistic wellness.
Increasingly, employees believe their employers should do more than provide a paycheck; they should positively impact the world. For that reason, job candidates and employees want to work for organizations that have similar values. In that vein, employees expect their businesses to be socially responsible in terms of both words and actions.
Organizations must now understand the totality of complexities inside and outside the office that impact employees. Through that perspective, businesses can be ready to redefine the workforce of tomorrow.
11:30am ET, Thursday, May 5, 2022
This year's complimentary half-day conference will help HR leaders, C-suite executives and business owners across industries further understand how the seismic workforce changes of the last few years are impacting the future of business. Moreover, the conference discussions will provide insights to help business leaders develop the strategies and tactics needed to address the changes that are already here and ahead.
In the opening session, "The Great Realignment," CNN's Christine Romans will interview Nela Richardson, Chief Economist at ADP, to find out what the latest research indicates about the state of women at work today, what women's return to work after the pandemic might look like, and how these points could vary across industries.
In "Producing Meaningful Change for Women at Work," a keynote conversation with Shonda Rhimes, award-winning television creator, producer, and New York Times best-selling author, Debbie Dyson, ADP's President of National Account Services, will examine Rhimes' path to success and both will discuss strategies for creating a workplace where women can show up authentically and thrive.
Rhimes is the CEO of Shondaland, the global media company that encompasses storytelling through brand partnerships, merchandise, and content for film, streaming, audio, digital and editorial. In her career, Rhimes' work has been celebrated with numerous awards, shifted the entertainment industry's business model, and changed the face of television.
In addition to these thought-provoking discussions, the half-day will be highlighted by these compelling sessions:
How to Leverage Generational Diversity to Create Connection and Growth at Work. Generational shifts in the workplace are naturally occurring phenomena. And while the similarities between generations tend to outnumber the differences, those differences can manifest themselves in clear ways. This interactive discussion will explore mentoring/reverse mentoring, allyship and what leaders are doing to create a safe space for all generations and caretakers to thrive and collaborate both virtually and in person.
Worker Identity Research Collaboration (WIRC): Stories from the Field. Martha Bird, ADP's Business Anthropologist, along with study collaborator Shelley Sather, will reveal the latest field research to better understand the role that work plays in people's lives and communities by engaging directly with individual workers.

Addressing Employee Burnout and Mental Wellness. Women are more burned out now than they were a year ago*. Join a best-selling author, wellbeing speaker and leaders in research and enterprise programming for a discussion about how to identify burnout among our teams and the importance of organizational support for mental wellness,

"Driving" Change: Approach is Everything for Women in Sports ... and Work. TeamADP's Danielle Kang, six-time LPGA Tour winner, and Dottie Pepper, 17-time winner on the LPGA tour and TV golf commentator, will share their experiences about their time in sports and how their game/life strategies can be applied to the more traditional workplace.
The future for women at work may include some challenges, but it also shows tremendous promise. The second annual Women@Work summit will provide leaders with the data, ideas and blueprints they need to prepare for that future and to make that promise a reality.
Register to attend the complimentary Women@Work virtual event either live on May 5, or watch the replay anytime starting May 6.

*https://www.mckinsey.com/featured-insights/diversity-and-inclusion/women-in-the-workplace