What Has the Past Year Meant for Women in the Workforce?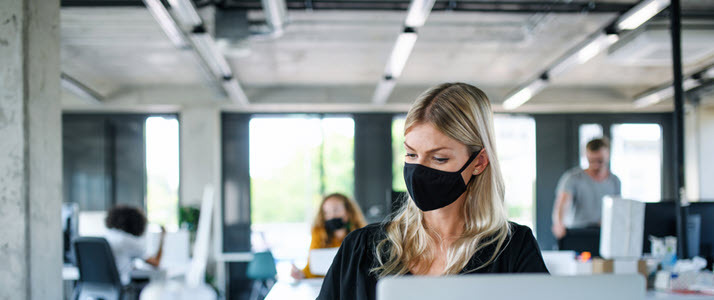 Many of the gaps between women and men in the workplace have widened and remained after the pandemic.
2020 was universally difficult due to the physical, mental, social and financial impacts of COVID-19. However, some groups had more challenges than others. Women in the workplace, in particular, have seen many preexisting inequities become worse during the pandemic -- and those inequities remain. Addressing these problems will require a multi-faceted approach from business leaders.
Gender Equity Is a Longstanding Issue
Even before COVID-19, businesses struggled to support gender equity. While women ran more Fortune 500 companies than ever in 2020 — and that number is set to grow to 41 this year, according to Forbes — that still represents just over 8% of Fortune 500 CEOs, and the pipeline to senior leadership is riddled with gender gaps in organizations big and small.
The pay gap between genders is another problem that organizations haven't been able to solve. Women still face salary disparities because of their gender, and they also encounter barriers in obtaining higher paying positions.
Complications Exacerbated During the Pandemic
The pandemic highlighted the existing challenges for women in the workplace. When states ordered lockdowns to curb the spread of the virus, offices closed, and people shifted to working from home — but with schools and daycare centers also closed, parents had to juggle childcare and work responsibilities.
Women often bore the brunt of these additional responsibilities. According to a recent McKinsey report, women in the U.S. do almost twice as much unpaid care work as men, and around the world, women do three times as much as men. Women are struggling to handle the dual roles of full-time family caregivers and full-time employees, with many expressing that they are exhausted and that something has to give.
Since women are likely to make less than their husbands (see pay gap above), they are the ones who quitt their jobs to make room for other priorities. NPR reported that in September 2020, 865,000 women left the workforce, which is four times the number of men who quit.
The need to handle more responsibility isn't the only reason why many women in the workforce have become unemployed in 2020. The economy was been hit hard by shutdowns and restrictions, and millions of people lost their jobs. Positions that required face-to-face interactions saw the highest losses, and in industries like retail, travel, hospitality, education and healthcare, those jobs are dominated by women. To complicate matters more, because women are typically in more junior roles at their organizations, they were more likely to be let go during downsizing.
Recognizing the Cost of Inequality
If left unaddressed, the pandemic's lingering effects could reverse much of the already slow progress that has been made to create equality and diversity in the workplace in recent years.
This is no small problem. Just from a financial perspective, having women fully participating in the workplace helps businesses, as numerous studies have shown that organizations with diverse and inclusive teams are more innovative and profitable. The economy benefits when more women work and receive fair pay. Unfortunately, even as the economy recovers, the unemployment situation is generally improving more slowly for women than it is for men.
Addressing the COVID-19 Gender Gap
Businesses cannot afford to wait until the economy fully recovers to address the gender gap. Businesses must determine whether they have gender wage gaps now. If they find that they do have gaps, the next step is to develop and implement strategies that help address the issue and build for the future.
Assess your data to see if women in the workplace are compensated equitably, in terms of both base salary and bonuses. Don't just look at the senior employees — look at employees at every level. You will also need to consider more than current salaries to get to the root of the problem, as women are often hired at lower wages than men and have a more difficult time catching up. Taking time to understand where the issues lie can ultimately help you tackle equity problems in the initial stages of hiring and employment, rather than retroactively.
Determine what policies or procedures can be changed to help employees. For example, to assist remote employees, some businesses now schedule meetings for 10 minutes past the hour, allowing working parents to get their kids set up on their online classes that start on the hour.
Be flexible. Allow telecommuting and flexible schedules when possible. Instead of focusing on when the work gets done, focus on getting the work done.
Look at career opportunities for women in areas of growth. Due to COVID-19, many organizations were pressed to accelerate their digital transformation, and as businesses move forward now, their employees will need upskilling and reskilling. Leaders also need to intentionally provide employees with opportunities in areas of growth. Some positions, like data scientists, do require technical skills, but they also need essential skills and qualities that employees may already have, like problem-solving capabilities and emotional intelligence. With the right training and development, women who were on limited career tracks can expand their possibilities with support from organization leadership.
Many women in the workforce did not fare well in 2020, but 2021 can be the year when businesses step up and make the necessary changes to close gender gaps and elevate the experience of women in the workplace.
Women@Work 2021
Launch this complimentary half-day summit of panel discussions and keynote addresses to be inspired to face the challenges that lie ahead. You can watch the entire program on demand.