Baby Boomers at Work May Ease Labor Shortages, but Skills Gaps Could Lie Ahead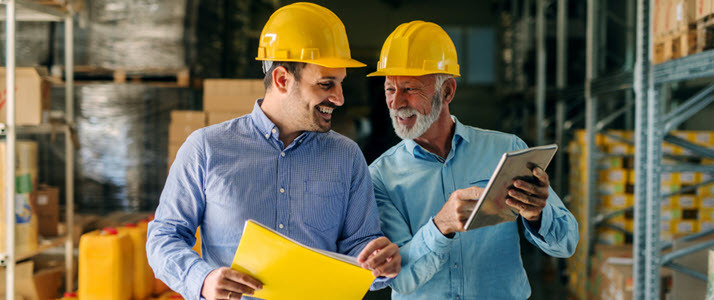 Retirees are returning to the workforce. Say goodbye to the Great Resignation and hello to the "Great Reskilling."
Article by Robert Schwarz, ADP Digital Experience Team
Employers and Baby Boomers may soon find themselves in a mutually beneficial relationship. Businesses need to fill job openings resulting from the Great Resignation, while many older adults who retired during the pandemic now lack financial security amidst rising inflation.
Yet, solving labor shortages may not be as simple as having Baby Boomers at work once more. Many of them have different expectations about work than they did prior to the pandemic and may need training if their roles or responsibilities are changing. Employers will also have to overcome unconscious ageism biases and rethink some of their talent management strategies.
Reskilling Baby Boomers at work
Any potential job candidate, whether they've been in retirement for some time or just want to try their hand at something new, may require reskilling. To meet this need, employers should consider embracing the concept of microdegrees – intensive, job-specific instruction that gets these employees up to speed on the core fundamentals of their role as quickly as possible.
"It's not like going for a liberal arts bachelor's degree. Instead, show me how I get better at the job in six to eight weeks," says Jason Delserro, ADP's Chief Talent Acquisition Officer.
Apprenticeships and job shadowing, in particular, can be very effective at helping employees hone their skills and aren't limited to just older individuals. As the cost of college tuition continues to escalate beyond the means of average people, more employers may create their own microdegree programs.
Making integrity a recruitment priority
If businesses commit to training employees on the job, then some of the more traditional qualifications, like years of experience or formal education, become less important. Alternatively, employers should prioritize so called "soft skills," like work ethics and decency, when recruiting potential candidates.
"It starts with ethics and integrity. Other skills can be taught," says Delserro.
Many older adults, by their nature, are the ideal candidate from that perspective. Compared to other generations, Baby Boomers tend to be more committed to their work and loyal to their employers. Their years of experience also bring maturity and trustworthiness to the table.
What's in a number? Overcoming ageism biases
Despite their valuable traits, older adults are often overlooked in favor of younger employees with a longer career trajectory. And while it's true that employers may not find their next CEO among the Baby Boomer population, employers should rethink the value of tenure. Planning workforce strategies in shorter two- to three-year intervals can help businesses become more agile and innovative.
Overcoming unconscious biases about age isn't always easy, though, even if it is the right thing to do. They key to making attitudinal changes stick is to focus on actual business reasons for hiring older employees, such as incremental growth or better client service.
Employers should also approach communications tactfully to avoid singling out older employees from their younger colleagues. Some of them may be sensitive about their age or firmly believe that you're only as young as you feel.
"You don't want to label people, since that's actually the opposite of inclusion," says Delserro. "I think you need to focus on all the positives that can come with experience."
Flexible work isn't just for millennials
In addition to changing preconceived notions of age, employers must accept that people, both young and old, have reprioritized work-life balance as a result of the pandemic.
"People used to find a job and build their life around it. Now, they want their job to fit around their life," says Delserro.
Baby Boomers, for instance, may only be looking for supplemental income at this point in their life. Employers will have to become more flexible and accommodate older adults who want to return to work, but only in a reduced capacity. Roles that begin as full-time and then transition to part-time or job-sharing arrangements can help fulfill this need.
Flexible work arrangements are especially effective with businesses that have sales departments. As long as the employees make their quotas, the employer may not care how many hours a week the individuals work. The result is win-win – the business earns revenue and saves on the cost of a full-time salary, while the employees get to work a schedule that best suits their lifestyle.
Untapped potential in Baby Boomers at work
How long Baby Boomers will remain in the workforce is anyone's guess. But with inflation impacting how far their retirement savings can stretch, many of them feel a need to work, at least for the near future. This situation presents an opportunity for employers who value the knowledge and experience that comes with age. The only question is whether they're capable of embracing cultural changes and investing in reskilling programs for candidates who want to make a career change later in life. If so, a reunion with Baby Boomers could be quite successful.
Want to know more about taking a people-centered approach to talent strategy? Download our guide today.
More about generations at work
Learn from peers how they're evolving their policies and benefits to attract and retain associates of all ages. Launch the panel discussion, "How to Leverage Generational Diversity to Create Connection and Growth at Work" from the link below.
Register for the complimentary Women@Work 2022 virtual summit today!