Small Business Marketing Tips: How to Capitalize on the Big Game Buzz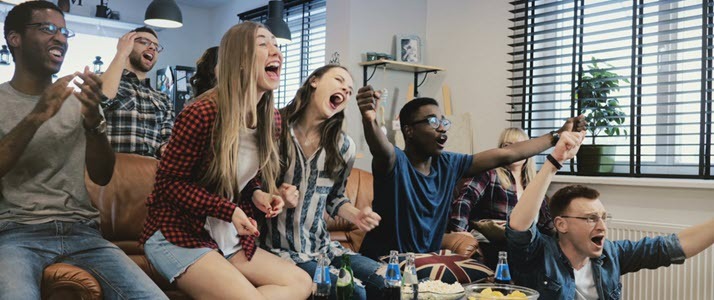 Catch this Q&A with Jeff Holmen, Vice President of Business Development at ADP; Fran Tarkenton, three-time Super Bowl competitor and business owner / entrepreneur; and Josh Cohen, Digital Marketing Specialist at Upnetic.
With Super Bowl LVI set to enthrall millions of fans on Sunday, February 13th, there is a lot of excitement around the teams, players and halftime performers, but what makes the "big game" different from any other is the focus on who is going to make an appearance during each commercial break. This year, advertisers are paying NBC upwards of $6.5 million for a 30-second ad spot, which is up 16% from last year's $5.6 million average when the game aired on CBS.
While viewers may find joy in playing Monday morning quarterback after each ad spot, many small business owners find themselves wondering what they would do if they had enough cash to run their very own Super Bowl commercial. But there's an important point they're missing here: the in-game, Hollywood-produced spots aside, corporate sponsors utilize a host of digital marketing tactics that small businesses can also leverage, not just during large-scale events, but all year long.
Jeff Holmen, Vice President of Business Development at ADP, recently spoke with Fran Tarkenton, three-time Super Bowl competitor and business owner/entrepreneur, about the upcoming game and the current state of digital marketing for small businesses.
JH: Fran, are you excited for the big game this year?
FT: I'm always excited for football! Especially the culmination of these teams' hard work and sacrifice throughout the year. Even more so, I'm excited for the possibilities a new year provides for small businesses.
JH: Are you planning to run any Super Bowl ads anytime soon?
FT: Maybe one day. I do enjoy watching the ads though. I also love thinking about the business side of these ads – and all the math behind it. It seems more and more advertisers are shifting their dollars to digital these days. Rather than airing ads live during the big game, they're running them across many digital platforms leading up to the game. That has proven to be equally impactful and less hard on the wallet. It makes me wonder what ADP can do to help its small business clients from a digital marketing perspective – especially since the barriers to entry on digital marketing are so low.
FT: I won't pretend to be the expert here though, so I'll turn it over to one of my colleagues, Josh Cohen, Digital Marketing Specialist at Upnetic, for more insight into what small businesses can do to elevate their digital marketing efforts.
JH: Hi Josh. Is it worth it for small businesses to work themselves into the conversation with current followers and potential customers leading up to big events like the 2022 big game?
JC: Absolutely! While the digital marketing strategies we'll discuss can and should be pursued year-round, there is tremendous upside in taking advantage of the buzz around specific high-profile events during the year, regardless of the tactic employed.
Businesses can promote their products and services and push content that revolves around major holidays or trending news. Using the big game as an example, businesses could host giveaways for people who send in or upload user-generated content showing support for their team or run digital polls on their social media platforms asking people to vote for their favorite ad during this year's game. Both are great ways to demonstrate that their brand is engaged with what's going on in the world, and to take advantage of the increased media attention by diverting some of that attention to their brand. But no matter what digital tactics are used, business leaders should ensure that their marketing content has a clear call to action – whether it be for further engagement with the brand or to buy a product/service soon.
JH: Well, that's an affordable way for small businesses to have their own Super Bowl ads now, huh? At a high level, what digital marketing tactics are out there that small businesses can take advantage of to promote their offerings?
JC: Digital marketing strategies can be split up into two categories: organic (non-paid) and paid. Organic marketing tactics include, but are not limited to:
Regular posting of content on social media pages or media platforms like YouTube
"Drip" email campaigns and newsletters sent to subscribed customers
Routine updating of keywords and content on their website to drive up search engine ranking and earn more traffic (also known as search engine optimization or SEO)
Paid marketing tactics are essentially the same as organic – just with money put behind them and with better targeting options so that the messages can reach new audiences. And paid digital marketing can be categorized in three ways:
First is search advertising, which involves paying for relevant keywords that trigger a text ad for the business when someone searches for it on Google, Yahoo, or Bing.
Next is social media advertising, which is not much different from organically posting on people's social media feeds but does allow businesses to target users more precisely and drive different goals, such as engagement, website traffic, and even online purchases.
Finally, there's programmatic advertising, which is a scary-sounding term but just means any digital advertising that cannot be categorized under search or social. It includes display banners, videos, and audio content placed automatically on relevant websites to relevant audiences (whose data has been purchased for targeting purposes). Programmatic advertising is the only tactic that cannot be done organically, unless the business has agreements with other websites to promote products or services directly. A subscription to a trading platform is necessary to buy programmatic media.
JH: This sounds complicated. Should businesses just hire someone to handle this?
JC: It can be complicated, yes. Whether owners want to do it by themselves is up to them. Obviously, if an agency or freelance consultant is hired, they'll be paid for their expertise in the form of management fees alongside any media costs. If business leaders handle things themselves, most paid search and social advertising platforms are user-friendly and come with a host of learning materials to get users up to speed. And marketing campaigns can be run for as little as a few dollars per day. Businesses can always rely on non-paid, organic marketing tactics as well, although their impact isn't always as immediate as that of paid marketing.
JH: Is there anything to avoid when it comes to marketing leading up to or during the big game?
JC: Great question! And the term you just used is a perfect example. No matter what tactics businesses decide to use leading up to or during the game, be careful to avoid using the term "Super Bowl," because it's trademarked by the National Football League (NFL), and they aggressively defend that trademark. The standard is for businesses to reference it as the "Big Game."
For more information about how ADP can help small businesses elevate their digital presence and get more customers via search marketing, visit Google Ads by Upnetic today.