Understanding the Value of Veterans in the Workplace at ADP's Inclusion Summit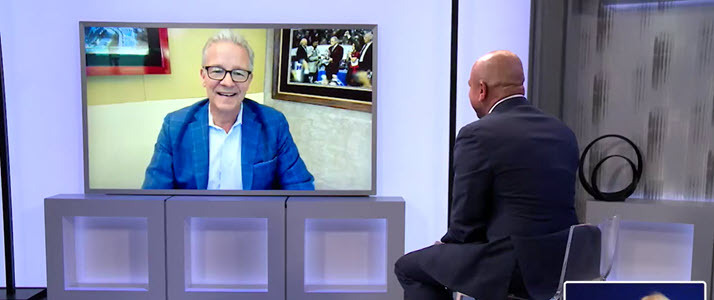 Veterans can help diversify and strengthen your workforce. At ADP's Inclusion Summit, industry leaders and former military personnel share expert insights on the value veterans bring to the workplace.
Each year nearly 200,000 individuals leave the military, according to the Veterans Administration, and many transition to the private sector. At ADP's Inclusion Summit 2021, ADP's Chief Diversity and Talent Officer Bob Lockett highlighted the need for organizations to recognize the value that veterans bring to work. Alongside friend and fellow veteran Steve Cannon, CEO of AMB Sports and Entertainment, which owns the Atlanta Falcons NFL franchise, Lockett discussed the current state of employment for veterans and proactive steps businesses can take to strengthen their workforce with veterans in the workplace.
During the conversation, Lockett and Cannon emphasized the unique skills and work ethic veterans can bring to the workplace, and they underscored the barriers these individuals often need to overcome in transitioning from the military to the business sector. Here's a look at a few insights from these industry leaders:
Veterans in the workforce
To start the conversation, Lockett shared his own experience of leaving the Army in 1995 after nine years of service. "For many, that transition is a leap into the unknown. I lacked an understanding of the private sector and the roles that existed. I was fortunate that an organization took a risk on my potential," he says.
Veterans bring immediate value to organizations, Lockett emphasized, including qualities like "teamwork, leadership, grit, resilience, empathy and the ability to problem-solve in the most demanding circumstances."
Cannon and Lockett were West Point classmates, class of 1986. After a distinguished military career, Cannon went on to hold high-ranking positions in business. Once the CEO of Mercedes-Benz North America, he is active in veterans' initiatives, such as the Johnny Mack Soldier's Fund and the NFL's Salute to Service.
When asked why veterans are an attractive demographic for employers, Cannon noted that veterans "come with a level of training and core set of skills that make them, in so many instances, almost plug-and-play."
From his own experiences, Cannon knows that hiring veterans adds powerful talent to a business' bench. "We've hired a lot of veterans within our organization. What I've found, to a person, is that they're humble. They come with their ego checked at the door and know that it starts with the team. You get the right mindset, a level of training and someone who is used to coming together and solving problems. Ultimately, that's what we're doing in the business world."
Leadership and the power of transferable skills
Military members tend to have transferable skills that can help them succeed in today's business world.
"I tell veterans to come to the business world with confidence," said Cannon, who went on to explain how their skills, adaptability, resiliency and sense of teamwork are exactly what employers desperately need in corporate America.
Cannon also notes, however, that the road to the private sector isn't always smooth for veterans — an insight evidenced by his own experiences transitioning out of the Army. Helping even the strongest candidates make the transition can require some investment, but it's one that pays dividends.
After leaving the Army, Cannon moved into a unique role as Chief of Staff to the CEO of Mercedes-Benz. The CEO took a risk on hiring him based on his transferable skills and invested time in helping him succeed.
"He would take me in at the end of a long business day and spend an hour just talking with me. The CEO of a multibillion-dollar organization took the time to give me more context, to educate me, to expand on some of the things I wouldn't have known about because I didn't understand the car business. That leap of faith and that investment made a profound difference to me," said Cannon, and that experience has helped shape his strategies for hiring veterans and his commitment to paying it forward.
Veterans overcoming barriers
Lockett notes that there can be barriers that must be overcome by both veterans and organizations to ensure successful veteran hires.
"The biggest barrier to me is isolation," says Cannon. "[Veterans] come from a cohort — a platoon, a squadron — and what happens with veterans is that often when they lose that sense of team and support, that can sometimes lead to bad outcomes." Cannon says that his number one recommendation to organizations is to ensure that they have a strong sense of culture and teamwork, and that they're providing a place where veterans can work and thrive.
One practical strategy businesses can use to support veterans is to have a military resource group that provides a space for veterans to connect with others and discuss their experience during the transition. It's also important to recognize that veterans can succeed in a variety of roles. Cannon underscores that veterans often think they're best suited for a job in operations, based on their military experience. "You've got to broaden your aperture on that one," says Cannon.
He notes that veterans are accustomed to operating in high-velocity environments where they need to assess information, pivot and take quick action based on those insights: "For me, there's not a job veterans can't do with the right mindset, the right team spirit, and the desire to continue learning."
Strategies for employers to support veterans
For organizations thinking about how to support their veteran hires, solutions like employee resource groups (ERGs) can provide a powerful mechanism for connection. Cannon also recommends developing mentorship programs. "If you do that with intention, you are going to ease the transition and create a better human resource, and the outputs from that person are going to be profoundly impacted as a result," he says.
It's also important to have candid conversations and provide resources to support employees' mental health. Cannon notes that military leaders are keenly aware that their success depends on the health and well-being of their troops. He was reminded of this during the pandemic when many businesses closed or shifted to remote operations.
"There's only one person — there's not an 'at work' persona and an 'at home' persona. If some part of their life is undermining their ability, whether it's problems at home or feelings of isolation, that's going to show up. Your ability as a leader to see that and ask them 'How are you doing?' or 'Is there anything I can do for you along the way?' is crucial to taking care of your people."
Organizations that recognize what veterans bring to the table also recognize that transitions can be difficult. In addition to ERGs, mentorship and mental health support, Cannon recommends having an onboarding program that helps veterans acclimate to the values, industry and other key factors related to your business.
"I would just encourage anyone in a position of leadership in corporate America to think about this human resource as an incredible asset. Yes, they may have to go through a transition … but I will tell you that they are superbly trained, they are highly motivated, and they've started their career in service. This is our chance to give back. They have served, and now is our chance to serve them and set them up for success."

Learn more about how to include veterans in your recruiting strategy. Launch the virtual Inclusion Summit 2021 anytime.
ADP is on a mission for veterans and spouses. Learn more.