Protecting Mental Health Amid Return-to-Work Stress and Continued Uncertainty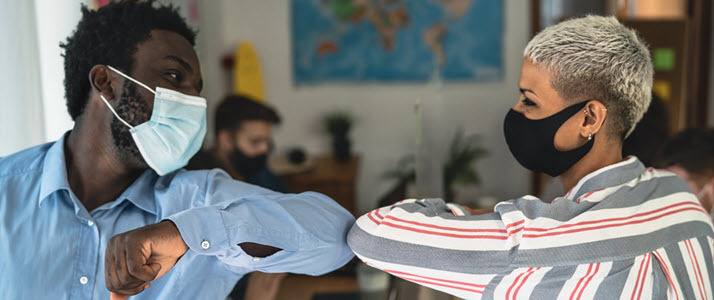 More than half of workers are concerned for their health and safety with regard to returning to the work site. Managers should lead with heart and build deep relationships in order to have open and transparent conversations with their employees about mental wellness in order to recognize areas where they can step in and support
According to a survey conducted by Envoy, more than half (66%) of workers are concerned for their health and safety with regard to returning to the work site. This work stress isn't something business leaders can ignore.
Leaders are tasked with providing safe, supportive environments where their employees can thrive. With nearly half (49%) of remote workers saying they want to keep their remote or hybrid work situation, according to a poll by Fortune, part of being a leader today means listening to the needs of your employees and working to create the environments in which they feel safest.
With this in mind, let's explore what managers and other leaders can do to protect employees' mental health and keep tabs on return-to-work stress.
Be prepared to have tough conversations
The best thing leaders can do to connect with their teams and learn how they're really doing is to ask.
"Be honest and truthful; be open and transparent with your associates," said Nicole Leib, Director, HR Business Partner at ADP. "At ADP, we have a tool called Leading With Heart, which really helps enable our managers and leaders to actually have the conversation with their associates. We know that leaders don't always know what to say, or they may feel uncomfortable discussing certain topics. We created a tool to help them say what they should say and do what they should do."
For this to work, employees need to trust that their managers are invested in their well-being and not just going through the motions. "Part of Leading With Heart is creating that open honest dialogue, but it's really about opening up the conversation," said Amy Freshman, Senior Director, Global Workplace Enablement at ADP.
When managers check in with team members, they typically ask how they're doing but might move on too quickly to the status report. "Now it's 'How are you doing?' and stopping," said Freshman. "It's about asking in a way that shows you care. It's probably a different flavor from what it was previously, and this helps create a safe space for associates to share."
Normalizing workplace conversations around mental health, and particularly around the charged topic of returning to work in an office setting alongside coworkers, is at the core of building a culture that will allow business leaders to understand employees' concerns and address them, both individually and across entire teams.
Lean on tech tools to facilitate connections
"Having a phone conversation is good," said Freshman. "But if you can't be physically face-to-face with one another, video is really the next best thing. That's where you see facial expressions and body language. Say, for example, that I'm usually all dolled up, but today, I have my hair in a ponytail, and I'm looking disheveled. Maybe that's a sign. Video gives us a way to be as in-person as you can be without physically being together."
For hybrid teams, it's important to use video technology to level the playing field and ensure everyone is included. Use video for every individual, rather than having the in-house workers share a screen. "It's a way to keep everyone equal," said Leib. "We can hear everyone, and we can see everyone. Side chat doesn't happen. Video is something that's here to stay, even though we're returning to the office. The larger global video chats are going to stay, as they're bringing more engagement."
Technology can help ease the stress of employees returning to a physical workplace as well. For instance, associates could report any health screening questions through stations at the workplace, which could help the organization conduct contact tracing in the event of a positive COVID-19 case in your ranks. Employers can also use these tools to collect evidence of vaccinations or, for workers who have not received a vaccine, to manage weekly COVID-19 testing records.
Make mental health an integrated part of your culture
Engaging in frequent and ongoing conversations with employees is one tactic managers can employ to stay ahead of work stress tied to returning to the workplace, but it's just one piece of the puzzle. Employees need to feel that business leaders have their interests at heart every day. They want to know that their leaders are staying abreast of news updates and scientific developments, and that they will carefully consider how decisions will impact employees before they take action.
"We have a leadership team that decided they were going to focus on the associate first rather than the business," said Leib. "Priority number one is the associates, their safety and their well-being. That kept us at the top."
Prepare for the future with extra support today
We've all been through a lot since the pandemic began, and the future is still uncertain. Business leaders are in a unique position to set the tone and help employees feel safe and supported no matter what challenges we face as a society.
Learning to talk openly about the stress and anxiety around returning to work is the first step in finding solutions to help employees feel comfortable as they continue working toward the goals of the business. Leveraging technology to facilitate those conversations can help employees be heard and make working onsite more comfortable.
When your organizational culture prioritizes employee well-being and your leaders walk the walk instead of just talking the talk, your team will be well-positioned to overcome whatever challenges it may face.
Download and share these helpful resources for leaders and employees: