Top 10 Questions Employers Have About the New Vaccination Mandate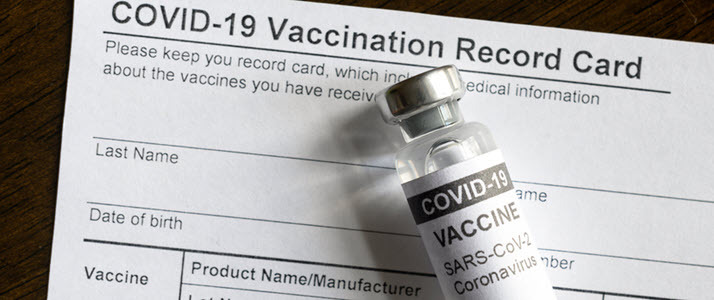 President Biden's new vaccine mandate comes with significant impacts for employers. Here's a look at some of the top questions and answers regarding this new program.
On September 9th, President Biden announced his government's new vaccination mandate, which will cover both federal employees and businesses with more than 100 employees. Not surprisingly, the mandate has sparked both discussion and debate. While many enterprises understand the necessity of the move, they're not sure how these new rules will affect day-to-day operations.
If you're looking to get ready for the new rules but not sure where to start, we've got you covered with our vaccine framework FAQ informed by ADP's employment law attorneys.
1. What kind of vaccine mandate is part of President Biden's COVID-19 action plan? What are the details?
President Biden's mandate covers three broad categories:
Federal executive branch workers and employees of government contractors. Vaccination will be required for all federal staff by November 22, 2021. Vaccinations will also be required for employees of covered contractors and subcontractors absent exceptions required by law which will likely be disability and religious belief accommodations. New language mandating vaccinations for employees of covered contractors and subcontractors will be added in October of 2021 to new federal contracts, solicitations, contract extensions and renewals, and options exercised under existing contracts. Some exclusions from coverage are grants; contracts whose value is equal to or below the simplified acquisition threshold (which is currently $250,000); and employees who perform work outside the United States. Employees of covered contractors and subcontractors must be fully vaccinated by December 8, 2021, or at the latest, by the first day of performance on a covered contract, absent the need for a disability or religious accommodation.
Medicare and Medicaid-participating hospitals and other care providers that receive Medicare or Medicaid reimbursement. Vaccination will be required for all Medicare and Medicaid workers. To implement the vaccine mandates on healthcare workers, CMS–in collaboration with the Centers for Disease Control and Prevention (CDC)–will expand emergency regulations. CMS anticipates the release of an Interim Final Rule with a comment period in October 2021.
All private sector employers with more than 100 employees. On-site employees must either provide proof of vaccination or be tested weekly for COVID-19. The requirements will go into effect after OSHA has drafted and implemented an Emergency Temporary Standard (ETS).
It's also worth noting that work is ongoing to introduce the obligations into federal contacts, and private sector obligations won't commence until OSHA has drafted and implemented an ETS that details vaccine requirements. In addition, the requirements for healthcare workers discussed above will not go into effect until after CMS acts to release an Interim Final Rule and the required comment period is provided.
2. What are the mandate rules for employers with more than 100 employees? How does this differ from those with fewer than 100 employees?
Employers with more than 100 employees will be required to have their workers be vaccinated or to undergo weekly COVID-19 testing. Businesses can also choose to opt out of testing entirely and offer proof of vaccination as the only option. The requirements applicable to private employers will not apply until after OSHA issues an ETS.
Organizations with fewer than 100 employees are not subject to this mandate, so they can choose either to continue without vaccinations or to make them a requirement. The only exception to this under-100 rule would be if employers are federal government contractors, in which case the mandate applicable to federal government contractors would apply.
3. If an organization has more than 100 employees spread between multiple locations, are they required to mandate vaccination?
The general understanding is that the number of employees — not where they're located — determines whether a business is subject to vaccine requirements. In practice, this means that if businesses have staff spread across multiple sites but the total number of workers is more than 100, vaccine rules apply.
4. If an employee only works part-time from the office, are they still required to be vaccinated? What about employees who are 100% remote?
As the proposed rule reads right now, any workers who are in the office full- or part-time require vaccination. Those who are still working 100% from home are not subject to this federal vaccination mandate, though businesses could choose to make it a requirement if they wish.
5. How are employers advised to handle medical, disability or religious accommodations or exemptions?
When it comes to medical or disability exemptions, employers can ask for objective medical documentation that can be filed as support for vaccine exemption.
Religious exemptions are more challenging. While Title VII protects employees who have sincerely held beliefs from being required to do something contrary to those beliefs. One way to manage religious exemptions is to have staff fill out a vaccine exemption request detailing their religious beliefs and how they relate to vaccination. In other words, a simple "my religion doesn't permit vaccination" isn't sufficient for an exemption, and it is not unreasonable for employers to ask for more specific detail. The caveat is that employers must be careful to strike a balance between asking for details and probing to judge the sincerity of the belief itself. The Equal Employment Opportunity Commission recommends that employers ordinarily assume that an employee's request for religious accommodation is based on a sincerely held religious belief. An exception to this assumption exists, however, if an employer is aware of objective facts that question the sincerity of an employee's claimed belief. If those facts exist, the employer may request additional information to support the claimed exemption
6. Should employers share or not share employee vaccination status with others (supervisors, other employees, etc.)?
Employers should not share any information about employee vaccination status with supervisors or employee co-workers. Likewise, they should not identify in any way those who have or have not been vaccinated. Vaccine status is considered confidential medical information and is thus subject to requirements for privacy and protection.
7. Are overhead employees, production employees, employees working on direct government contracts, and independent contractors also required to be vaccinated?
Yes. As of October, language will be added to federal government contractor agreements that mandates vaccination for all overhead employees, production employees and those working on direct government projects. However, President Biden's mandate does not explicitly require independent contractors to be vaccinated. Federal government contractors and subcontractors can choose to require independent contractors to become vaccinated as a condition of continuing to provide services to the contractor.
8. In what ways can/should HR departments capture and record employee vaccination information? What are the HIPAA implications?
Human resource departments have several options when it comes to verifying vaccine status. For example, they may choose to accept a copy of vaccine record cards, a healthcare provider's letter or an employee's attestation.
When it comes to recording this data, it's a good idea to keep it separate from other employee information on file. It should not be part of standard employee records and should be accessible to as few people as possible. Although HIPAA generally does not apply to employers, employers still have a legal obligation to protect the confidentiality of employee health information in their possession. Employers must ensure they're diligent about securely collecting, recording and storing this information to limit the risk of compromise.
9. If a vaccinated employee has contact with a coworker who has tested positive for COVID-19, what requirements do they need to follow?
In the case of vaccinated workers coming in contact with staff who have tested positive for COVID-19, businesses must maintain the individual's confidentiality while still informing potentially impacted staff members that they may have been exposed to the virus. Employers should follow the CDC's recommendations as to when to require workers to stay home.
10. How should employers engage with employees who are resistant to being vaccinated?
The key is communication. Employers should clearly communicate vaccine expectations with employees and articulate all options available, which may include choosing weekly testing instead of supplying proof of vaccination. HR teams should then communicate a timeline for vaccination or exemptions and spell out potential consequences for non-compliance, which may include a return to remote work or termination of employment.
While the goal is to reach an accommodation that both protects individual choice and increases workplace safety, it's important to be up-front with staff from the start to prevent misunderstandings about vaccination mandates.
For more information, launch our on-demand webcast anytime: COVID-19 Vaccination Guidance: Top Considerations for Employers
And be sure to subscribe to the Legislation/Eye on Washington SPARK updates to be alerted about new legislation that affects employers and employees.