Now More Than Ever: The Importance of Sustained Change Management and Communications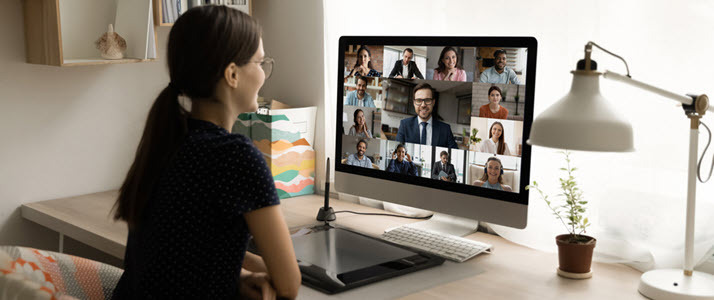 As organizations respond to rapid changes, both internal and external, we explore how personalized and transparent communications support effective change management.
Between the quarantines, mask mandates, and hunt for cleaning products, 2020 will not soon be forgotten. Thankfully, we have embarked on a new year and with that a renewed focus on what matters most – our health and wellness.
But how does this relate to change management and communication? The answer is simple.
When a third of the world went on lockdown and life as we knew it changed forever, organizations made the health and safety of their employees a priority. This meant establishing essential services and deploying workforce strategies – including change management and communications tactics– to support workers in real time, all while balancing operations and productivity.
A direct result of these efforts included a shift to a "work-from-home" environment for many organizations. Stanford economist Nicholas Bloom found that an incredible 42% of the U.S. labor force currently works from home full-time, while 26% – mostly those considered essential workers – work at a jobsite or office location. With almost twice as many employees working from home vs. on a jobsite, how organizations reach, manage change and engage with employees is top of mind.
So, whether you have 50, 5,000 or 50,000 employees, transparent, regular and open/honest communications are needed more than ever. That's why when you are crafting or updating communication plans, it's important to consider the following:
Proactive communications can help engage your workforce and help manage change
If 2020 taught us anything, it's that today's culture will impact your message. Each day, we are faced with new, and ever-changing, information – and it can feel like an endless cycle. A Dynamic Signal Study found that if organizations can decipher what's important to their workforce and position information in an informative, positive way, employees will feel more supported, valued and engaged.

These efforts can ultimately lead to higher retention, profitability and productivity – a win-win for all.
Responsive, agile strategies are key
This past year also accelerated how change is managed and delivered. With more work going virtual, and employees social distancing, many organizations shifted their mindsets and efforts to an online approach. By incorporating a variety of communication channels like video, e-newsletters, email, podcasts, etc., leaders can reach not only their work-from-home staff, but essential employees who are onsite as well.
In a recent Harvard Business Publishing Study, 78% of respondents said that their organizations have created new employee communications channels in response to the pandemic. Some examples include daily alerts, daily or weekly email updates, regular group check-ins, virtual town halls, team meetings via web conference, employee portals, videos and online team collaboration tools.
It is important, however, to recognize that not all organizations, or employees within an organization, are working virtually. Many organizations have a workforce that is "deskless" – in industries like hospitality, healthcare, retail, manufacturing, automotive, construction, etc. Successful communications strategies in these workplaces include small group/socially distanced meetings, information posted on bulletin boards, in breakrooms and even mailers or postcards that can be sent to the home are crucial to reach all employees. Sharing information via websites and employee news portals, so that on-site workers can access this information from a tablet or personal device, also work well.
It's critical to collaborate with key stakeholders
Knowing your key stakeholders will help you pull together a comprehensive communications strategy – one in which all levels of your organization are united, and employees are well informed and prepared for what's next.
As you consider your different stakeholder groups, think through these questions:
Who do we need to reach?
What do they need to know?
What do they need to act on?
And, last, but certainly not least, what's in it for them?
Answering these questions will help you build a plan that considers the different communications needs by audience (i.e., managers may need to have more information about a change; leaders may receive advance notice before messages go to their associates). Thinking through who your constituents are and what they care about will help you craft timely and relevant messages that support informed decision-making and promote open, two-way communication.
Increase personal contacts and build group connections
Organizations at the forefront of proactive change management and communications have employed strategies to make connections with employees, individually and as a group:
Having C-level leaders share regular, transparent updates with all employees that include personal stories and anecdotes
Hosting contests, recipe shares, book recommendations and podcast clubs, promoting virtual 5Ks and other fitness challenges to help raise money and keep people connected.
Recently, an organization gave each employee money to treat themselves and family members to lunch and encouraged participants to share a selfie with a hashtag on the company's portal. They even sent a gardening kit as a follow up for more family fun.
Encouraging employees to post pictures of their pets, kids, family members on portals and social collaboration sites for a personal touch
Hosting socially distanced, small group meetings for important pre-shift information for on-site employees
A more authentic, transparent, engaging, and agile change management approach is the new "normal" for communications – and will be for years to come. Reaching employees with the right information at the right time and letting them know they are personally valued and thought of is key to successful communications. Helping your employees feel supported and engaged, especially during these turbulent times, is a win for everyone.
Learn more about how to engage your workforce by exploring the five dimensions in today's workforce. Get the report, People at Work 2021: A Global Workforce View.