What's Driving the Future of Work: Evolving Work Life Culture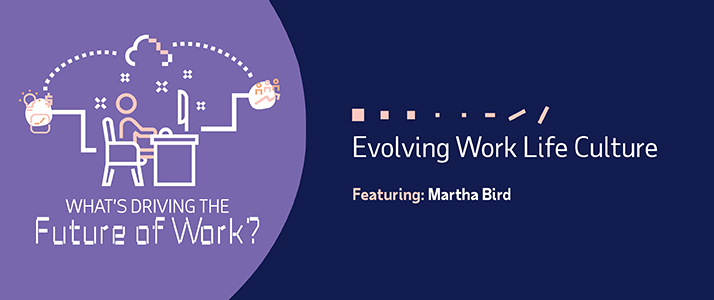 In this segment of Cheddar news, anthropologist Martha Bird shares how company culture is continuing to grow in importance, especially as organizations move into the next phase of returning to the workplace or are creating a hybrid work model.
Watch this segment from Cheddar News (TV network) sponsored by ADP, featuring Martha Bird, Chief Business Anthropologist at ADP. She shares insights about how workplaces cultures are evolving, how team leadership plays a role in how work gets done, how technology fuels work life culture, and the ever-changing work environment.
Watch this video to learn more about the workforce trends employers should consider that are shaping the future of work.
The video segment covers these topics beginning at these times:
0.35
The influence of team leadership has been magnified
1:00
Good leaders can flex to help ensure a safer place for all their people
1:10
Work culture has emerged and continues to grow where agility and flexibility are key to a company's success
1:35
Technology impacts how cultures adapt and evolve
How video conferencing is impacting work-life balance
2:10
There needs to be a balance between tech facilitating work without losing sight of the whole person
2:42
The measures business leaders can take to help ensure productive and engaged teams
2.56
Leaders should be mindful of their perceptions, assumptions, and stereotypes
There is no one size fits all approach to the new normal
3.20
Companies that want to offer a flexible schedule should have a framework built on trust along with the policies to back it up
3:45
Leaders should accept that what worked in the past may not and should not work going forward
3.58
Employee expectations have been shifting for some time especially in areas of flexibility
4:15
The most successful leaders will be those who instill trust, inspiration, and empowerment in their teams
To check out the other episodes in this series, visit this page.