Celebrating Pride in the Workplace Is a Year-Round Affair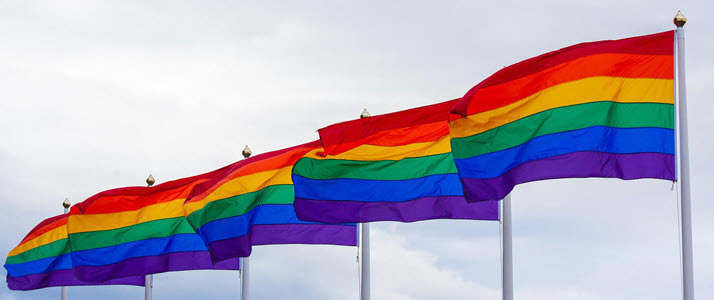 There are many ways organizations – and their leaders -- can show support for the LGBTQIA+ community. Here are some ideas and best practices for supporting an inclusive work environment throughout the year.
Diversity, equity, and inclusion are values your employees want in their employer, and customers want from their Brands. Both increasingly want your organization's support clear and undeniable. It's about what you say AND do. During LGBTQIA+* Pride Month, an excellent way to add to your DEI efforts is to look for ways you can celebrate pride throughout the year.
Here are some ideas and best practices for supporting an inclusive work environment and celebrating pride at your organization.
Improve Visibility of LGBTQIA+ Employees and Industry Members
One of the best ways to work on celebrating pride in the workplace is to uplift the voices of employees and members of your industry who belong to the LGBTQIA+ community. In addition, invite feedback from employees of all backgrounds, and use their insights to inform your decisions about policies, programs and efforts in which your organization is involved.
Build Awareness Through Learning Opportunities
Employers need to offer opportunities for all employees to learn about the LGBTQIA+ community. These could include pronoun training, panel discussions with employees who are members of the LGBTQIA+ community, and Employee Resource Groups (ERGs).
Leaders can set an example by consistently using employees' pronouns correctly and avoiding gendered language — such as "hey guys'' — when they communicate with groups of employees. Mistakes are bound to happen, and it's important to acknowledge the lesson when someone points out a pronoun error. Thanking the person for letting you know about the mistake is preferable to defaulting to "I'm sorry."
Donate to Organizations Doing Meaningful Work in the LGBTQIA+ Community
To ensure that your efforts make a real difference, research organizations before committing your support. Don't overlook smaller local organizations in your consideration, as they may have a more direct impact on your local community. Engage employees' assistance by asking for nominations and include employees in the decision-making process through task forces that review options and make recommendations to your executive team.
Use Transparent, Inclusive Hiring Practices
Inclusive organizations openly show how they work to reduce bias in the recruiting process. An inclusive recruiting process is essential to ensuring that your commitment to diversity, equity and inclusion (DEI) endures. Use inclusive language and representation in your recruiting content and consider partnering with organizations that support LGBTQIA+ workers in your industry.
Your efforts will be more successful if you engage your current workforce by encouraging employee referrals, featuring employees in recruitment marketing content (especially videos), and inviting their feedback on your recruiting practices.
Embrace DEI as a Process, Not a Destination
Working toward a more equitable and inclusive work environment is an ongoing process, not a goal to be completed. There is no point in time when you will 'achieve' inclusivity, as our society will continue to evolve, and new expectations will arise.
But it's important to get started.
"To drive true change and advance measurable progress, employers need to build a DEI strategy rooted in data," said Bob Lockett, Chief Diversity and Talent Officer at ADP during a NASDAQ Trade Talks interview. "This starts with asking the right questions and doing the research required to understand the current state of their workforce. What is their people data telling them?"
For guidance, employers are turning to their human resources partners to help them identify opportunities and establish a plan for progress and ongoing transparency.
Lockett goes on to say that once organizations identify their diversity gaps by examining their data, they can then specifically define the problem and take steps to implement the right solutions. For example, unconscious bias training has been an important tool that helps hiring managers and leaders understand their individual biases, and more importantly how to address them. But Lockett is quick to emphasize that this work doesn't end with one pass. Continuously tracking progress allows companies to optimize and improve outcomes over time.
Employers must remain transparent in their values and actions. And they must demonstrate a sustained commitment to creating and maintaining a workforce and workplace that supports DEI outcomes – not only during Pride month, but all year long.
For tips and tools to help foster diversity, equity and inclusion in your workplace, visit our DE&I content hub.
*The letters in LGBTQIA+ are generally agreed to represent lesbian, gay, bisexual, transgender, queer, intersex and asexual people. Source: https://lgbtqia.ucdavis.edu/educated/glossary