Ask Addi P.: How Can HR Ensure Regular and Seasonal Employees Properly Track PTO?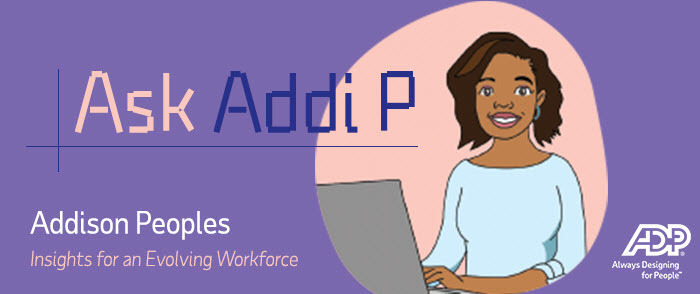 Dear Addi P.,
How can I ensure my HR department is properly tracking employee paid time off, including time away for seasonal workers in 2021?
— Keeping Time in Tampa
Dear Keeping Time in Tampa,
Properly tracking your employees' time off will be a particularly pressing issue in 2021 due to the increasing demand for seasonal and contract workers. Before you decide on your time keeping process, you should first devise a PTO policy template. That way, paid time off will be administered based on a defined set of criteria, which should help you stay compliant with respect to both regular employees and temporary staff.
PTO Policy Template
Although having a PTO policy is not required by law, most organizations have them for a variety of reasons. For example, they can help with attracting and retaining employees as well as staying compliant with relevant laws and regulations.
Keep in mind that PTO policies for a small business based in a single location are often straightforward. On the other hand, for large businesses with multiple locations in different states, PTO policies can be more complex due to the need to accommodate more than one set of laws.
Whatever the case is for your organization, your PTO policy should at least include:
Who qualifies for PTO
How much PTO eligible employees can earn
How PTO is granted (e.g. at the beginning of the year or through an accrual system in days or hours)
How many work hours are required to accrue or use PTO
How to request or schedule time out of the office
What happens to accrued or unused PTO — is it carried over or paid out at end of the year
What happens to PTO when an employee leaves their job
Who is responsible for benefits administration
Applicable local, state and federal laws
This PTO policy template can help you get started on your paid time off documentation, and you can customize it to achieve a better fit for your business. For instance, you could include specific reasons for using PTO, separate PTO into categories such as vacation days, sick days and personal days, or decide that all types of paid time off should be categorized as simply "PTO" for flexibility. These choices are up to you, and generally you can modify your PTO policy as needed or on a temporary basis, if you're doing what is legally required.
Seasonal Employee Time Tracking
Industries that experience seasonal peaks and valleys, such as retail, tourism and ecommerce, often employ temporary workers. For improved efficiency, highly skilled industries — such as IT, engineering and accounting — tend to do so as well. Time tracking for these workers is just as important as it is for regular, full-time employees. In fact, the same employment regulations around workplace health, safety and discrimination typically apply to both groups.
Furthermore, the Fair Labor Standards Act (FLSA) requires organizations that operate year-round to pay their seasonal employees 1.5 times their regular rate of pay for any hours worked in excess of 40 hours during a given work week, just as they would for their regular employees. Overtime pay may also be subject to state laws. The need to adhere to compliance factors such as these could influence certain aspects of your PTO policy as you develop it.
A good way to track schedules and hours worked for your entire workforce is to use cloud-based time and attendance software. This can help with PTO management and administration, as it can automate many routine tasks related to time tracking. It also helps ensure that your HR department has the means to conduct proper record keeping and the ability to supply thorough time tracking documentation to regulatory agencies, if needed.
With this advice and your PTO policy template in hand, you'll be on your way to tracking time in the most efficient way.
Addi P.
Addi P. is a digital character who represents the human expertise of ADP. The questions and challenges come from professionals who manage people at companies of all sizes. The advice comes from ADP experts who have a deep understanding of the issues and a passion for helping leaders create a better workplace. If you have a challenge you'd like to pose for Addi P, complete this simple form.
The information provided here is for general informational purposes only and not legal, accounting or tax advice. The information and services ADP provides should not be deemed a substitute for the advice of a professional who can better address your specific concern and situation. Any information provided here is by nature subject to revision and may not be the most current information available on the subject matter discussed.