Ask Addi P.: How Do I Manage PTO During COVID-19 and Beyond?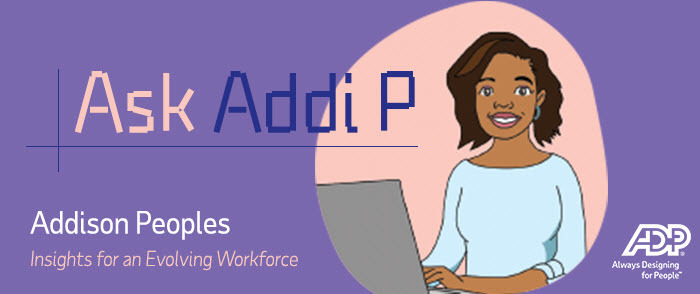 Dear Addi P.,
COVID-19 and the subsequent work-from-home mandates are pushing many of my employees to use their PTO to take care of their families and their physical and mental health. As an employer, I'm looking for the best way to manage PTO needs and meet business requirements at the same time. Should I limit the amount of PTO an employee can use? How will PTO needs and procedures change because of this COVID-19 global health event?

— Puzzled About PTO

Dear Puzzled About PTO,
You're not alone. Navigating PTO responsibilities and requirements during the COVID-19 pandemic is top of mind for many business owners. Here are some quick pointers to help guide you in the right direction.
Review Your Existing PTO Policy
Be sure that it clearly communicates your expectations regarding employee use of PTO. Look at all the fine details, such as procedures for submitting time-off requests, restrictions and limitations, the process for prioritizing multiple employee time-off requests, and manager approval; options for PTO buy, sell and/or donation programs, etc.
From there, consider modifying your existing PTO policy based on expected short-term and long-term business requirements. In general, if you have a written PTO policy, you reserve the right to change that policy at your discretion, subject to applicable laws in your jurisdiction.
I spoke to Sushma Tripathi, ADP Vice-President of Strategic Advisory Services, about this. She said, "Remember, the employer has to make sure that the PTO policy meets the minimum requirements of the state and local Paid Sick Leave laws, such as minimum accrual rates, reason that employees are allowed to use leave, pay requirements and more in order to maintain compliance.
"Each organization is unique and there is rarely a one-size-fits-all approach. Therefore, consider your location, culture, factual data, circumstances and regulations, before making any changes. Also, be aware of updates and guidance from federal, state and local agencies."
Understand Legalities Affecting Your PTO Policy
Before you make any changes, it's best to understand the new and existing legal landscape affecting PTO. For instance, to address some of the workplace effects of the COVID-19 global health event, Congress passed the Families First Coronavirus Act (FFCA). Under FFCA, if you're a private employer with fewer than 500 employees, you will be required to offer job-protected leave and pay, where applicable, for specified reasons related to COVID-19.
You should also be aware of the Emergency Paid Sick Leave Act (EPSLA) and Emergency Family and Medical Leave Expansion Act (EFMLEA), which were enacted as part of the FFCA. Any employee who has been on your payroll for at least 30 days is eligible for EFMLEA paid leave if they're unable to work or telework because their children's school or childcare facility is closed due to COVID-19. Although leave will be unpaid for the first 10 days, your employee can choose to use accrued vacation or available PTO during this time, but you can't require them to do so.
The employee may also elect to use "emergency" paid leave provided under the EPSLA. After the first 10 days of leave, you can require an employee to use any paid leave available under your PTO policy concurrently with paid leave under EFMLEA.
"COVID-19 has not only led to federal leave requirements, but there are also state and local paid sick leave requirements," Tripathi said.
"These requirements generally vary by state and local jurisdiction which can make it challenging for employers to administer. Variations may occur in what's included and what is not."
She continues, "Keep in mind that outside of these provisions, Family Medical Leave Act (FMLA) policies still apply for FMLA-qualifying reasons. In addition, there are numerous federal, state and local departments of labor, employment law, recordkeeping and wage-statement-related requirements."
Align Your PTO Policy with Business Requirements
Over time, and particularly after the global health event subsides, you may have to adjust your PTO policy to better fit the availability requirements of your business. A long-term employee, for example, may end up accruing many hours of PTO and decide to use them all once, which could create a labor shortage at your business.
There are steps your organization can take to address this. For instance, paying out employees who have unused, accrued PTO hours may be a viable option. You could also limit PTO in your busiest times to ensure that you have adequate staff on hand to meet business demands. It is important to note that many states have paid sick leave laws that don't allow the employer to take away PTO that has already been accrued.
Generally, you can modify your PTO policy as needed or on a temporary basis, if you're doing what is legally required.
"This requires proper management," Tripathi said. "It needs to be fair and equitable, because perception of mismanagement may increase exposure to discrimination claims. So, no matter what you decide to do, make sure you update your policies and procedures, make them available to all employees and educate everyone."
It is critical to be mindful, also, of how your policy changes will be viewed by your employees. The last thing you want to do is create negative workplace morale by setting PTO rules that are too strict or punitive. Try to find the right balance between having enough staff to meet business requirements and satisfying employees' time-off needs.
By following these tips, you can steer your PTO policy toward success and support the prosperity of both your employees and your business, even in challenging times.
Take care,
Addi P.
To learn more, launch this virtual presentation anytime: The Workforce Outlook Has Changed: Redefining the Future of Work