Roots and Routes: Distinctive Views of Transformation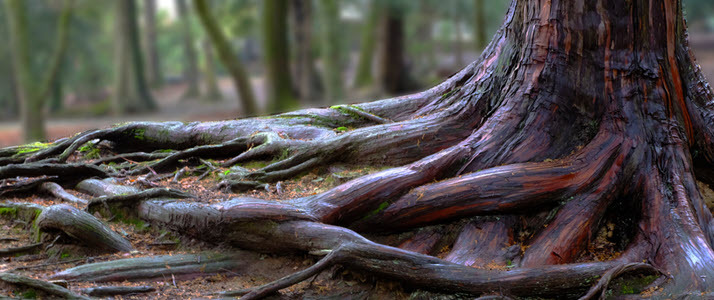 Have you ever stopped to consider the complex networks that make up your organization? Or, the perspectives required to prepare for the unforeseen? Martha Bird, ADP's Chief Business Anthropologist has, and she does so thru the lens of Anthropology. Calling upon metaphor she reflects on the 30,000 foot view, as well as the below the ground roots systems and more visible branches and leaves that make up what she refers to as the organization's tree. Injury to any part of this complex system will cause damage to the whole.
Transformation is a very human endeavor. Humans have been doing it for as long as we have been around. Often when we think of transformation, we focus on contemporary technological innovations -- the cloud, mobile, data, and various incarnations of AI. We rarely think of the more recent past and certainly not about ancient times. And yet, humans have always used technology to adapt to changing environments, and in the process of these adaptations have devised whole new categories of agency, of community, and of what it means to be human.
Think for a moment about the last time you pulled over to ask a stranger for directions or how many mobile numbers you actually remember. As technologies change, so too does the way we frame concepts like travel and memory — often imperceptibly — but sometimes more radically. Consider the past year as many of us have had to adapt to new ways of working while learning new tools for doing so. Humans adapt and how we view the world around us changes in the process.
This is where the need for both the broad and the discrete viewpoints come in. As leaders you are required to have a "big picture" perspective of your organization, while also staying connected to the people and processes happening on the ground. It's a lot to balance.
How do you prioritize?
I believe it all starts with people and, more importantly, with people in context. Whether your organization is global, local, large or small it is important to recognize that your employees are individuals with a unique set of circumstances and personal pressures.
Like an anthropologist, adopt an attitude of curiosity and commit to learning from the people themselves. Let's face it -- employees are your greatest asset. They determine whether your organizational tree flourishes or flounders. They are the root of your success.
To hear more, go to Martha's video message on this topic, Transformations: Roots and Routes.