The Post-Pandemic Labor Market – What Changes Are In Store?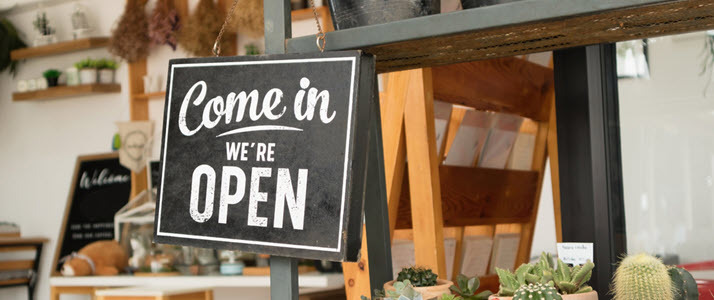 "The key to any sustained recovery will depend on Main Street's resilience. After all, consumers are 70% of the economy and small businesses create over 50% of jobs." - Nela Richardson, Chief Economist at ADP
The impact of COVID-19 on the labor market was simply unprecedented. Economic shutdowns, strict limits on international travel and entire companies moving to remote work were just a few of the dramatic changes. As we (hopefully) approach the final stages of the pandemic, it's time to start thinking how the economy could adjust going forward.
To help sort through the noise, we'll be talking every month with Nela Richardson, Chief Economist at ADP, to discuss the most important economic trends of the day. She spoke with us last week for our first segment, with her initial thoughts on the post-pandemic labor market.
Q. What changes did we see in the labor market in 2020 that may last beyond the pandemic?
Richardson: "This is a critical question, because everyone wants to know what's temporary and what's persistent with the labor market. I know everyone wants to put a fork on in 2020 and call it a done deal, but there's still a little bit more.
But we can start with one of the good things that may come out of 2020, which is more tolerance for flexibility in the workplace. I don't think that's changing. We might not stay at 100% remote, but gone are the days when employers say an absolute no to remote work that we now know can be done from home. I remember hearing once about a company training video where they said the only excuse for not coming into the office was if a tree fell on your house, blocking you from leaving. I think that mindset is over.
The second positive change is we're seeing a more consistent focus on the health and wellbeing of workers. The knowledge that you need a healthy workforce to have a productive business is going to be ingrained in corporate culture in a way that it hasn't in the past.
We also saw social events, the protests tied to the murder of George Floyd, and the recognition that COVID-19 had hit some communities harder than others, especially African Americans, people of color and women. There was a bigger response from corporate America in support of a more diverse and inclusive workforce than I've seen in my entire career. I don't think that momentum dies in 2020.
Above: Nela Richardson in MainStreet Macro, Ep. 1
There were, of course, downsides. Ten million people who had a job last February still don't have a job now. Most of these workers were in low-income jobs in the service sector, particularly in the leisure and hospitality industries. There's a risk that this scarring could be permanent, as the longer someone's out of the workforce, the harder it is to get back in.
According to ADP data, the workers who were most impacted are the very young and the very old. For younger workers, research shows that if you start out in a bad job market, you may never regain that lost momentum and earning potential. On the other end, who knows if these older workers, with their skills and knowledge, will ever come back.
Women have also been impacted much more than men because of the types of jobs they take on and family responsibilities that have taken them out of the workforce at four times the rate of men. These are the parts of the labor market the government can help with thoughtful and targeted policy."
Q. What has surprised you about the labor market during the COVID-19 crisis?
Richardson: "I was surprised how quickly the unemployment rate dropped, from the high of 14% down to just 6.7% in December. In the financial crisis, it approached 10% and took three years to recover back to below 8%. This time, the recovery took months. The government stimulus and action from the Federal Reserve allowed a lot of firms to bring back workers.
The downside of this fast recovery is that it gave a false optimism that those gains could continue indefinitely. We thought if we turned on the lights, everything would come back to normal. Given that we saw job losses in December, it's a signal that nothing in this economy is automatic, especially if the global health event is still surging.
I'm also amazed at how much businesses are doing to survive. Given the extreme challenges with closings and restrictions, we've seen so much creativity as companies adapted their business models. But they still need help. PPP has been incredibly important, but I'm not sure if it's enough to go the duration to full recovery. We still need something to get the economy jumpstarted."

Q. You mentioned in your first MainStreet Macro video that "Main Street's resilience will drive the economy forward in 2021." As the year begins, what does that look like in practice for businesses?
Richardson: "This cuts to the message of my blog. Wall Street has been soaring and nothing has dampened the party. Stocks are strong.
It's a crucial difference in the mindset. When Wall Street sees layoffs, they think cost savings and efficiency. Main Street business owners see suffering. They see laying off coworkers and colleagues. They see tapping into their personal resources to pay the bills. That's why they've been doing everything they can this past year just to hold on.
In the end, consumers are 70% of the economy and small businesses create over 50% of jobs in the U.S. I think Wall Street has finally realized that the secret to its success is Main Street, and that when small businesses suffer, so does the economy. The key to any sustained recovery will depend on Main Street's resilience.
Q. What trends should employers look at to see how the labor market changes this year, post-pandemic?
Richardson: "I would say expect the unexpected. There's no playbook for this. There's a tendency to look at past recessions and try to predict the same trends, but this is a unique experience. We need to be flexibly minded on how this all evolves.
Remember, this is a health crisis first and foremost. The economy wasn't broken before the pandemic. What eventually fixes the pandemic is what will fix the economy.
Employers should also consider how they'll maintain all these efficiency gains we've realized this year. Do we dump Zoom and everything else when we're able to go back to the office? I don't think so. We've learned how to use digital meetings with clients, multi-country collaborations. How do we keep these new approaches when we add back the physical element? It's a rich opportunity for working in a new day.
Ultimately, I would describe 2020 as a year of hard lessons. Hopefully, 2021 can be a year of hard-won achievements."
For more insights on the economy and the labor market, be sure to check out Richardson's MainStreet Macro blog.

Nela Richardson joined ADP as Chief Economist in November of 2020. Nela is the co-head of the ADP Research Institute and leads economic research for ADP. Previously she was Principal and Investment Strategist at Edward Jones, a financial services firm. In that role, Nela analyzed and interpreted economic trends and financial market conditions and recommended investment strategies. Nela is also the former chief economist at Redfin Corp., a national real estate brokerage and technology company, where she led a team of data scientists, economists and writers to track trends in the housing market. Nela also served as a senior economist for Bloomberg, L.P., covering housing and financial markets, and has held research positions at the Commodity Futures Trading Commission (CFTC), Harvard University's Joint Center for Housing Studies and Freddie Mac. She also worked as an adjunct finance professor at the Carey School of Business at John Hopkins University.
Nela earned a doctorate in economics from the University of Maryland-College Park with concentrations in financial economics, international finance and economic development. She obtained a master's degree in economics from the University of Pennsylvania and a bachelor's degree from Indiana University in Bloomington, where she was a triple major in mathematics, economics and philosophy.