Ask Addi P.: How Can I Support International Employees During Uncertain Times?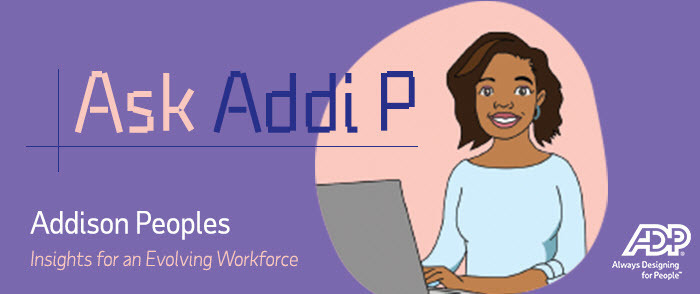 Dear Addi P.,
As an HR team lead for a multinational corporation, how can I help international staff maximize the work from home benefit — and manage compliance issues — during uncertain times globally?
— Q. Ran Tine
Dear Q.,
This is a great question; I know many organizations are struggling to balance the dynamics of productivity and remote work while also dealing with emerging compliance issues. Here, support is key: Helping staff leverage work from home benefits through ongoing personal and technical support makes it easier to establish clear lines of communication and meet regulatory goals.
To boost international staff confidence and bolster compliance processes, I suggest a four-factor approach:
1. Provide the right tools
International employees can't deliver digital performance at a distance without the right tools. IT teams are ultimately responsible for the approval and implementation of tools such as video conferencing, documentation collaboration and on-demand project management, but human resource staff also play a critical role as advocates.
The first step is to have conversations with geographically dispersed international employees. Ask them what applications they're currently using, how well these tools are working, and what they don't have that they need. For example, staff consistently struggling with connectivity problems may want the ability to edit documents offline and then upload them when internet becomes available. Employees with substantial bandwidth, meanwhile, may be looking for constructive ways to reconnect with other staff members and brainstorm new ideas or develop innovative processes.
Once your HR team has a generalized understanding of what remote international staff want and need, take the results to IT. This frees up time for employees to focus on current projects and makes it clear that HR is committed to making their work experience as streamlined as possible.
2. Prioritize continuous communication
As recent Gallup data shows, both loneliness and isolation are growing challenges for remote workers. This recent global health event has significantly increased the pervasiveness of these problems, especially for international workers. These employees are often members of small, satellite office teams, and in many cases they aren't native to the countries in which they work. As a result, their isolation isn't just physical, it's cultural as well.
Here, HR teams can help by prioritizing continuous communication with international staff. While part of this strategy involves larger discussions of evolving workplace practices, project deadlines and even performance reviews, the real benefit comes from brief but regular check-ins. Even if it's just a few minutes each day, reaching out to touch base with international staff and ask them about any health, emotional or financial challenges can help demonstrate that HR is on their side during this time of crisis.
3. Pivot key policies
Staff are stressed about losing their jobs during the current global health event. Stress increases for international employees since they may be expensive to retain and may require different HR processes.
If your corporate mandate is to support staff no matter their location and leverage the work from home benefit, you must be prepared to pivot key policies. According to the Organisation for Economic Cooperation and Development (OECD), this means implementing policies that provide income to workers who must isolate but can't work from home. While many governments are enacting legislation to bridge this gap and repay employers who cover COVID-19-related income top-ups, getting out in front of the issue demonstrates a corporate commitment to staff success.
It's also worth considering changes to internal sick leave and vacation policies that make it easier for staff to access paid or unpaid leave. This makes it clear that your priority is the person, not their position.
4. Prepare for rapid regulatory change
Regulatory change is happening at an unprecedented rate as nations move to mitigate economic damages by assisting both workers and employers. In the EU, the lack of a coordinated lockdown by member countries as well as region-specific measures introduced to combat COVID-19 have significantly increased the complexity of the compliance landscape. Meanwhile, in parts of Latin America, the virus is continuing to ramp up, bringing with it the threat of even greater regulatory challenges.
It's also worth considering that the Asia-Pacific region is farther along with its economic recovery efforts. In China, employers must account for additional national holiday extensions and varying pay rate changes — for example, Shanghai now mandates 200% extra holiday pay for workers. Australia has rolled out it's "JobKeeper" program to help corporations keep staff gainfully employed, while India has announced measures to pay both employees' and employers' share of the Employees Provident Fund (EPF).
While it's possible to pull HR staff from other tasks to track and tackle evolving compliance requirements, businesses are often better served by partnering with a cloud-based HCM provider that combines global experience with local expertise to streamline regulatory reporting and reduce the risk of compliance complications.
Embracing what's ahead
The "next normal" bears little resemblance to anything HR teams would categorize as "normal." However, despite the challenges of international remote work for multinational corporations (MNCs), the current environment does offer a unique opportunity for HR leaders to support geographically diverse staff by providing tools, prioritizing communication, pivoting policies and preparing for regulatory changes.
Thanks again for your question, Q. Stay safe.
— Addi P.
Get customizable email templates and information on other valuable topics in the COVID-19 Employee Communications Toolkit.
Addi P. is a digital character who represents the human expertise of ADP. The questions and challenges come from professionals who manage people at companies of all sizes. The advice comes from ADP experts who have a deep understanding of the issues and a passion for helping leaders create a better workplace. If you have a challenge you'd like to pose for Addi P, complete this simple form.
The information provided here is for general informational purposes only and not legal, accounting or tax advice. The information and services ADP provides should not be deemed a substitute for the advice of a professional who can better address your specific concern and situation. Any information provided here is by nature subject to revision and may not be the most current information available on the subject matter discussed.