COVID-19 Workplace Impact and Employer FAQs: Time Off and Leaves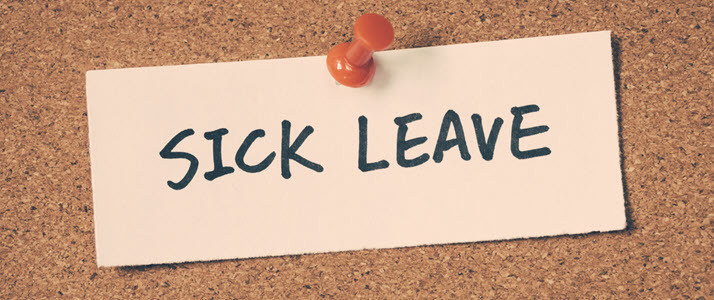 This article also includes a link to FAQs about The Families First Coronavirus Response Act (FFCRA). (Updated 4-3-2020)
Q. What happens if schools close and employees need time off to care for their children? What if an employee feels sick?
A. Employers should look carefully at their attendance policies and practices. During this outbreak, workers could be absent because they are sick or are caring for a sick family member.
They could be absent because their child's school or day care center is closed or have at-risk people – immunocompromised – family members at home. Or, it could be that workers don't come to work because of fear of possible exposure.
All the public health guidance is that employers should encourage employees who are sick to stay home. And, to the extent possible, they want to remove incentives to go to work while employees are sick. Employers should make sure they remind employees about the existing paid and unpaid leave programs available to them.
Depending on the circumstances, employers may be required to provide job-protected time off to employees under existing federal, state, and/or local disability and/or leave laws. For example, although FMLA time is not usually available for a normal bout of the flu, eligible employees who contract the coronavirus or who have an immediate family member who contracts the virus and needs the employee's care may meet the FMLA definition of a serious health condition.
Employers should consider whether there are any modifications or added flexibility they can introduce temporarily to help workers manage the COVID challenge. In any case, it is important employers are be clear on what they expect from employees in terms of notice for absences, and to enforce those rules consistently.
State and/or local leave laws may also apply in addition to company-provided paid and unpaid leaves. Among the states and local jurisdictions that require employers to provide paid sick leave, many (like New Jersey, for example) cover absences related to school closures that are ordered by health officials. Employers should check their state and local laws for details. In the absence of a specific requirement, employers may want to consider offering paid and/or unpaid leave to these employees.
Important related content
The information provided by ADP is for general informational purposes only and is not legal, accounting or tax advice. The information and services ADP provides should not be deemed a substitute for the advice of such professionals who can better address your specific concern and situation. Any information provided here is by nature subject to revision and may not be the most current information available on the subject matter discussed.