People, Places and Policies: Constructing the Safest Return-to-Work Strategy for Your Organization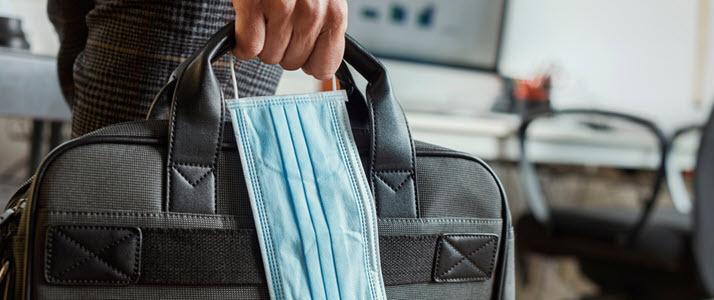 In this article, we explore how to create an effective return-to-work strategy by reassessing an organization's approach to people, places and policies.

Just as the nation has settled into a new remote work routine, it's time to face a new challenge: developing a return-to-work strategy that allows organizations to safely resume onsite operations.
Some organizations are bringing employees in on reduced or alternating schedules, while others plan to have more than half of their staff be in the office. But no matter how many employees an organization plans to welcome back over the next few months, safety must come first.
"Organizations must develop an infectious disease preparedness and response plan, educate their workforce and establish a communication plan," says Ellen Feeney, VP, Legal Counsel at ADP. "Employers need to stay flexible but compliant, carefully following updated policies and practices such as OSHA, CDC, EEOC, executive orders, state and local public health authorities as well as industry-specific guidelines to stay in accordance with state and federal laws."
Organizations with the most effective return-to-work strategies are taking a proactive approach to letting their workers know what to expect and providing as much advance notice as practicable. This helps employees make plans and feel confident that their workspaces are safe and secure. Organizations should continue to communicate as they review and update relevant policies and procedures.
Foundation #1: Returning-to-Work Strategy for People
What should organizations be thinking about when preparing to bring employees back to the office? Helena Almeida, Senior Counsel at ADP, says the most critical step is communicating with employees. Almeida highlights three phases of communication that should be a part of every organization's return-to-work strategy:
Set the tone before your employees return.
Announce your workplace safety plan in advance. Share details about any changes in shifts, hours, wages or policies and emphasize the importance of compliance.
"Employees need to understand how the precautions you're taking will affect them," Almeida says. "For example, if you will be screening employees, inform them of this prior to their return."
Ensure a smooth first week back.
Make additional sources of support available to your employees and be prepared to respond to concerns and modify your plan if necessary. Larger organizations should consider having someone onsite to train employees so employees know how to practice social distancing in different situations.
Communicate successes and challenges.
Don't let your efforts to maintain a safe work environment fade away as time goes on. Commit to continuing to monitor compliance and keeping employees informed of any additional changes to protocols.
Within these three steps, businesses should make policy decisions based on objective, factual information. Following CDC guidelines and recommendations is a good start, but the Americans with Disabilities Act (ADA) and other laws governing the workplace still apply.
The ADA prohibits covered employers from excluding individuals with disabilities from the workplace for health or safety reasons unless they pose a "direct threat," and on April 23, the U.S. Equal Employment Opportunity Commission (EEOC) announced that COVID-19 represents a "direct threat" to the workplace and that accurate and reliable testing is permitted during the pandemic.
To prevent disparate impact and perceived discriminatory practices, employers should be careful not to base decisions on protected characteristics like age, race, disability, or pregnancy. Nor should employers factor employment decisions on assumptions about an employee's high-risk status or caregiver obligations. Rather, employers should comply with their obligations under the ADA by engaging in the interactive process and considering reasonable accommodations.
Foundation #2: Returning-to-Work Strategy for Places and Physical Spaces
The Occupational Safety and Health Act (OSHA) requires that all businesses provide a safe working environment for employees. But what does this mean in the context of COVID-19?
Feeney and Almeida say the first step is to assess all physical work areas to determine whether they meet current safety and health regulations, including:
Office floor plans
Cubicle layouts
Common areas such as elevators, cafeterias, conference rooms and break rooms
"To provide a safe environment, employees must be able to maintain six feet of distance between individuals," says Feeney. "Employers may need to make adjustments to workspaces by increasing physical space, eliminating office sharing, setting up physical barriers and placing markings on the floor to maintain distance between employees. The goal is to reduce density and remain flexible."
Other considerations include installing high-efficiency air filters, increasing ventilation rates, shifting to touchless technology when possible and continuing curbside pickup and contactless delivery.
From the administrative perspective, businesses may opt to replace face-to-face meetings with virtual communications, continue telework or establish alternative dates and extra shifts that reduce the number of employees in the workplace at any given time. When in-person meetings or work are required, employers should consider requiring cloth face coverings – especially where proper distancing isn't feasible. In some jurisdictions, face coverings in the workplace are mandatory.
Foundation #3: Returning-to-Work Strategy for Policies and Procedures
When it comes to reviewing your organization's return-to-work strategy policies and procedures, Feeney and Almeida say organizations can start by ensuring their policies are consistent with current public health recommendations and existing federal, state and local laws.
Next, organizations will want to update attendance and leave policies to accommodate the newest COVID-19 guidelines. The CDC has recommended that leave policies be flexible and non-punitive and should allow sick employees to stay home and away from co-workers. Employers should remind employees of paid and unpaid leave programs that may be available. It should be very clear what kind of notice and verification an organization requires to approve COVID-related absences.
Leave policies should also address those employees who need to stay home with their children if there are school or childcare closures or if they need to care for sick family members. Many jurisdictions have enacted COVID-19 emergency legislation that protects leave taken to care for a child whose school is closed or holding classes virtually. It's important to enforce these policies consistently throughout the organization.
When updating your policies, Almeida recommends establishing a COVID-19 response plan that explains what actions will be taken if and when an employee receives a positive test. These steps would likely include:
Isolating the infected worker.
Conducting an investigation to assess hazards to other workers.
Identifying and isolating any potentially infected individuals to protect others at the workplace.
Decontaminating and sanitizing the workplace.
Notifying other employees and local health authorities as appropriate while maintaining employee privacy.
Returning to Work Without the Worry
Employees are in a difficult spot as they decide whether to return to the office or to continue to work remotely. They need as much information as possible about what returning to the office would mean, which is where you come in. Be sure to update your policies now so you'll be in compliance with COVID-19 protocols and can minimize the risk of working onsite during the COVID-19 era.
To learn more, listen to ADP's on-demand webinar, "Workplace Spotlight: What to Consider in Enacting and Managing Your Return-to-Work strategy."