ADP Women in STEM Profile: Manjula Ganta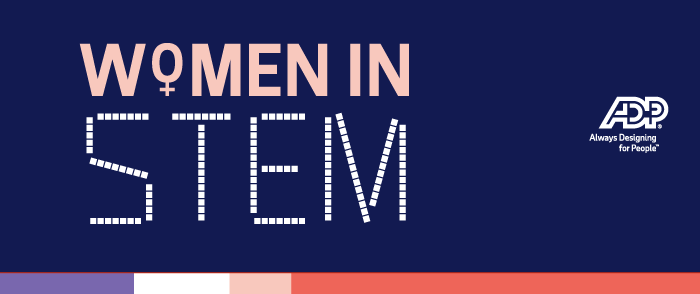 Manjula's mantra: "Don't focus on fitting in; figure out how to stand out." After reading about her hard work, success and leadership, you'll see Manjula walks the talk — and encourages others to do the same.
Growing up, Manjula Ganta wanted to be a doctor. She loved science and biology and was fascinated by how the body works as a machine. But med school was financially out of reach, so she chose a career in mathematics. Manjula's mother encouraged her and her sisters to learn computers.
"My mother was a visionary and could see technology evolving even before the internet existed," Manjula said. "From her experiences and struggles as a homemaker, forgoing a job opportunity due to culture constraints, my mom inspired her four girls to be independent and encouraged us to pursue our careers. She is the greatest influence on who I am today."

Manjula Ganta, Director of Application Development, Global Product & Technology
From India to Omaha
Manjula grew up in a small town in southern India near Hyderabad. In school, she was very outgoing, smart, and well-rounded – a trait she carried into adulthood and her career. Manjula pursued a bachelor's degree, majoring in mathematics. She simultaneously enrolled into a Diploma in Systems Management program that introduced her to computers. Manjula later earned her MBA with a major in finance, and graduated as class valedictorian.
She moved to Hyderabad to work for a financial services company as a management trainee. Manjula was quick to learn the intricacies of the business and even as an intern courageously presented her ideas. Soon she had an opportunity to design the development of an integrated app to better manage the company's branch reports. "Curiosity and rapid technology changes led me to learn relational databases and the integrated enterprise application software," Manjula recalls.
A few years later, Manjula married her high school sweetheart, who had moved to Omaha, NE. She moved from Hyderabad to Omaha, and they started a family. "It was a big adjustment for me, both culturally and professionally," Manjula said, "and it took a while to figure out how to balance my career and family."
Manjula began working in Boston as a Peoplesoft consultant for the state of Massachusetts, going home only every couple of weeks. "It was a very challenging time in my life, being a young mother with a traveling job – staying away from home and my toddler son," she recalls.
Manjula then worked as a Peoplesoft technical consultant for a project with General Electric (GE) in New York in variety of roles. She successfully implemented various Peoplesoft modules, leading offshore teams. After a few years, Manjula's husband took a new job and they moved to Atlanta, where she continued to work with GE remotely.
Have grit and break your own expectations – expectations can be a weight on your shoulders.
- Manjula Ganta, Director of Application & Development, GPT
After her nine-year project at GE, Manjula joined ADP National Accounts Services (NAS) Outsourcing (COS) division as a senior business systems analyst. "It was a big shift going from development to a business systems analyst role," Manjula recalls. "I would still get into the code and give the developers inputs about the issues." She laughingly added, "I think they got frustrated sometimes, but it also helped improve our communication."
Manjula's role soon expanded to managing the same development team across analytics, robotics process automation (RPA) and other web/cloud tools and technologies, and she was tasked with managing diverse virtual teams as a single global team. "I was responsible for helping the team see and execute the vision, removing any roadblocks and partnering with other leaders to make it successful," she recalls. Manjula's ability to combine business acumen and technical competency, along with her pragmatic approach, enabled her to be decisive and impactful across the COS business.
Manjula then became the Director of Strategic Initiatives for the NAS Tools & Technology Operations, where she worked on several technology and transformation initiatives to develop, support, and enhance ADP's internal and client-facing tools.
Manjula says she's taken this approach throughout her career: "As a thoughtful leader, I strive to create a positive and collaborative work culture with emphasis on employee recognition – helping teams to look beyond their differences. Celebrating associate birthdays, work anniversaries and key project milestones helps everyone feel valued and included."
Currently, Manjula is a Director of Application Development, Global Product & Technology (GPT), where she takes an even broader responsibility for building ADP's core products from a technology architecture, design, quality and user experience standpoint, to make them more effective for ADP's clients.
Developing Self and Others
"ADP has a unique culture in which they put their associates first," she says. "Prior to ADP, most of my development was self-initiated, but here we have many career development opportunities, mentorship programs, stretch assignments, networking events through employee resource groups, technical workshops, etc. You just need to be motivated and find the time to develop yourself."
Manjula had the opportunity to enroll in an external Pathbuilders mentorship program. "The program helped me to become more self-aware, building my own personal brand inside and outside of ADP," she says. Manjula is thankful to the leaders, mentors and sponsors who invested their time by providing her exposure at the business unit level.
Carrying it forward, Manjula helps mentor others at ADP and through various non-profit organizations. She is an active volunteer for Women in Technology based in Atlanta, which helps girls and women succeed from the classroom to the boardroom. Manjula recently joined the ADP GPT Women in Technology Leadership Mentoring Initiative (WiTL) that helps develop a diverse leadership talent pipeline through a formal mentoring program. She also volunteers for the American Heart Association, Special Olympics of Georgia, and leads several ADP business resource group events in the Alpharetta location, creating awareness and raising donations for causes she cares about.
Best Advice
Manjula offers this advice for women starting their careers in STEM: "Have grit and break your own expectations – expectations can be a weight on your shoulders. Don't be afraid of making mistakes; it's important to learn. Life is not just about success; it's also about failure, difficulty, and learning to recover. Focus on the present, stay positive, and keep going."
Manjula also recommends finding a mentor. "Mentors have helped me realize my worth and have inspired me to speak up, be myself, and encouraged me to take on the next challenge. One of my leaders would say, 'I wish you had had your voice earlier.'"
"Always find your support system, family, friends or coworkers and don't be afraid to seek help or delegate," Manjula said. "You don't have to be a perfectionist or do it all."
She is very grateful for her husband, Ranjith, and two sons, Abhitej and Ritvik, who have always supported her career, helped at home, and offered new and different points of view.
"Have fun, no matter how hard things can get. Humor and fun can always make the journey (personal or professional) easier."
Through all the learning and big changes as an Asian Indian immigrant and a woman in STEM, Manjula's best advice is: "Don't focus on fitting in; figure out how to stand out."
Read about other ADP Women in STEM and learn about careers at ADP.

Manjula with her family in Serengeti, Africa: husband Ranjith and sons Abhitej and Ritvik.

The Ganta family adopted their dog Misty two years ago on Mother's Day.
Ready for more?
Explore the stories of these and other ADP Women in STEM, and learn about careers at ADP.
Read why ADP was named the "2020 Top Companies Winner for Women Technologists" by AnitaB.org.
Related Video: How ADP Walks the D&I Talk
One way ADP encourages diversity and inclusion among its associates is through business resource groups (BRGs). ADP's iWIN BRG is the company's largest with 5000+ members (male and female) from 19 countries across the business. Learn how iWIN engages, equips and empowers its members to achieve personal and professional success through networking, The iWIN BRG is an internal organization open only to ADP associates.