The Role of Industry Analysts in HCM Purchase Decisions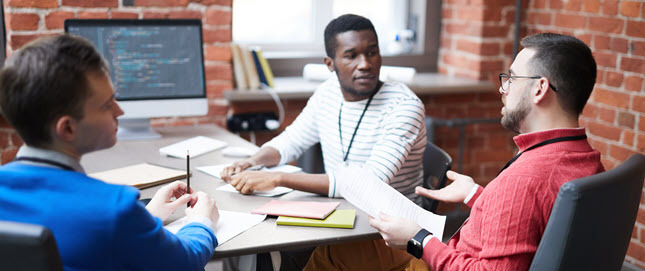 Industry analysts can be instrumental in the HCM decision-making process.
You may be aware that reports and rankings from HCM industry analysts are a valuable resource to consider when exploring HCM vendors. Demand Gen Report's 2019 B2B Buyers Survey found that reviews from industry analysts are having a growing impact on purchase decisions. Roughly 92% of respondents said that "analyst reports and reviews influence their decisions, which is up from 82% in 2018 and 48% considered these reports very important."1
Industry analysts can provide objective information to help you measure and assess vendor capabilities and functionality against your business needs. Their reports compile information on comparable vendors and rank them based on feedback from clients along with how well they meet specific criteria.
Who are these industry analyst firms?
As part of their rankings, industry analyst firms produce visual tools to help buyers compile their requirements for solution evaluation and purchase compare vendors. Industry analyst firms and reports you may be familiar with include NelsonHall's NEAT reports, Gartner's Magic Quadrant, Ventana Research's Value Index, Everest Group's PEAK Matrix, Forrester's Wave, and IDC's MarketScape report.
Industry analysts research technology providers and market trends and provide business insights and advisory services covering a range of industries. Some firms offer a global perspective while others focus on more specific geographies, industries, or markets. You can access analyst reports and services in a variety of ways, including purchasing their research or engaging firms for consultation.
How do analysts typically formulate their rankings?
The process for analyst rankings is rigorous and uniform. When preparing for a study, firms request certain deliverables from vendors, including an RFI template, client interviews, a briefing, and a solution demo. Studies specify criteria for each evaluation and seek vendors within the same set of parameters.
RFI templates — A set of questionnaires that 1) detail the functional requirements and capabilities of the product and 2) ask about specific criteria of the product offering in the areas of evaluation, such as usability, reliability, adaptability, and customer assurance.
Client interviews — Analysts typically require six or seven client references with interviews.
Briefings — Solution overview and demonstration with subject matter experts (SMEs). Briefings typically include a product demonstration, client success stories of products in market and a roadmap of the product and vendor's plans for future development.
An example: Ventana Research Value Index
For example, the Ventana Value Index for Payroll Software "is an analytic representation of our assessment of how well vendor offerings meet buyer requirements". The firm uses "a carefully crafted best practices-based methodology that reflects how organizations actually assess vendors."2
The report offers both analytical and graphic representations of vendor offerings based on an evaluation of how well vendors meet buyer requirements for software that enables and supports the payroll function. The Index evaluates the software in seven key categories that align to either Product or Customer Assurance. Five categories align to Product, including Usability, Manageability, Reliability, Capability, and Adaptability. Two categories align to Customer Assurance, including Vendor Validation and Total Cost of Ownership & Return on Investment.
ADP was ranked first Leader Overall in Ventana Research's 2020 Value Index on Payroll Software. Covering both product and customer assurance categories, the Index highlights ADP's robust set of capabilities and payroll coverage as well as its advanced analytics for benchmarking and machine learning. Additionally, ADP was ranked a Leader in the Product, Usability, Manageability, Reliability, and Capability categories.
Choose your next HCM partner with confidence. Get our HCM buyer's guide and more here.
To access a copy of the Ventana Value Index for Payroll Software, please visit: Ventana Research Payroll Software 2020 Report.
---
1 B2B Buyers Survey Report, Demand Gen Report, 2019.
2 https://www.ventanaresearch.com/research/value-indexes