ADP Women in STEM Profile: Caron Cone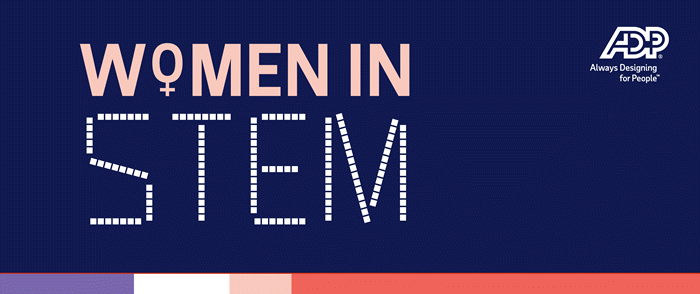 The career path for a mechanical engineer doesn't typically lead to becoming a vice-president of HR. Here's how Caron Cone boldly created her own path.
As a Human Resources leader, Caron Cone strongly believes that your career journey doesn't necessarily have to look like anyone else's. This advice – says Caron – isn't taken from an HR manual. It's the real-life story of her own unconventional career path.
Caron, who leads HR for ADP's National Account Services division, started out as a mechanical engineer. She's the perfect example of coupling courage and unconventional career choices, ironically an engineering term, to discover the power inside each of us.
"Solving complex business problems and being a champion of new ideas feels right at home," Caron says. "By tapping my engineering, operations and project management skills every day, the STEM field forever stays with me. I wouldn't change a thing."
While Caron jokingly says engineers sometimes get a bad rap for not having the best communication skills, so she's very intentional about going beyond data points and digging deeper to tell stories that simulate conversation, engagement and action amongst ADP leaders and associates alike.
My life's purpose is to help surface greatness in other people; I love connecting people with their aspirations and goals.
- Caron Cone, DVP of HR, ADP National Account Services
The Power of Mentorship
The youngest of four, Caron grew up in Tennessee where her mom stressed strength, toughness and resilience, and her dad, an electrical engineer, instilled hard work. The combination of her parents' focus on education is what ultimately led Caron to study mechanical engineering at the University of Tennessee.
Right out of college, Caron landed an engineering job a petroleum pipeline company in Atlanta. At the time, she was one of a few women and the only African American woman working on pipeline maintenance and construction projects. It was at this very point that she realized the importance of advocacy and mentorship.
The COO for the company had four daughters and was committed to ensuring that women could be successful in the workplace. "He taught me about being impactful, knowing the business, and having presence," Caron recalls. Little did Caron know, mentorship would also make way for her next career path.
The pipeline company started a formal mentoring program allowing employees to select mentors. Caron watched as a senior HR executive worked with and influenced the executive team and her decision was made. "I chose her as my mentor. Her presence was amazing. People gravitated toward her," Caron says.
Eventually, Caron decided to return to school, juggling computer models by day as an engineer and classes at night as she pursued a master's in HR. She also earned an MBA to have a competitive advantage in the marketplace. It wasn't long before Caron received a call offering her a role on an HR team – working for the same mentor who inspired her journey to HR.
Caron also had the opportunity to participate in the Pathbuilders program, an external, formal mentoring program where she was paired with another HR executive. That mentor and program have had a tremendous influence on her, both professionally and personally.
"I would not be where I am today without the influence of my mentors," Caron says. "Two of them are now Chief HR Officers. I remain in touch and trust their input and advice."

Caron Cone, Division Vice President of HR, ADP National Account Services
HR Matters
The opportunity to positively impact people and the overall business is what still gets Caron excited about HR today. It's a unique perspective that allows insight into people, their capabilities and needs.
"My life's purpose is to help surface greatness in other people," Caron says. "I love connecting people with their aspirations and goals."
Her engineering and business background allow for a greater appreciation of how things work and the value of analytics. "Data can help us figure out a number of key things about talent, the business and how to predict success for both," Caron says. "Reports give you data; insights come from people."
Caron firmly believes that the human aspect of HR will always be important: the big picture, culture and developing strong leaders.
Coming to ADP
Caron's HR expertise spans multiple leading industries, including media, but now she calls ADP home. "I love learning how different businesses work," she says. "People tend to have similar HR and talent needs no matter the industry or the organization."
The opportunity to work for National Accounts at ADP was a perfect combination of Caron's love for how things and people work and for helping people find their own path to greatness. This is further demonstrated through Caron's close partnership with the President of ADP National Account Services, Debbie Dyson.
"I get to partner with an amazing executive who is leading this journey," Caron says. "Debbie is extraordinary at figuring out how to move things forward and give people what they need to be successful. Every decision has our associates at the core."
"My experience at ADP is that in every conversation and decision, people talk about the impact on associates," Caron says. "And it's not just the decision, but also how to help people understand and make sense of change. When people at ADP say, 'Every person counts,' they mean it."
While Caron's HR role is mostly internally focused, ADP's position as a marketplace leader in the HR industry frequently affords her opportunities to share internal best practices with ADP clients who are experiencing change and transformation.
Find Your Voice and Help Others
Transparency and honesty are two HR must-haves that Caron can't live without.
"Be clear about what's ahead and why," Caron says. "Share the journey. Every person plays a role in driving success no matter the title. Help people understand that they are needed and why they matter."
Best advice she's received? "Find your voice. Figure out what you can contribute to a situation and share it. Ask questions, learn and contribute with confidence. You belong."
And – never forgetting where you started. Her unorthodox career path may have seemed like a long shot to some. But with strong parental guidance and caring mentors, Caron is now doing her part to pass it on.
"My husband and I have a wonderful partnership … and just as my parents did, we're preparing our daughter to be a positive force in this world," Caron says. "The most important thing we can do is help her believe in herself and her capabilities."

The Cone family: Vernie, Cara and Caron

The Cone family after escaping an escape room.
Read about other remarkable ADP Women in STEM.
Learn about careers at ADP.