4 Things Finance Leaders Should Know About Salary History Bans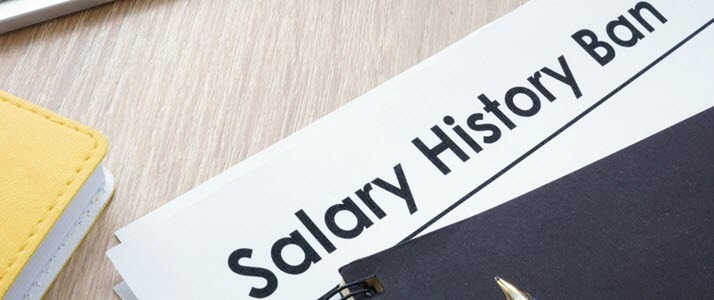 As salary ban legislation grows, this becomes a key area for compliance and for recruiting and retention.
Fourteen states and Puerto Rico have passed legislation banning salary history inquiries for private employers, as of January 2020. Additionally, nine cities and counties including New York City, San Francisco, and Cincinnati, OH have passed similar laws. According to VedderPrice, the "laws are intended to close the gender gap between men and women, wading into territory normally covered by sex discrimination laws or equal pay acts."
What do finance leaders need to know about salary history bans? Here are four key considerations for crafting budgets, recruiting talent and complying with employment laws.
Budgeting for Salaries
With the increase in salary history ban legislation, finance leaders must re-examine budgets for hiring. According to Mollie Mantia, Director of Compliance for Talent Products at ADP, finance leaders "should expect an uptick in budgeting for salaries mainly for exempt hires vs. nonexempt hires." Because nonexempt hires typically have a set entry pay rate, though, Mantia suggests that nonexempt employees should not be impacted from a budgeting standpoint.
Finance leaders should also consider the impact that their internal hiring policies and procedures may have on hiring budgets, says Mantia, noting that "several companies depend on knowing a candidate's prior salary because their policies state that they will only increase the candidate's compensation by 10 percent to join their company." With the ban legislation, businesses will have to discontinue this practice while potentially expanding their hiring budgets as a result.
Recruiting Across State Lines
What happens if an employer is located in a state or city where no ban exists but one or more of its employees is located in a state or city where one does? According to Mantia, the law applies where the employer, not the employee, is located.
Employment lawyer Jonathan Segal, however, notes that many employers are removing the salary history questions from their employment applications "even in absence of legal mandate," according to The Washington Post. This is most likely a conservative response to the apparent national trend of implementing these bans. According to attorney Ryan Kunkel, even though employers may ask about salary expectations, "ignor[ing] an applicant's salary history" is the "safest method," per an article in Bloomberg Law.
Financial Consequences of Noncompliance
As with any regulation or law, compliance is key. The difficulty with the current laws is that they lack the consistency you find at the federal level. For example, the New York City Commission on Human Rights may impose a civil penalty up to $125,000 for an unlawful discriminatory practice and up to $250,000 for "willful, wanton or malicious acts," under New York's salary history ban. Meanwhile, GoodHire reports that San Francisco's penalties for noncompliance of its ban will run from $100 to $500 per offense, starting July 1, 2019.
With wide-ranging penalties like these in mind, finance leaders must be aware of the consequences of noncompliance across the national grid and how it could impact their bottom line.
Financial Benefits of Compliance
When thinking about the financial benefits of complying with this legislation, it's important to remember the law's purpose. When announcing the New York legislation, for example, chair and commissioner of the NYC Commission on Human Rights Carmelyn P. Malalis stated: "Women and people of color deserve to be paid what they're worth, not held back by their current or previous salary. Today's law will enable job seekers to negotiate a fair salary based on their skills and will help break the cycle of income inequality that has been so prevalent in the workforce for so long."
Fairness in pay should translate to a happier workforce. As Mantia points out, "Satisfied employees lead to a better retained workforce, which will cut down on onboarding costs of new employees and retain subject matter expertise within the organization."
Employees are a business's most valuable asset; and satisfied employees and lower turnover directly impact the bottom line. So it's clear that, as salary ban legislation grows, this is a key area for not only compliance, but recruiting and retention, as well.
For additional context, please view this webcast: Compliance Trends in the Employee Life Cycle.