Hospitality Employee Management and Supervision: Workforce Optimization in Motion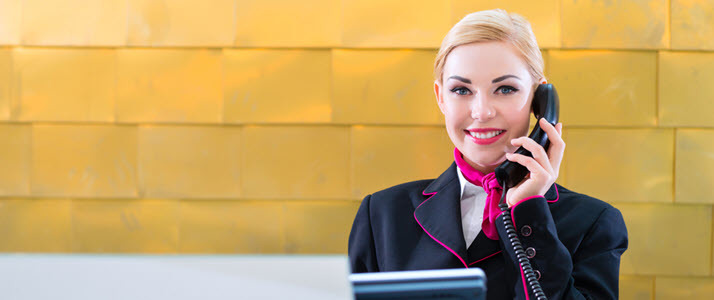 The hospitality industry faces unique challenges due to increased consumer demand and shrinking labor pools, and high turnover makes on-demand hospitality employee management and supervision tools essential for long-term success.
The growing hospitality industry is currently facing a labor shortage. To meet evolving guest expectations with fewer staff members, organizations need workforce optimization solutions that are capable of handling hospitality employee management and supervision dynamically and at speed.

Competition in the hospitality industry is heating up as established hotel chains and casino properties compete with online rental marketplaces and boutique venues. But the central tenet of success remains the same: delivering top-tier guest experiences that set you apart from the crowd. A significant challenge in this pursuit is managing a changing workforce quickly, at scale, to ensure that you have the right talent in the right place at the right time.
Industry Outlook
The hospitality industry is on track for its 10th consecutive year of growth. With unemployment rates remaining stable at historically low levels, however, more than one-third of hospitality businesses now report that their biggest problem is hiring new staff. Vacant positions and high rates of demand have prompted employee action, and workers are demanding higher wages and better insurance coverage in line with standards in other industries.
For hospitality management and HR departments, there's a growing need to balance the demands of service work against the benefits needed to hire and retain qualified staff. While growth is good for the industry at large, increasing demand only works in your favor if you have someone to take reservations, work the front desk and ensure that guests are satisfied.
Shifting Gears
Turnover in the hospitality industry is much higher than average. In both August and September 2019, the Bureau of Labor Statistics reported 18% and 27% more separations than new hires, respectively, even as job openings remained steady.
So what's driving staff out of the industry? Research suggests that a lack of control over shifts, inconsistent scheduling and minimal transparency around scheduling are significant factors. Organizations can't ignore the need for next-generation optimization tools that allow employees to view schedules on-demand, claim available shifts and request direct shift swaps with other staff members.
The simplest route to success here is employing a mobile-enabled solution that doesn't require a desktop computer so employees and managers can access scheduling on the move. By giving employees and HR leaders the ability to see and swap schedules in real-time, both sides stand to benefit from greater control. Staff can have more authority over their work week, and employers can enjoy increased insight into their scheduling at scale.
Movement Matters
Online reviews can make or break your hospitality business. You say the same for employee reviews of employers. Higher star ratings often translate into more online visibility and increased net profitability, but making the grade can become an insurmountable task without hospitality employee management and supervision tools capable of handling dynamic workforce demands.
Staff are rarely sitting down in restaurants, hotels and casinos, and if they are it's generally for a much-needed break. Given the size of some properties — for example, the WinStar World Casino in Oklahoma, which features more than 500,000 square feet of gambling space — staff are often nowhere near time clocks or desktop computers for the bulk of the workday, which means staff shortages or coverage issues may not be apparent until guests start complaining.
To manage staff requirements effectively at this scale, organizations need predictive modeling and forecasting tools that take into account typical consumer demand curves, current staff databases, individual performance markers and worker shift preferences to create schedules that strike a balance between staffing and savings in 15-minute increments. This can also help organizations avoid emerging compliance issues, such as staff missing breaks or not being relieved on time by flagging schedule requests that don't align with state or federal regulations.
Tips of the Trade
Hospitality organizations also face challenges around tip management. Depending on applicable state laws, staff may keep their own tips or pool them with a larger group, but no matter the method of distribution, tips totaling $20 per month or more must be recorded by employees and accurately entered into payroll systems. With staff always on their feet and always on the move, however, finding time to access separate payroll systems and enter tips on a daily basis can be problematic at best and enormously frustrating at worst.
Here, technology can help streamline tip reporting by combining payroll and scheduling systems to help automate key processes in the hospitality industry. By funneling tip reports into scheduling tools that also have access to corporate payroll databases, your organization can eliminate a time-consuming step in the employee reporting process and provide more time for staff to meet guest needs and earn those five-star reviews.
Going All-In
The hospitality industry faces unique challenges due to increased consumer demand and shrinking labor pools, and high turnover makes on-demand hospitality employee management and supervision tools essential for long-term success. But it's not enough to deploy new technology and simply hope for the best. Shift management, scheduling and payroll services must deliver frictionless interaction by empowering anytime, anywhere access that aligns with employees' day-to-day experience on the move.
Learn more
The future of workforce management has arrived, and with it comes a number of complexities that will affect which companies survive. Get the guide: The New Generation of Workforce Management.
See what ADP has to offer your hospitality business.