Real Answers to Pressing ACA Compliance Questions: Part 2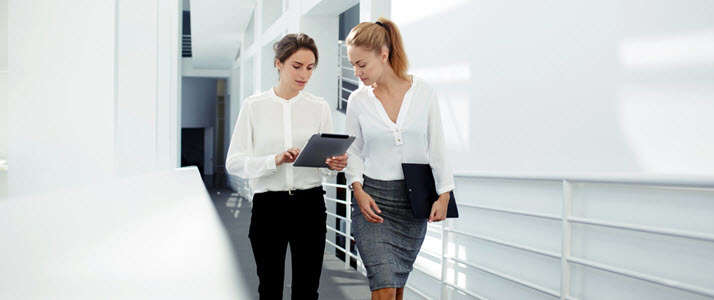 "Organizations need to take ACA compliance seriously and not ease their diligence with the expectation that the law might be repealed or found to be unconstitutional." — Ellen Feeney, Vice President, Counsel at ADP
In this, the second of a two-part series reviewing compliance challenges amid possible changes to the ACA, Ellen Feeney, Vice President, Counsel at ADP, answers some pressing questions that can help set your organization in the right direction towards ACA compliance.
Q: Do employers need to offer health insurance coverage to non-traditional workers, such as seasonal workers or students working on an F-1 visa, in order to comply with the ACA?
Feeney: While it can be difficult to determine health coverage requirements for workers who fall out of the traditional 40-hour-per-week standard, the law is clear on the number of work hours that triggers the ACA requirement to offer coverage. It is first important to remember that the ACA requires organizations with 50 or more full-time and full-time equivalent employees to offer affordable health coverage to their full-time employees and their dependents. The second major consideration is that an eligible employee is anyone who works 30 or more hours per week on average, or 130 or more hours per month. This includes certain seasonal workers and those who have an F-1 working visa, even if your organization might not view them as regular workers.
Some organizations make coverage determinations based on their own internal definition of full-time status. But a best practice is to always first measure what an individual's hours of service are, and then compare that measurement to what the ACA stipulates: 30 or more hours on average per week/130 or more hours per month.
In order to avoid a penalty, employers should make an offer of health coverage to individuals who meet the ACA full-time employee criteria. You don't have to change your internal classification of what defines full-time and part-time employees for other employment and employee benefits purposes, but you need to be aligned with ACA rules.
Even if your organization has long followed its own method for determining who receives an offer of health coverage, what matters for these purposes is what the ACA says.
Q: What should businesses consider when determining next year's ACA-compliant wellness and tobacco-cessation programs?
Feeney: With respect to the employer mandate, without question, it's all about affordability. If your organization intends to again offer, or roll out for the first time, wellness and tobacco-cessation programs, keep in mind they could affect your ACA affordability calculations. (For 2019, health care is considered affordable if the lowest-cost self-only option doesn't exceed 9.86 percent of an employee's income.)
There are federal rules that are specific about the conditions under which an employer can offer wellness and tobacco programs and whether those programs influence affordability. Organizations need to comply with the ACA affordability rules as well as the requirements of the Americans with Disabilities Act, the Genetic Information Nondiscrimination Act, COBRA and HIPAA. The rules and regulations under these laws change from time to time and can be complicated.
While wellness and tobacco-cessation programs are popular with employees, as an employer it's best to first thoroughly understand what the government expects from you when providing such initiatives. HR and benefits staff should be well-versed on compliance.
Q: What should employers do about the many legislative and judicial developments that could alter the ACA?
Feeney: While initiatives by the White House and Congress to repeal and potentially replace the ACA capture headlines, there are many state legislative proposals and court cases that could also have bearing on the law. One worth watching is Texas v. Azar, a case in which Texas and 19 other states are arguing that because the financial penalty for an individual not having insurance has been reduced to zero, the entire ACA should be struck down. A federal judge in Texas agreed, but the decision is pending appeal in a higher court and could eventually reach the Supreme Court.
And the many proposals on health care being advanced by the large field of presidential candidates might take spark or die on the campaign trail.
Despite all of the proposed legislation and the numerous lawsuits targeting the ACA, it's proven to be a resilient law and shows no sign of ending soon. Organizations need to take ACA compliance seriously and not ease their diligence with the expectation that the law might be repealed or found to be unconstitutional. The ACA's employer requirements remain in place and so should your commitment to compliance.
In our Eye on Washington legislative alerts, we summarize the latest developments and keep organizations up to date so they can properly plan insurance coverage.