OSHA Safe and Sound Week: Workplace Safety Best Practices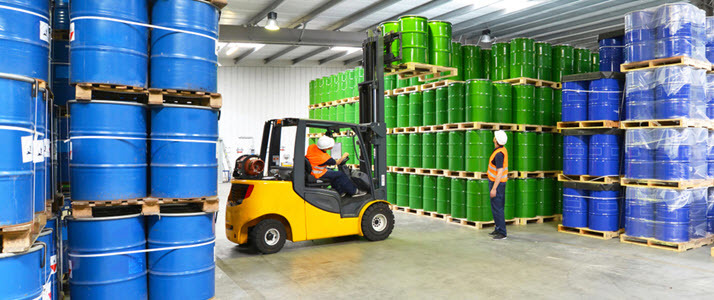 By having an action plan in place to reduce report lag when an accident or injury occurs, you can support your employees and mitigate the financial and legal impact at the same time.

Workplace safety is likely an ongoing challenge for your business, especially if your workforce includes those who work in the skilled trades, light manufacturing, warehousing, property maintenance or even care giving. OSHA Safe and Sound Week provides an annual reminder to celebrate the success of your workplace health and safety programs. And it's also an opportunity to explore best practices that serve both the employee and the employer alike.
Obtaining workers' compensation insurance and implementing workplace safety plans are critical first steps for any business, and it's also vitally important that leaders have action plans in place in the event of an on-the-job accident or injury.
"We view workplace safety as the foundation of talent activation. Employees deserve to show up to work every day and feel safe – both physically and emotionally," said Christian Orihuela, Vice President, ADP TotalSource®. "When a company demonstrates a strong culture of safety, and does right by its employees, it is a strong driver of employee engagement."
How your organization responds to an accident or injury that happens at the workplace can make the difference between an employee who feels appropriately supported and a disgruntled one who seeks legal counsel. Two of the most important areas to focus on are the experience and well-being of the employee and the timely reporting of coverable injuries and claims.
Support for Employees
One of the most important aspects of workplace safety is the experience of the worker. Employees facing an injury or accident may be frustrated, concerned about their employment and unsure how they'll cover their living expenses. If there's too much time between the accident and the follow-up, an employee could grow frustrated and confused and may seek solutions elsewhere.
For instance, employees whose claims go unreported are less likely to seek the right care or use emergency room resources for non-emergency injuries. In addition, it may take them longer to get back to work, which can have significant implications for retention. A study by The Hartford found that employees' chances of returning after 12 weeks were less than 50%.
When a company demonstrates a strong culture of safety, and does right by its employees, it is a strong driver of employee engagement.
- Christian Orihuela, VP, ADP TotalSource
Offering timely support underscores the notion that every employee is valued and shows that you'll take the steps needed to ensure the best possible outcome.
"At ADP, we've seen time and again that organizations who focus on health and safety as cornerstones of employee wellness thrive," said Orihuela.
"As a professional employer organization or PEO, the focus on safety is a crucial element of human capital management, talent activation strategies, and overall organizational success. It's what we like to call safety activation. Now, this isn't a safety program that's just posters and protocol. Rather, it's about delivering a customized safety culture that meets the needs of your employees and your business to keep employees safe."
"With ADP as a partner, we address safety concerns before accidents occur. This has reduced our workers' comp claims from $390K to $24K annually," reported Jim Urban, National Operations Director, Stone Source.
"We hold daily safety meetings to keep safety on everyone's minds. The time and effort it takes to prevent an injury is minimal compared to the cost of an injury."
Ideally, a proactive workplace safety program focuses on preventing injuries altogether. In the event of an accident or injury, however, having the right training and processes to take care of the employee and activate workers' compensation coverage are critical first steps.
When employees know that their physical and emotional safety are top priorities for their employer, they tend to be more engaged and loyal. This requires the implementation of effective workplace safety programs and response plans to deal with incidents swiftly should they occur.
In a tight labor market, ensuring a quality employee experience – even in the face of an accident or injury – can serve as a powerful testament to your commitment to your employees.
Workplace Accident Risk
As a business owner, you're focused on making your workplace as safe as possible. Striving for a workplace with no accidents is important, and reducing the number of incidents is a tangible sign of progress.
It's critical that you have a plan in place to report an employee injury. The number of days between an accident and when it's reported, known as report lag, has major implications for long-term impact.
Failure to promptly report a workers' compensation claim could put you in violation of state employment regulations, lead to significant fines or complicate the insurance claim process.
Indeed, there are both legal and financial consequences for delayed reporting. In an analysis conducted by the National Council on Compensation Insurance (NCCI), greater report lag was associated with higher total costs per claim. NCCI found that claims reported three weeks after an accident were 35% more costly than those reported by week two, and claims reported in week four saw total costs increase by another 13%.
Delayed reporting also increased the chances of litigation. Cases with no reporting lag saw attorney involvement rates of 12.8%, but that figure soared to 31.7% after week four. Reducing lag time is critical to controlling both the financial and legal risks associated with workplace accidents.
Strategies for Reducing Lag Time to Improve Workplace Safety
Find strategies to help your organization reduce lag time around workplace accidents, injuries being reported and treatment. At a practical level, this includes developing policies that require employees to report workplace accidents and injuries as soon as they occur. It also involves providing training for managers and supervisors on the steps needed to report claims in a timely, accurate and complete manner.
Another solution is adding an outside point of contact for accident reporting. Consider the fact that a PEO offering like ADP TotalSource includes a medical professional for the incident-reporting process. When an accident occurs, the affected employee or the supervisor calls the reporting line, which is answered by a registered nurse. During the call, a full history is taken, and specific follow-up assistance, such as an in-network care referrals or recommended courses of action, can be given.
This call is documented, and all parties receive a copy of the point-of-injury report within minutes of the call ending. After implementing this service, report lag for one employer decreased from an average of 7.4 days to one day. By closing gaps in service and timing, employers can seek advice sooner and help their employees receive appropriate treatment and return to work faster.
At the organizational level, you're already taking important steps to protect your team's workplace safety. By having an action plan in place to reduce report lag when an accident or injury occurs, you can support your employees and mitigate the financial and legal impact at the same time — which can contribute to both a positive employee experience and your organization's bottom line.
Go Deeper
Learn about safety activation with ADP TotalSource.